well i love my egg and use one of them often i just have to decide wich of the three to use. i also take some photos of the cooks. but i forget to post about my cooks.
the first one is a bologna i smoked for a few hours then i put it through my meat grinder and made bologna salad.
next is my third favorite steak the pork steak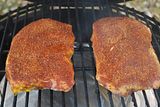 and one with the blues hog on it. i am extremely happy that i dont have to get that stuff shipped anymore
then yesterday i decided to have a few pizzas
they dont always look good but they sure taste good.
these two did not sit out on the counter long enough so they never did streach out like i like
then one with lost of bacon and carmelized onion
thanks for looking
happy eggin
TB
Anderson S.C.
"Life is too short to be diplomatic. A man's friends shouldn't mind what he does or says- and those who are not his friends, well, the hell with them. They don't count."

Tyrus Raymond Cobb