My plan last night was to cook some wings trying out DP's Tsunami Spin (new to me) last night for that joke of a game. Unfortunately, when I got to the store, they were out of wings. I know, right? The horror! I didn't feel like going to another store, so I opted for drummies instead. I got home and decided to use Tsunami on two and Cluck and Squeal on the other three to give me a little taste comparison and a bit of variety. With Mrs. G being out of town, I was going to have to eat all 5 of them, so why not have a bit of difference? No wood was used to allow for a clearer comparison of the two rubs. My plan was to set up the MINI at 450F and use the MINI Woo. At the last second, I decided to toss in a pizza stone (wrapped in foil for easy clean up). No real reason. I usually do chicken direct, but felt like breaking from the norm just to see how the cook would differ.
Here they are on the MINI.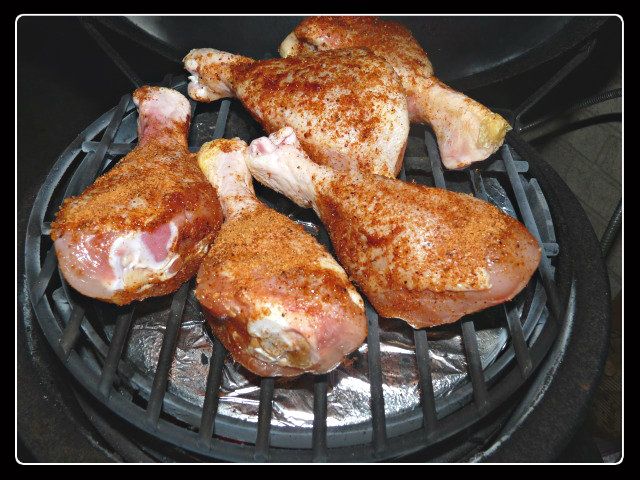 About 35 minutes later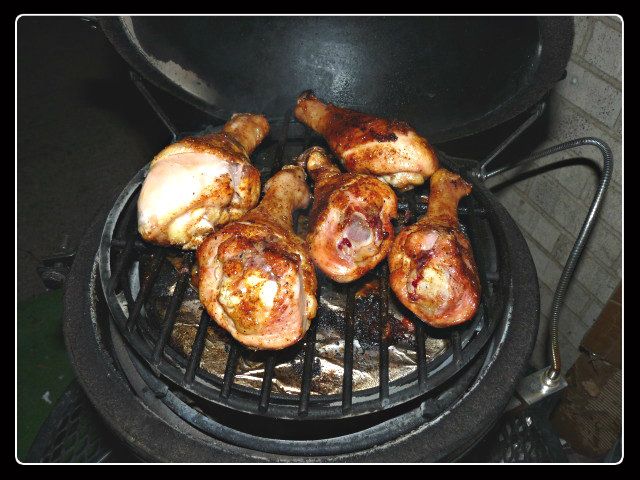 45 minutes later and just about done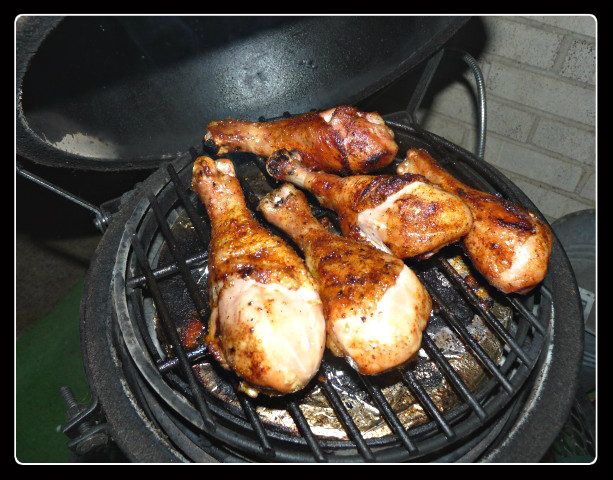 Plated up with a few tater tots and some salad with a light vineaigrette for some healthy eating.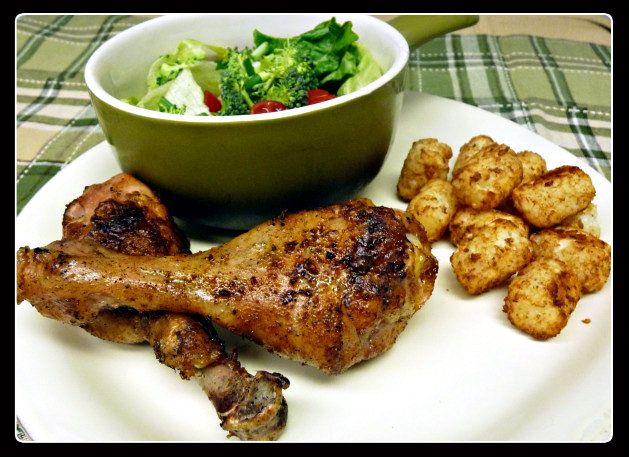 Ok, ok....you got me. There was a tid bit of alcohol involved. A lil Cuba Libre. I really need to get to the store and get some more bourbon.
Turns out I shouldn't have even bothered with the two rubs. With all the meds the doctor has me on, my taste buds are kinda fried. Personally, I think its the preventative inhaler they got me using. I could detect a bit of difference, but honestly not enough to give any kind of review. I mean they both tasted good and all don't get me wrong, but I couldn't pick up any subtle or unusual flavors. I joked with @TUTTLE871 by text last night that I probably could have rubbed them with dirt and not noticed. Still, it was a good meal, sorta healthy and a lot better than the game. Oh...and the game was turned off by half time. What a joke.
Rowlett, Texas
Griffin's Grub or you can find me on Facebook
The Supreme Potentate, Sovereign Commander and Sultan of Wings