Hey Guys! I'm back! Sorry for the long absence. I took some vacation days and went down to the ranch, where I got sick and have been trying to recover ever since. Came down with a nasty case of bronchitis. I've been popping in every once in awhile on my Kindle, checking out everybody's cooks and occassionally chiming in, but have pretty much been taking it easy.
Fired up the Mini last night, first time Egging since Christmas Day (I do have some pics of some ribs I did at the ranch, but they were done on my old offset so I'm sure you aren't interested). Did some beef fah-jeehtas. Really wish I had my Large to do them on, but its still sitting in my parents back yard. Really need to go get it back. Maybe this week. So due to smaller space, I cut the skirt steak into thirds to get it done on the Mini.
For the marinade, I just did a simple soy sauce, tequilla, lemon juice and added some onion powder, garlic powder and Fiesta Fajita spice (thought I had some DP Fajita-ish, but I guess I'm out) No measurements, just kinda dumped it in.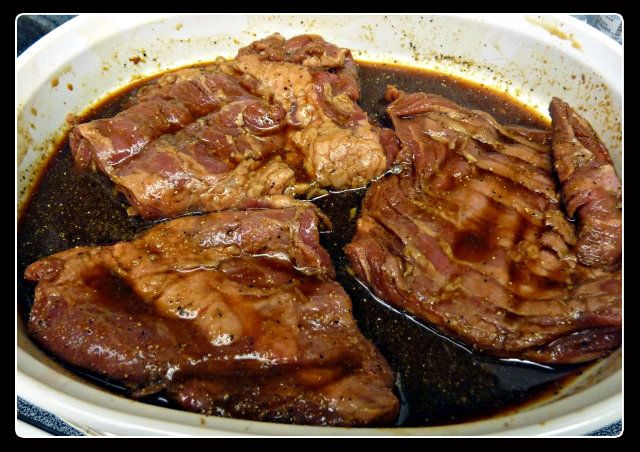 Fired up the Egg to about 500F for this cook.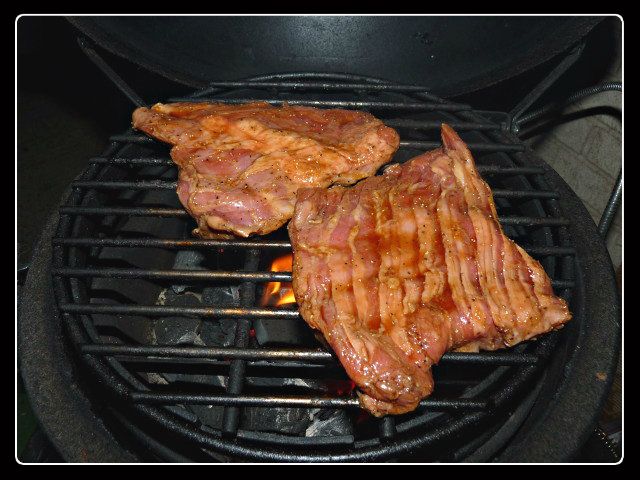 Second batch (all three wouldn't fit at one time)
Topped them off with some raw onions and some cojita cheese and a side of some refried whistle berries. Thought I had some cilantro to go with them, but it had turned into some freaky science experiment gone wrong in the veggie drawer so we did withought.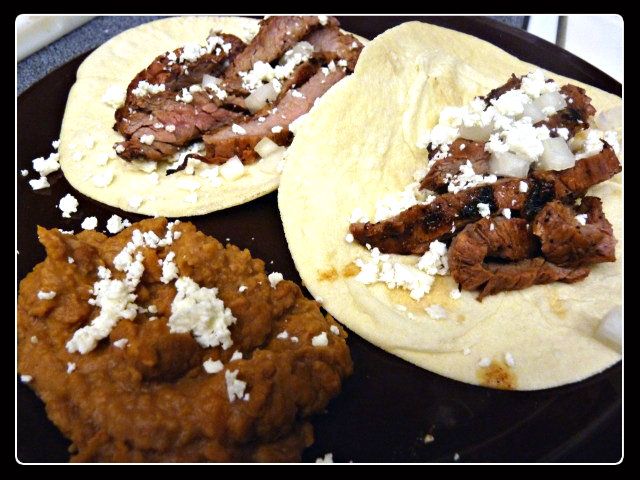 Can't seem to ever get my pictures of fajitas or tacos to come out that good. Granted, brown plate, brown meat, brown beans, white tortilla, white onion and white cheese probably don't make the best color combo, but it was still pretty tasty. Not the best fah-jeetas I've ever had, but better than pre-marinated stuff. I probably should have looked up a recipe, but I sorta winged it going with what I could remember reading going into a marinade. I probably forgot something and it came out a little salty, but still super tasty. Just glad I'm starting to feel like eating and Egging again. No what to make tonight for the premier of the Bachelor? I kid, I kid! For the Big Game tonight.
And a bit of Off Topic, for those interested. While down on the ranch, I spotted this guy a couple of times about 4 days in a row. Nice little 8 pointer. Hopefully he'll stick around for awhile and get a bit bigger.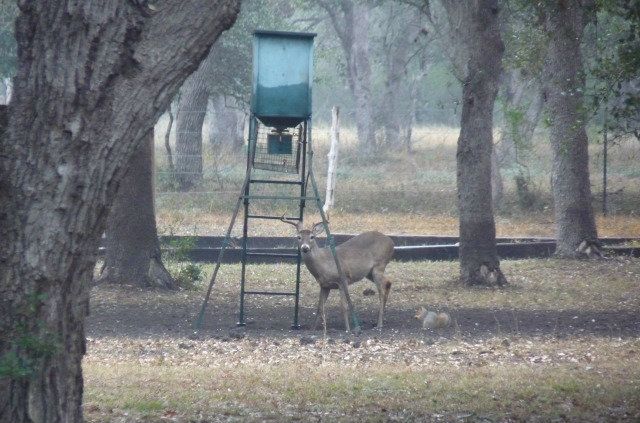 And his little harem of does. The most we counted at one time was 12 does, next season should be good if they stick around.
Rowlett, Texas
Griffin's Grub or you can find me on Facebook
The Supreme Potentate, Sovereign Commander and Sultan of Wings