Its been a while since I've posted. I wish I could say I was on a sabbatical, but I'll reserve the tall tales for when they are absolutely necessary. In any event ... I cooked some thick center cut chops on Friday night for the misses. TRex method with maple wood and a spicy rub to offset the sweetness.
On Saturday night, I cooked some really solid chicken quarters. I swear I took pictures, but alas . . . So, take a look at these mammoth pancakes that I cooked Saturday am instead.
On Sunday, I took my first stab at burnt ends. I used two brisket points cubed, seasoned heavily, and smoked in the skillet for a couple hours. Then I sauced and smoked for 15 more minutes. It was some of the best BBQ I have ever had.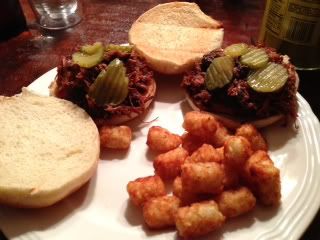 Thanks for looking.