Saw some of these at Sam's the other day while picking up some bb ribs for my cousin. Wasn't sure what to do with them, but grabbed them anyway knowing I could figure out something.
Sunday, they went into a marinade of soy sauce, beer, sugar, toasted sesame oil, garlic, onions, and red pepper flakes. They swam around in that for about 8 hours.

When it was time to cook them, I drained the marinade and sprinkled some Argentine rub on them, then tossed them on the Egg at 450. A few minutes on one side, flip and a few minutes more on the other.

I think it was a combination of the marinade and the fat dripping off, but a few second after lifting the lid, it was like a raging inferno, but I fought through it.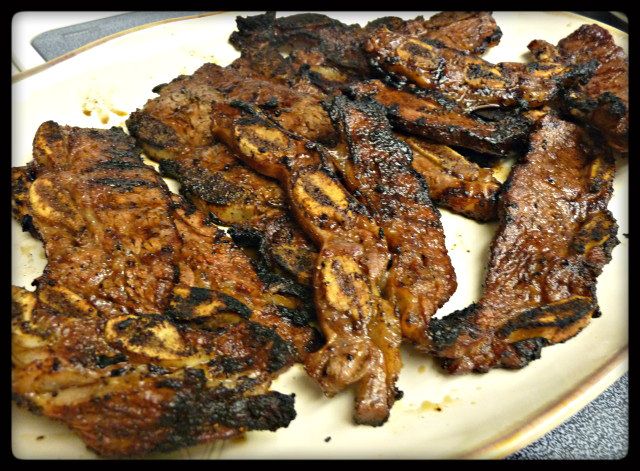 I had my parents over for dinner and everybody was really pleased with the flavor. A real intense beef flavor with an underlying sweet and salty flavor from the sugar and soy sauce. And the beef was extremely tender. So tasty. We'll be doing these again. I'd like to play around with them and see what other flavor combinations I can come up with.
Since we missed Dad's B-Day party earlier this month (he was in the hospital), I also whipped up his favorite for dessert. A pineapple upside down cake. He's never had this version or one cooked on the Egg and he loved it. I sent the rest of it home with him.

All in all, a pretty good Sunday afternoon.
Rowlett, Texas
Griffin's Grub or you can find me on Facebook
The Supreme Potentate, Sovereign Commander and Sultan of Wings