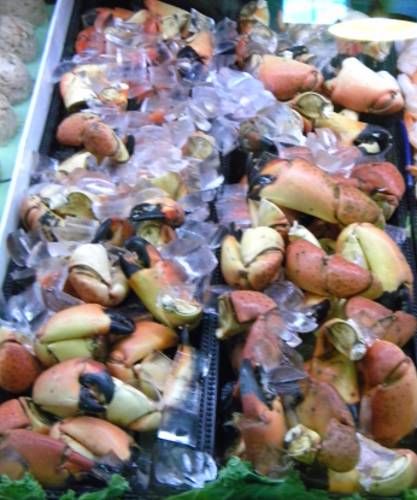 Went to a local gourmet food store, "Green Turtle" and started saving my funds for a meal in the near future with some steak or whatever the budget allows after the crabs. $$$20 and up/pound depending on size
These are just mediums and large size.
After sticker shock think the large were $24.95/lb, I picked myself off the floor.
Stone crab is available for harvest between October 15th and May 15th. Native to Florida's Gulf coast, these rare crabs have the unique ability to regenerate their claws and limbs. These delicious claws are always in high demand and are widely regarded as one of the forms of fresh Florida Seafood. Claws are cooked daily when gathered in boiling water for 7-10 minutes and cooled to prevent the meat from sticking to the shell. They are then sorted into four sizes: medium, large, jumbo, and colossal.
" Medium: 6-8 claws per pound
" Large: 4-5 claws per pound
" Jumbo: 3 claws per pound
" Colossal: 1-2 claws per pound