Its been so hard keeping this under my hat. I actually ordered a Mini Egg a month ago, but didn't want to let the cat out of the bag until I took delivery of it. Let me tell you, that month dragged by for me. The problem is our Egg dealer lives across the state....and by across the state I mean ACROSS the state. Really far away. To get my large Egg, I had to drive to Corpus. For this one, we had to drive to Hunt, Texas. I know there are closer dealers, but this just happens to be Mrs. G's best friend, so its not like I had a choice.
All that being said, I think I must have one of the best Egg Dealers in the world. Texas at least. How many other Egg Dealers will invite you to their River Cabin for a four day weekend of cooking out, visiting wineries, watching football and drinking just so they can deliver your Egg in person? Of course, it may help that Mrs. G has been best friends with Mrs. O forever. But that's beside the point.
Thursday we were on the road to Hunt, Texas with the skyline of Dallas in our rearview mirrors by 1:45. We took the backroads down, traveling through Cleburne, Hico, Lampasas, Marble Falls, Fredericksburg, Kerrville and finally arrived just outside of Hunt, Texas in time for dinner. Mrs. O and her husband had carne guisada and Mexican rice waiting for us as we rolled in at dinner time....one of the few meals of the weekend that was not Egged, but still oh so delicious. After dinner, Mr. O and I got started putting my new Mini together.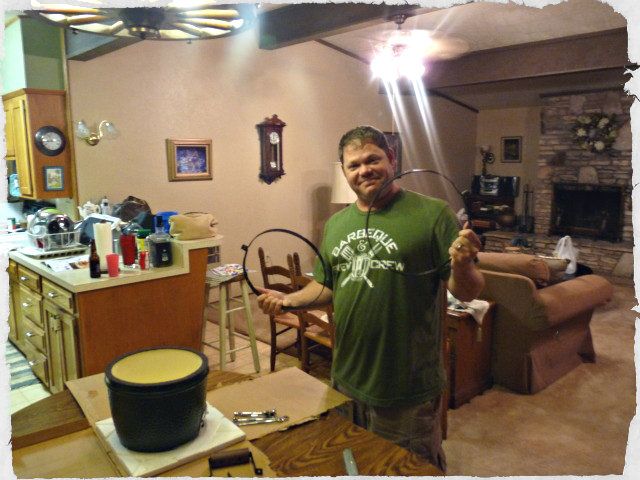 Once that was done, we relaxed and had some more cold beverages.
Friday morning, even though we had plans for the day, I couldn't resist starting a small fire in the Mini, just to test it out, ya know? They look so cute when they are all new and white like that.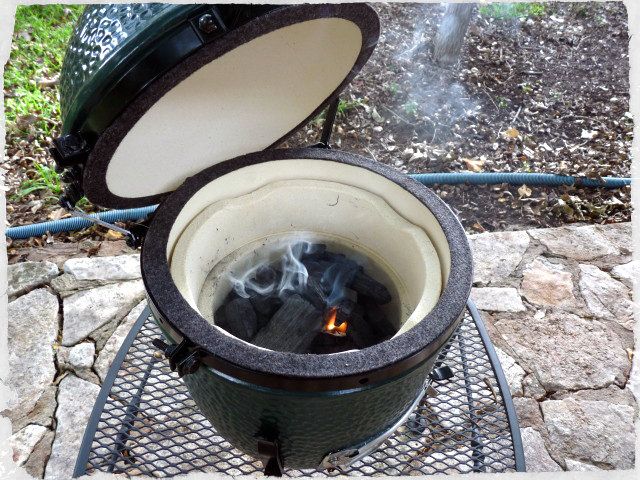 Then we ran into Fredericksburg, had lunch, let the girls shop and then visited Grape Creek Winery and Becker Winery before retiring back to the river cabin. That's when we the girls told us were told that we were making pizzas.
Me and Mr. O by our Minis

Having a drink while the Minis warmed up

Not knowing what the cabin was going to have by way of the kitchen, we opted to bring some dough from Tom Thumb with us (can also be found at Safeway and Randall's) Turned out to be just the right amount for four Mini pizzas

Being the gentlemen we are, we let the women folk get started on their pizzas first.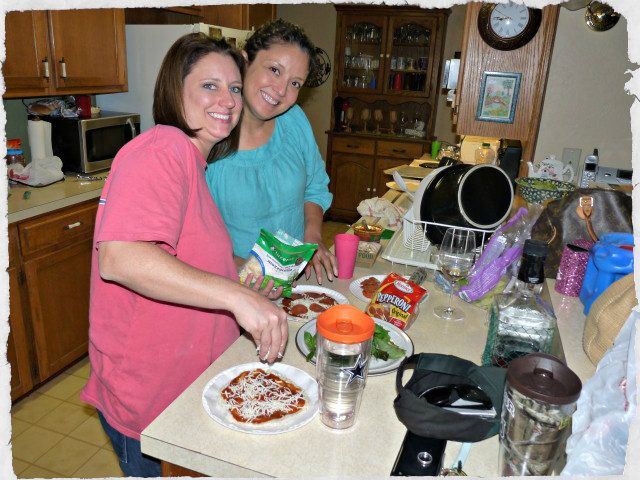 Mrs. O's pizza on the Mini at 450. Looks like Buffalo mozzarella, mushrooms and pepperonis.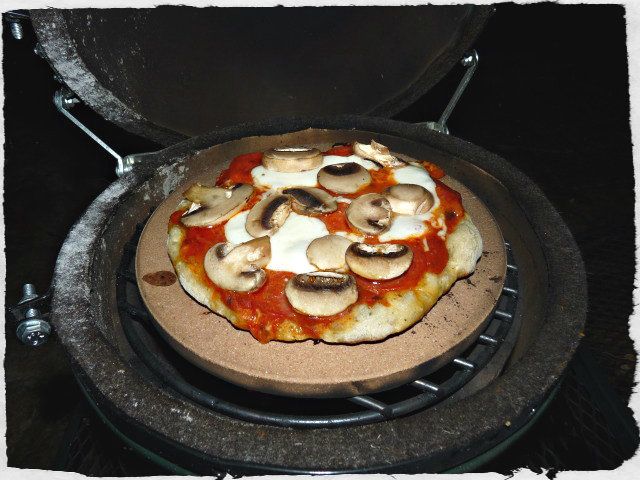 Mrs. G's pizza with shredded mozz, pepperoni, Canadian bacon, mushrooms, basil and some Buffalo mozz on our new Egg at 450 using the Woo Ring and a pizza stone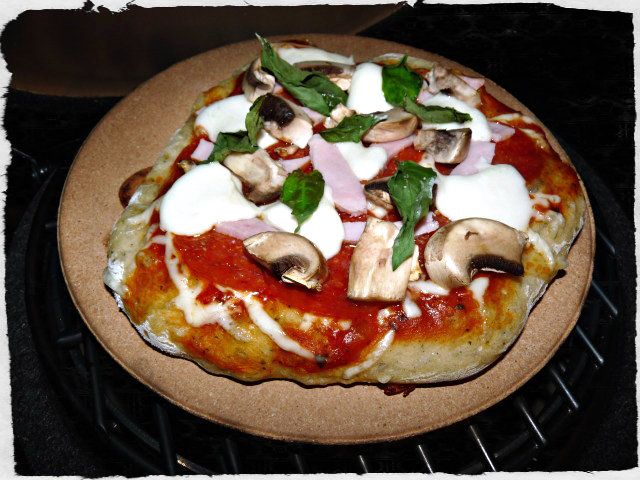 Mr. O's pizza was kept simple with shredded mozz, buffalo mozz and a mushroom, basil to be added later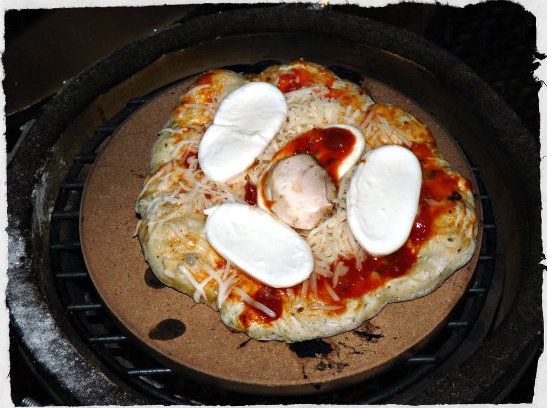 And finally my pizza with pepperoni and Canadian bacon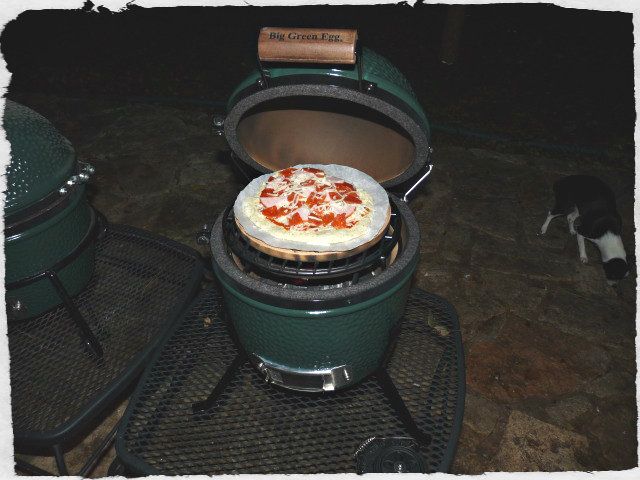 Somehow (probably because I was watching all the pizzas cook), I didn't get any finished pictures of the pizzas, but Mr. O did take one of his.

Pizzas turned out really good, especially for a first attempt for all of us making them on the Mini. I will admit I burned mine a bit. I got impatient as mine was the last one cooking and I took the metal DFMT off and opened up the bottome. I knew better than that, but wanted to sit down and eat with everybody else. Resulted in burning the bottom crust a bit.
Obviously there are going to be a ton of pics in the next few days if this is just night one. We really put the Minis through their paces and cranked out a ton of food. I was a bit hesitant getting a Mini and wavered back and forth between it and the small, but I am really happy I got the Mini. It will be perfect for small meals for just me and the Mrs. and it will come in handy when paired with the large for big parties. It's already gotten a ton of use and I can see it getting plenty more.
Rowlett, Texas
Griffin's Grub or you can find me on Facebook
The Supreme Potentate, Sovereign Commander and Sultan of Wings