This weekend we decided to test out our new Two Tier Swing Rack Friday was a couple nice NY Strip Steaks, the new grate was perfect for getting a nice sear on the steaks!
Saturday we loaded up the Two Tier and had a appetizer Egg-stravaganza! Moinkballs, ABTs, and Pig shots. It was the first time for moinkballs and all were great for some football watching snacks.
Chili was for dinner but it was done on the stove top and I didn't get any pics, a great day with a nice win from the Sooners!
Sunday we tried out some jerky for the first time using a few different methods we found on here and elsewhere. We had the lump in a coffee can in the middle of the egg with the DigiQ set to 160° for 9 hours.
We were pretty happy with the result and will be trying different flavors again soon!
For dinner we did some bone in Pork Chops rubbed with Bad Byron's Butt Rub indirect at 325° and they were so tender and juicy! I had forgotten how well they turn out on the egg and will be doing these more often.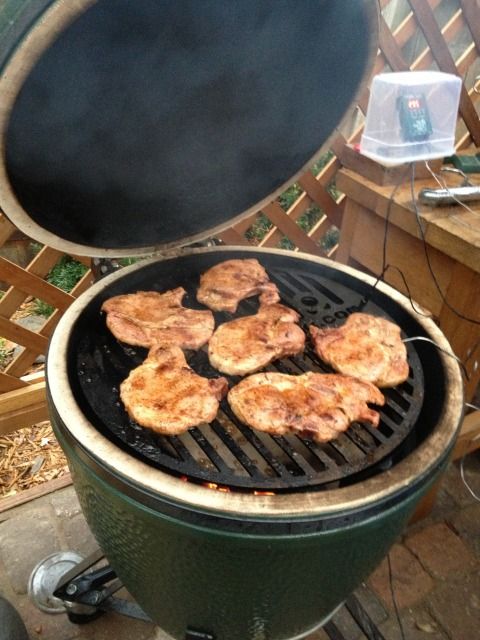 It was a fun weekend with a bunch of different things cooked on the egg and a "GRATE" use of the new swing rack!
Large & Small
BGE
, CGW Two-Tier Swing Rack for
BOTH EGGS
, Spider for the Wok, eggCARTen & and Cedar Pergola my
Eggs
call home in Edmond, OK.