This is the seafood paella I did over Labor Day Weekend. Some asked for the recipe, so here it is. Thanks for looking.
Got a bunch of crab for the weekend:
Rice, Paella, Seafood, Crab, Labor Day '12
I have been cooking this dish and variations for over 30 years. Like to use chicken drumettes also.
INGREDIENTS:
Step 1
3 3 1/2 Ozs Pkg Spanish Chorizo, Sliced thin on diagonal
1 Large Onion, Diced or Sliced thin then in half, your choice
4-5 Ozs Pickled hot red peppers, diced medium, Peppadew style
1 Tsp Cumin
3-4 Tbs Minced Garlic
1-2 Tbs Spanish Saffron
Olive oil to sauté
Step 2
2 Cups Aborio/Valencia rice
Step 3
10 Ozs Can Clam Juice
8 Ozs White Wine, Chardonnay
22 Ozs Chicken Stock
Step 4
6-8 Ozs Frozen Green Peas
6-8 Ozs Squid
1 Cup Cooked Chicken Thighs, cut into small pieces.
1 Lb Scallops, Bay
Quartered artichoke hearts, pickled (optional)
Step 5
12-15 Pieces Fresh Asparagus
Step 6
12-15 Fresh Mussels, regular or New Zealand Green Lips
1-2 Cups Cooked Blue Crab Claw Meat
12-15 Shrimp, 16-20 count, may be peeled or not
Equiptment:
16 Inch Paella Pan, Holds 1 Gallon Liquid
Optional:
Snails
Clams
Capers
1 Mise En Place: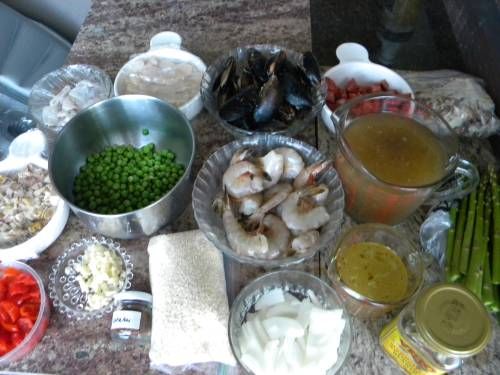 Step 1
1 Bring BGE up to 350°F and use the grate to hold the paella pan. 2-3 ozs EVOO to sauté onion and chorizo. Little cherry wood chips for flavor.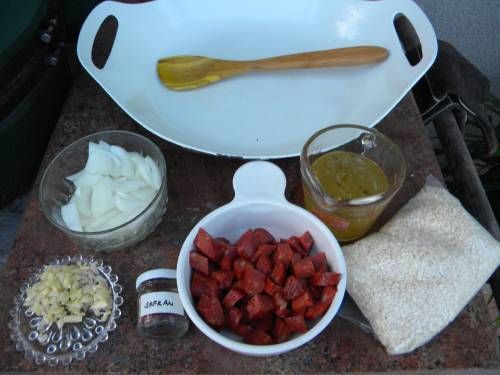 Step 2
1 After the onions are translucent add the rice and get coated with oil and drippings from chorizo.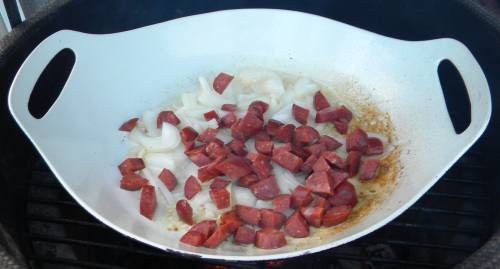 Step 3
1 Add liquid and saffron and bring to a boil.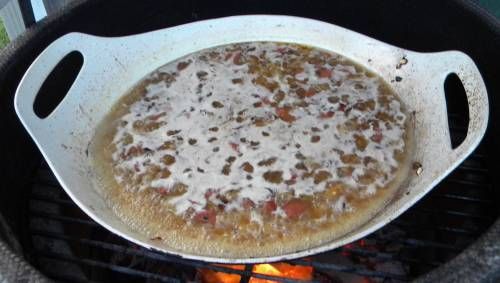 Step 4
1 Add peas and squid.
Step 5
1 20-22 minutes of cooking add the seafood, turning the mussels and shrimp so when they open the hinge is at the bottom for presentation. When the seafood is done about 10-12 minutes and the liquid is gone, remove and let rest for 10-15 minutes. If the liquid is not gone and the shrimp are done, remove them.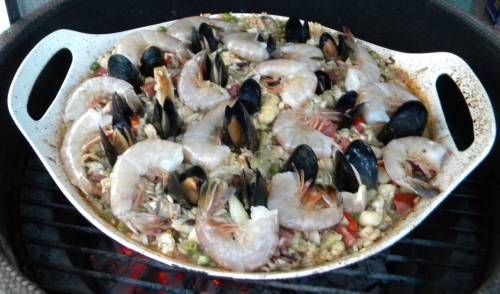 Step 6
1 Next, add the asparagus after the seafood.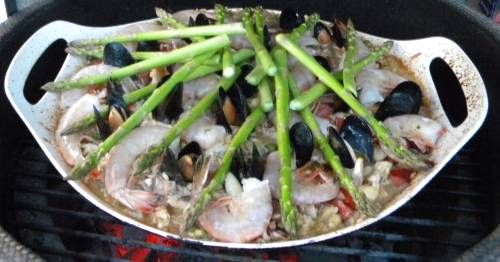 Step 7
1 Enjoy, Served with some Sterling Chardonnay.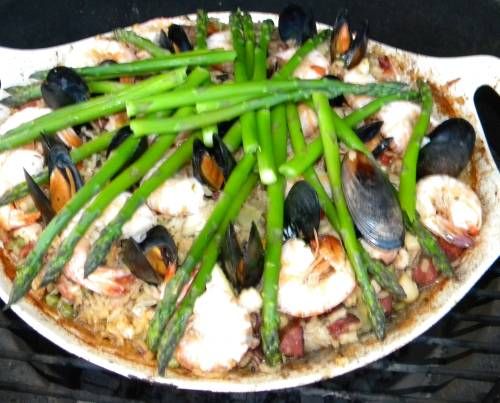 Recipe Type
Main Dish, Seafood
This dish usually feeds 8-10 folks.
Recipe Source
Source: BGE Forum, Richard Fl, 2012/09/04
Richard Melbooooring Fl.