Welcome to the EGGhead Forum - a great place to visit and packed with tips and EGGspert advice! You can also join the conversation and get more information and amazing kamado recipes by following Big Green Egg at:
Facebook  |  Twitter  |  Instagram  |  Pinterest  |  Youtube  |  Vimeo
Share your photos by tagging us and using the hashtag #EGGhead4Life.
In Atlanta? Come visit Big Green Egg headquarters, including our retail showroom, the History of the EGG Museum and 
Culinary Center
!  3786 DeKalb Technology Parkway, Atlanta, GA 30340.
MBT's, or Mild Buffalo Turds (long for dialups)
I've been seeing, smelling and hearing about ABT's for five years now, but I can't eat one. I can't eat anything that looks like a pepper. So, I came up with my own version yesterday (probably been done, but haven't seen it) and I call it "MBT's", or "Mild Buffalo Turds".[p]Here are the ingredients I used...but with all things in the bbq world, please substitute the ingredients or your choice. Zucchini, cream cheese, ham and bacon. [p](this cook and pictorial was done last weekend. This weekend I did them again using smoked salami and kicked them up with some Ken Stone's "Witchy Red" and granulated garlic. MMMmmmm)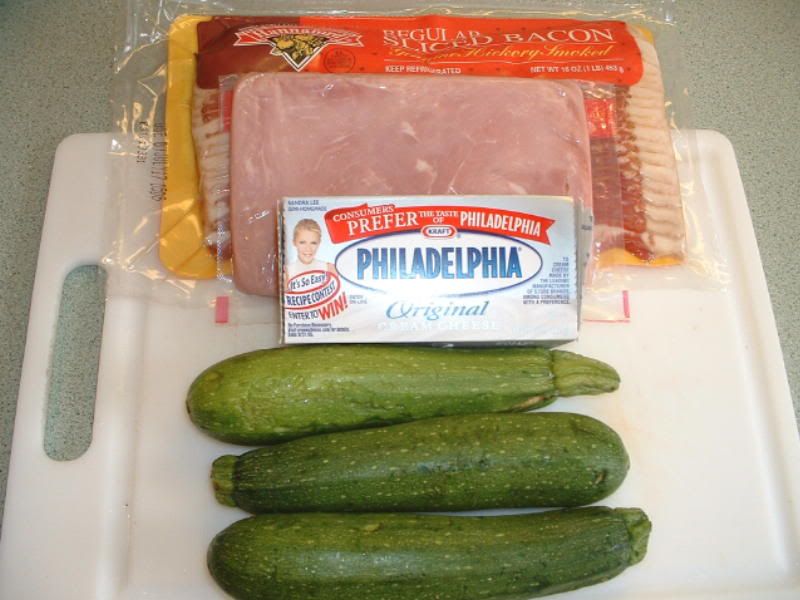 [p]I've cut them in half and scooped out the pulp with a grapefruit spoon. Pretty easy...draw a 'line' around the inside with the serrated edge and then just scoop.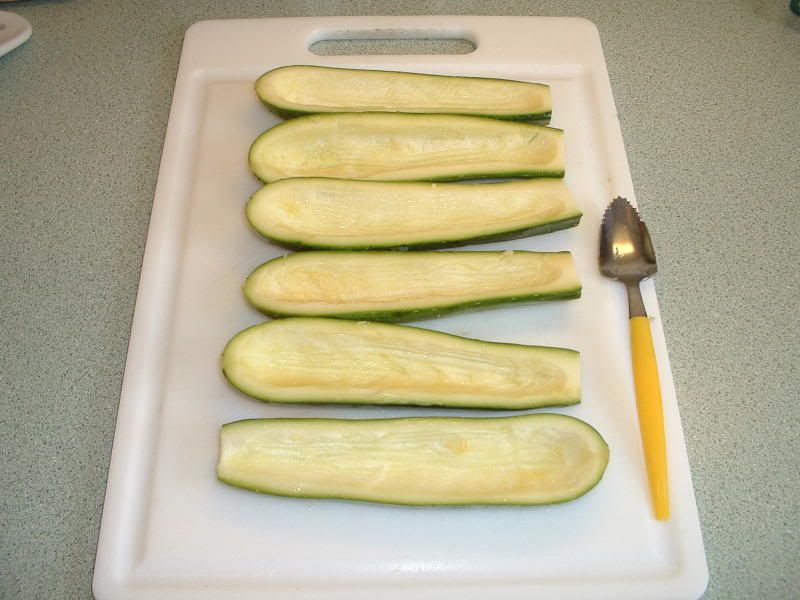 [p]Now I add a small layer of cream cheese and sprinkle with fresh ground pepper (sub your own spices here)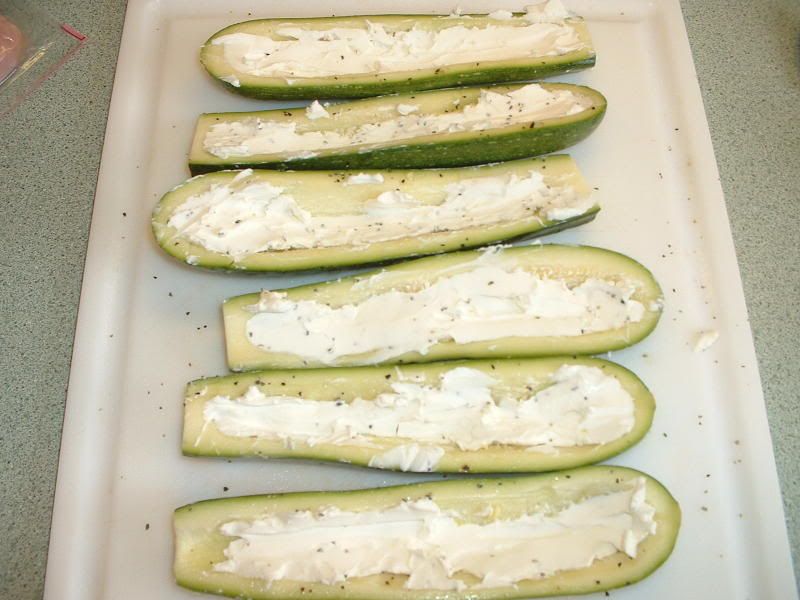 [p]Here comes the strips of ham. I would've added pulled pork, but I'm out. Brisket or shrimp would be good in here also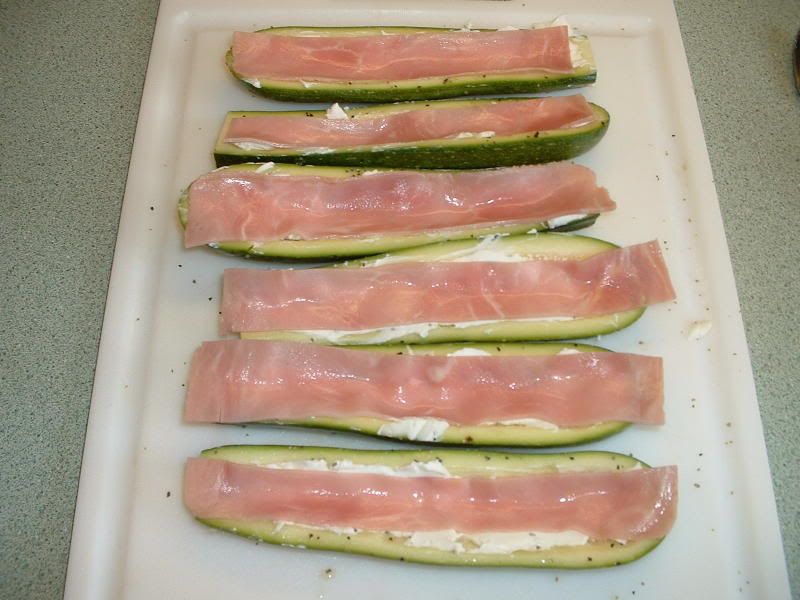 [p]I dusted with Dizzy Dust (sub your own) and wrapped each zucchini with two slices of bacon. Not shown, but another layer of cream cheese is on top of the ham.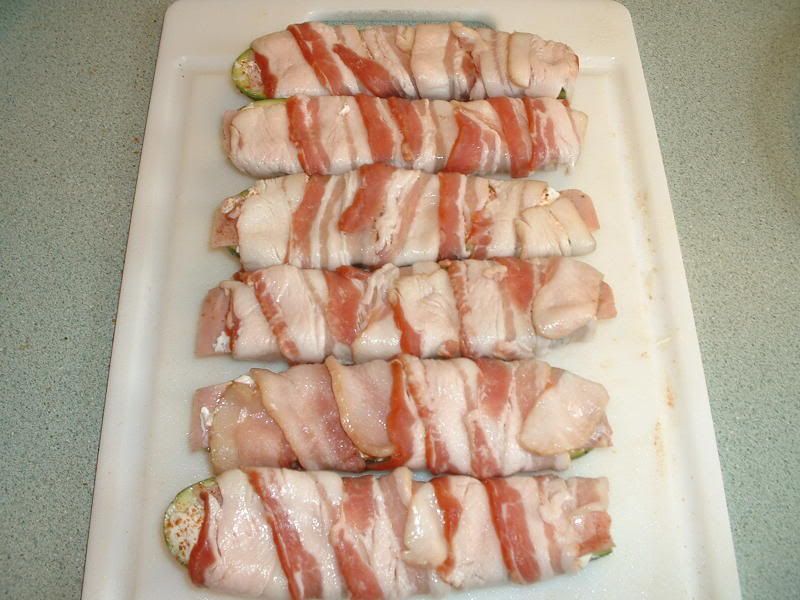 [p]I cooked these MBT's indirect over a drip pan, to catch the bacon grease, at approximately 375-400° dome temperature, no extra wood smoke, for 45 minutes. NOTE: there are no pictures of the MBT's cooking due to the camera running out of batteries at a crucial time, but here they are DONE. Each zucchini was cut into four pieces.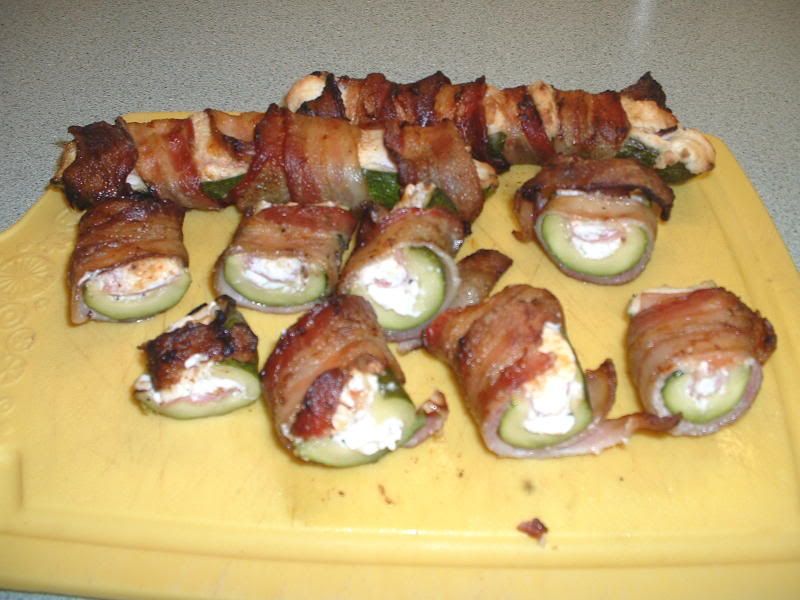 [p]I cooked a couple of ½ pound burgers (home ground) over the fire after the MBT's were removed. I used a special rub from Tulocay's in Napa Valley that someone had given me. Different, had some cloves in it, but interesting, to say the least. Sides were previously cooked Rosemary Potatoes and the MBT's. A bottle of Negra Modello helped to wash down the meal.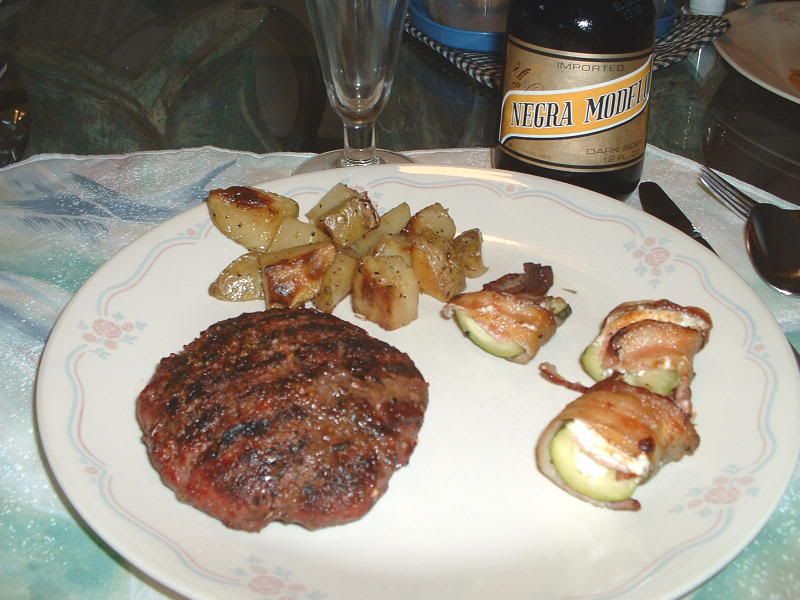 [p]Bottom line...........these MBT's were FANTASTIC!! Wife loved them. When I do them again, which will be soon, I will probably 'kick' them up just a tad, but not much. Great appetizer, or side, to say the least. [p]Other veggies and fruit would probalby work as well. Maybe those baby Eggplants???[p][p][p][p]