Squash Relish.....This stuff is AWESOME!!! WAY too good not to share.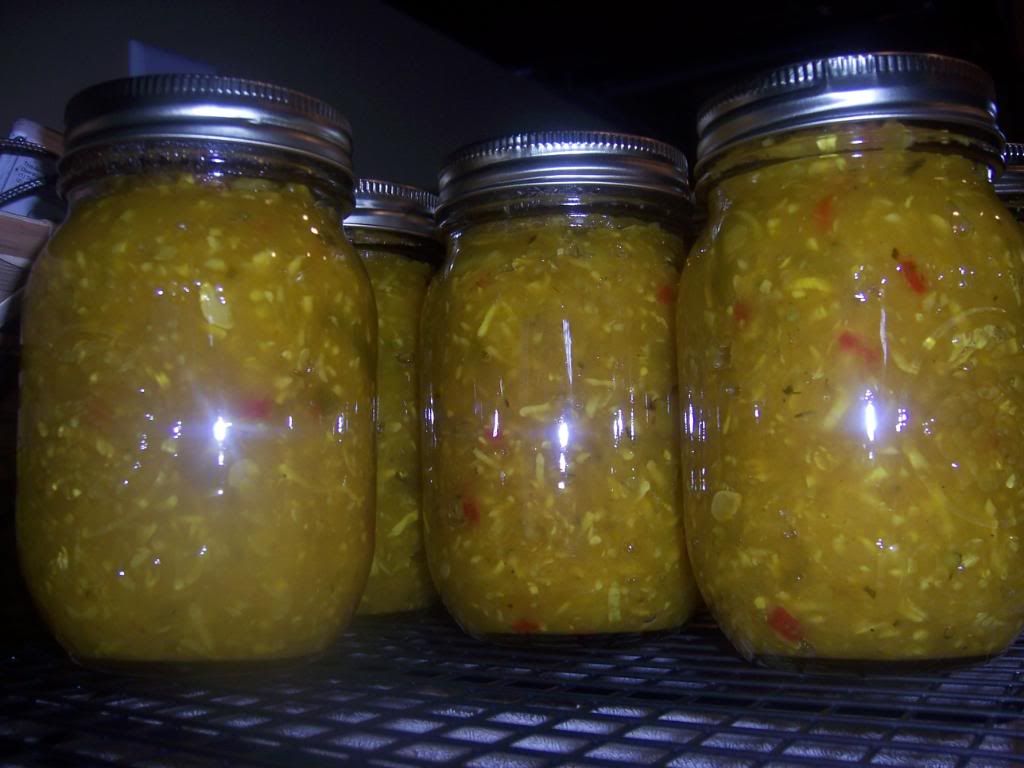 8-cups shredded yellow squash
2-cups shredded zucchini squash
4 large onions diced
5 medium bell peppers diced
1 4oz jar of diced pimentos
Mix yellow squash,zucchini and onions together with 2 tablespoons of canning salt and let sit overnite.Drain liquid off squash/onion mixture.
In a large,thick bottomed stock pot that is coated,enameled etc.Do not use bare metal pots,the vinegar will react and turn cloudy.
Pour in...
2.5 cups white distilled vinegar
5 cups sugar
1 Tablespoon corn starch
1 Tablespoon Tumeric
1 teaspoon dry ground mustard
1/2 teaspoon nutmeg
Heat mixture to a simmer,add veggies,return to a simmer and cook for 30 minutes,stirring often.
Fill sterilized canning jars to within 1/2 inch of top,place heated lids on jars,place rings on jars and tighten.Place filled jars in a waterbath of boiling water covered by at least 1 inch.Process pints for 10 minutes(Quarts 15 minutes),remove,let cool on racks.ENJOY!!!