Thank you Egret & Lady Egret for planning and hosting this wonderful eggvent!
No detail was overlooked.
If you want to have fun in a gorgeous setting....you'd better attend the next Georgia Mountain Fest! It took place in a stunning setting in the fairgrounds on Lake Chatuge surrounded by the mountains. Each station was a shelter and there were plenty of shade trees.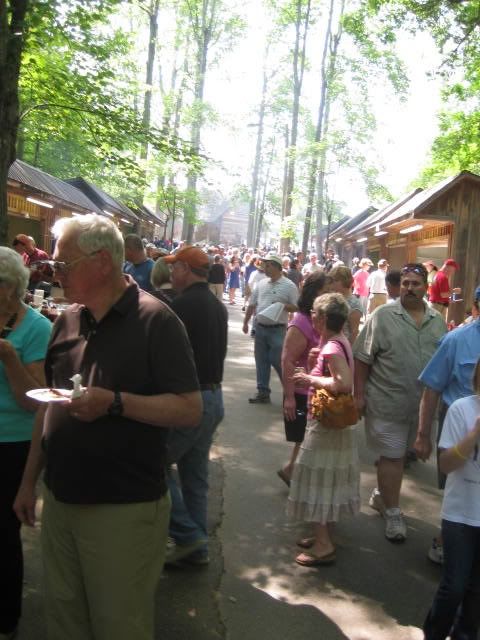 Egret prepared ham his famous Bourbon Maple ham for the Meet & Greet. Pork Butt Mike egged some delicious turkey. There was even live bluegrass music! Some of those Georgia eggers must have heeded the siren song of the bango......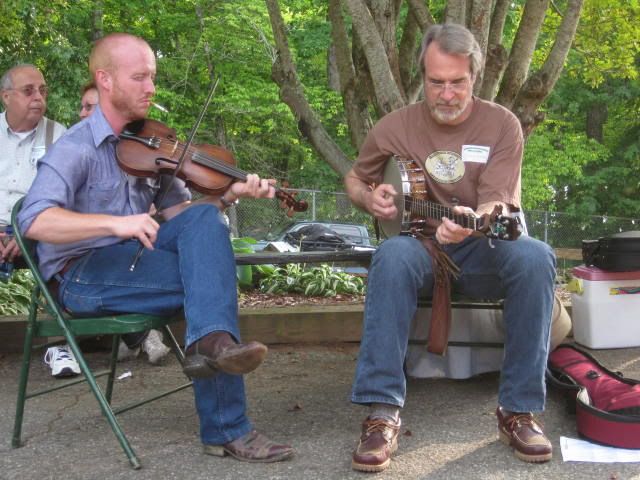 Dr. Zaius (Doug) and Rockytopsc (Jason): :ohmy:
(Really Jason, it appears you're enjoying the festivities a little bit too much.)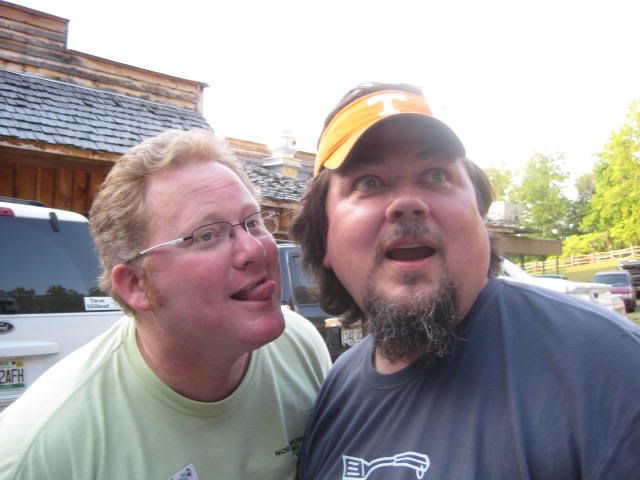 Fidel (Rod), Jupiter Jim, Dr. Zaius (Doug), and J. Barnett Carter (and Michael trying to stay out of the fray): :unsure: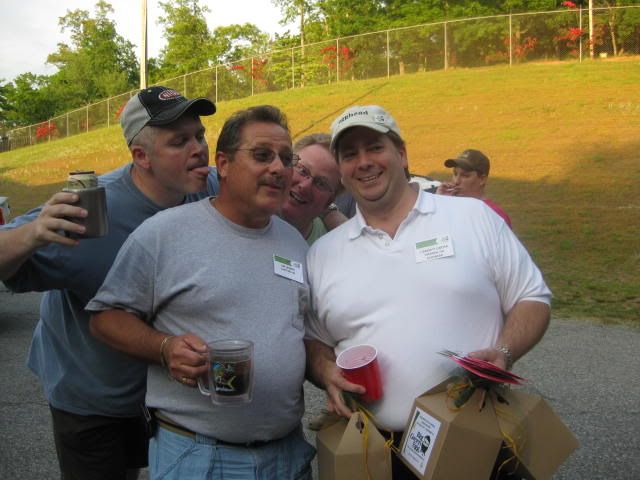 Here's a pic documenting how thoughtful and generous eggers can be……. :evil:
Fidel and Michael stuffing fieroguy's (Mike's) minivan to the gills with charcoal: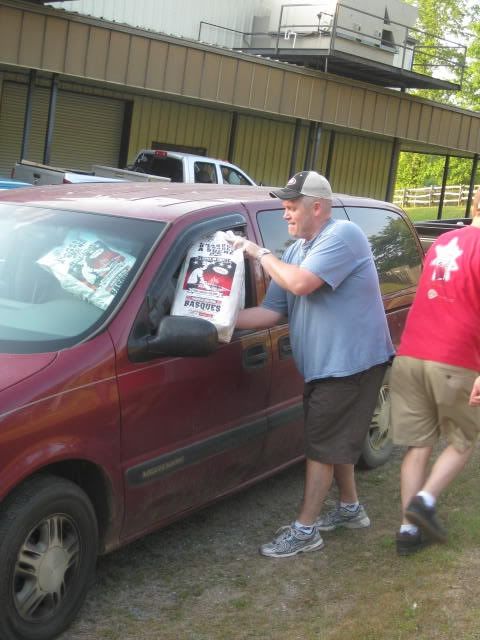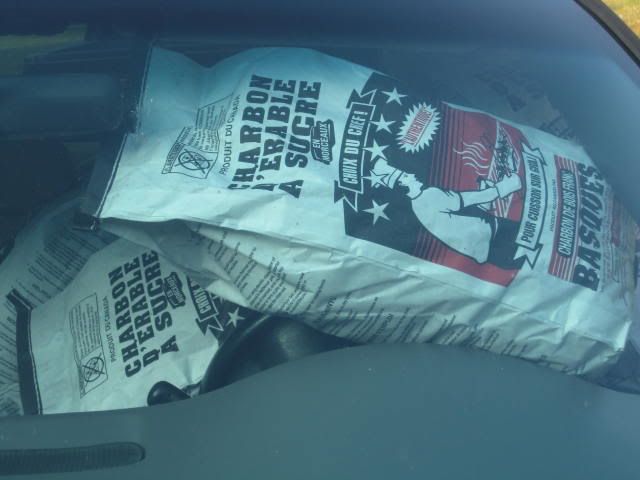 Now, if Mike can only get in his driver's seat, he'll have several years worth of charcoal. My translation of the print on the bag indicates that is a drawing of Little Steven on the bag.
I arrived in style courtesy of Sparky (Doug) in his big green jeep. Oh, and did I say Sparky can cook as well as party?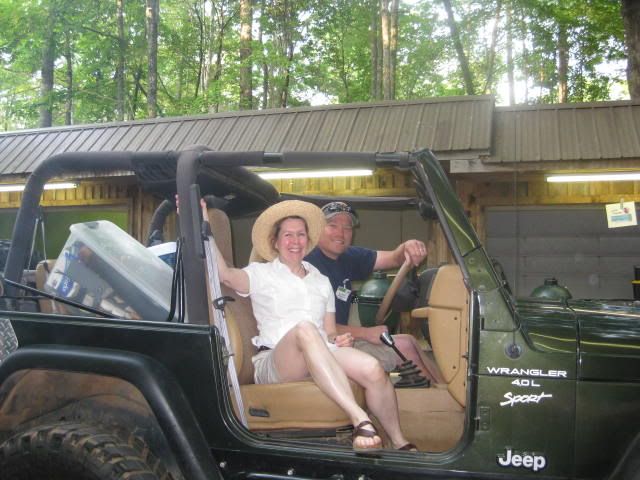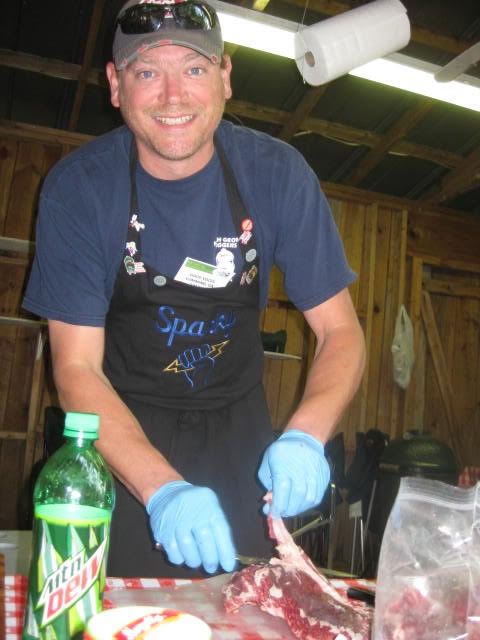 We were able to drive up to our sites prior to the fest and unpack our food and equipment.
I shared a station with the lovely Mint Tulip, Robin, Vidalia1, and Dr. Zaius!
It's always nice to cook with a renown Egging 101 Professor and an Oklahoma Iron Egg Chef 2010.
Mint Tulip (Ginny) & Vidalia1 (Kim) made a delicious breakfast dish that was so delicious that I ate half: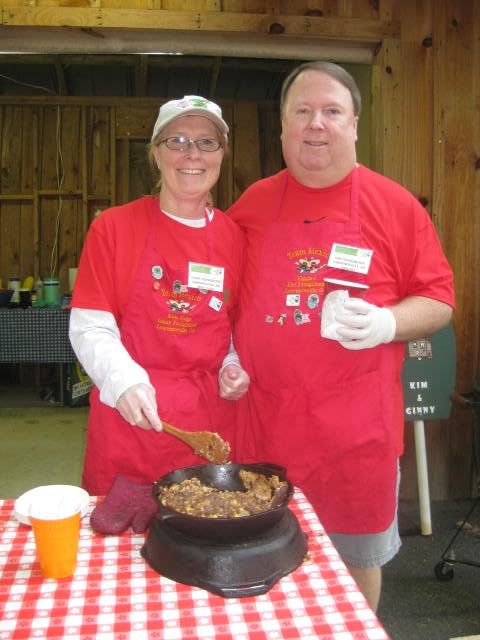 Doesn't Vidalia1 (Kim) have nice taste in aprons:? :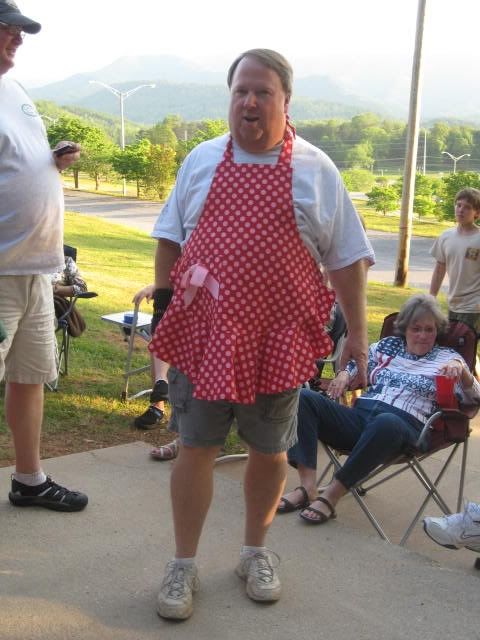 The Oklahoma Iron Egg Chef 2010, Dr. Zaius had a crowd waiting for his bacon bread: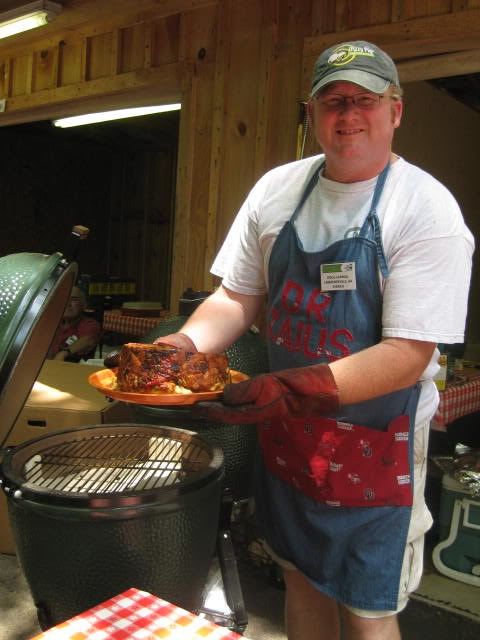 Egret was kind enough to provide me with 6 slabs of Baby Back Ribs which I cooked up trying to channel CWM, lol: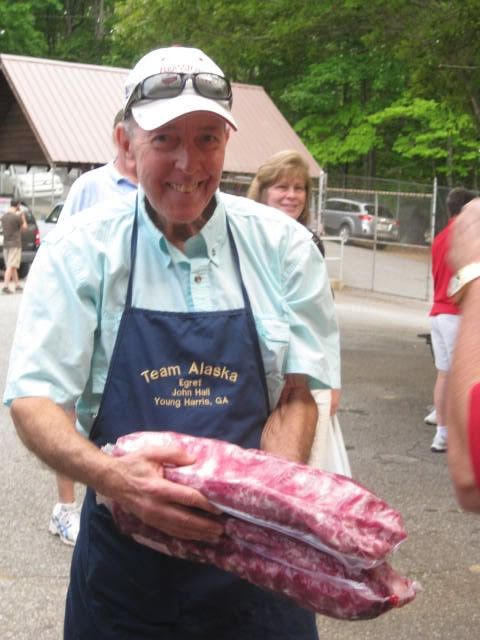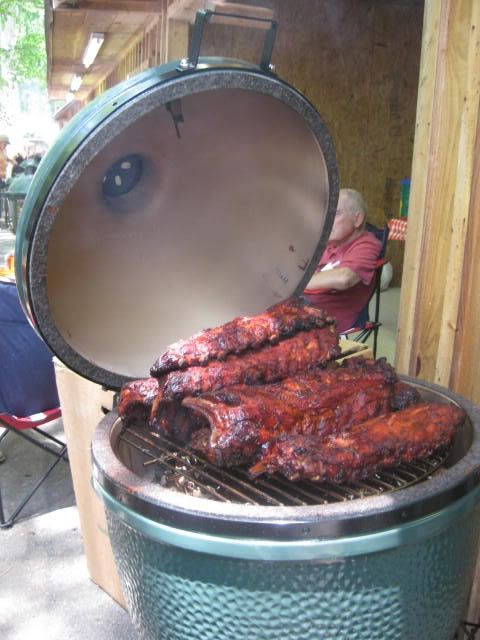 At first, I thought we were next to some carnies. I heard all this carnival barking all day. "Funnel Cakes, step on up and get your funnel cakes, ......Hanger Steaks, Hanger Steaks, WOW!!!!!Hanger Steaks......Step on up and get some Shrimp & Crawfish Ettouffe......" I must say, we always knew what was coming off of the Northern Georgia Eggers eggs: Fidel (Rod), Crimsongator (Gene), Michael, and Sparky.
"Funnel cakes, Funnel Cakes. WOWWWWWW!!!!!": The Northern Georgia carnies, sous chef Michael, Fidel (Rod), and Sparky (Doug)with CrimsonGator MIA. I've heard of bringing a table cloth, but Fidel brought his own Funnel Cake sign and the Georgia Eggers had a cute piggy hanging from the rafters: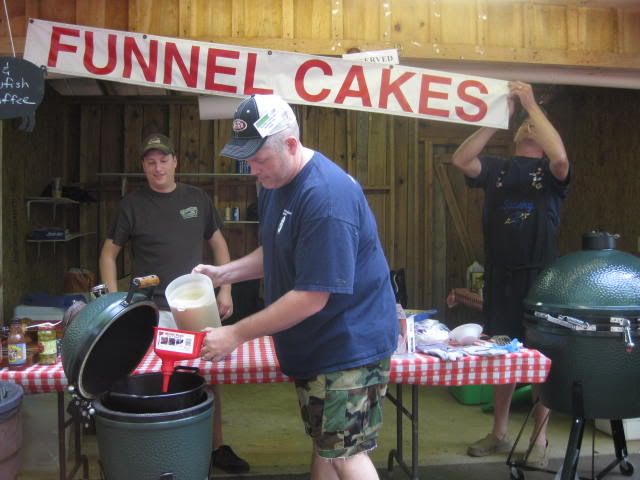 Seriously, those funnel cakes were a great treat and made me feel as if I was at the County Fair.
CrimsonGator joined the Northern Georgia Eggers (Gene, of Jiffy cornbread fame) next door to us and entertained us thoroughly: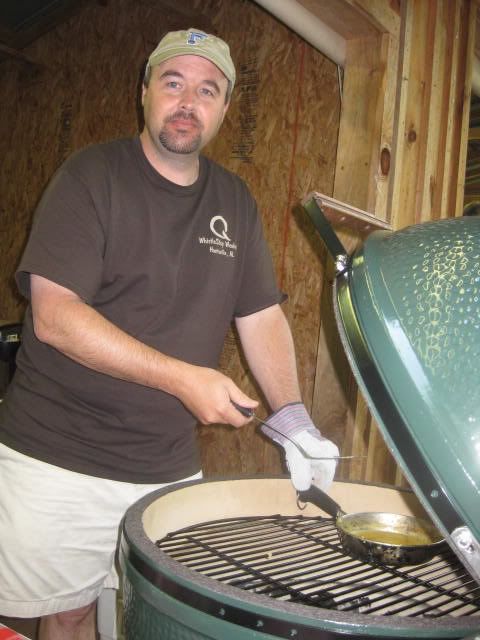 Our other neighbors were locals, Alice, Maggie, and __________(someone please help me fill in the blank). They were busy cookin up quite a storm all day. Alice came to try to win an egg.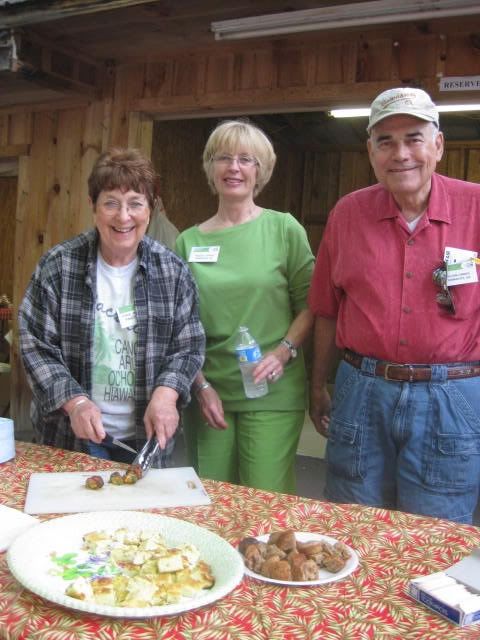 Across the way was Girlyegger (Lynn) and let me tell you, that lady can rock an egg!!!! She is a veggie soul sister.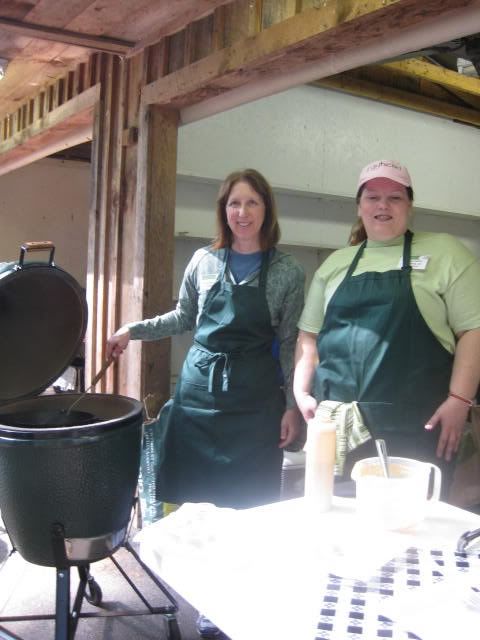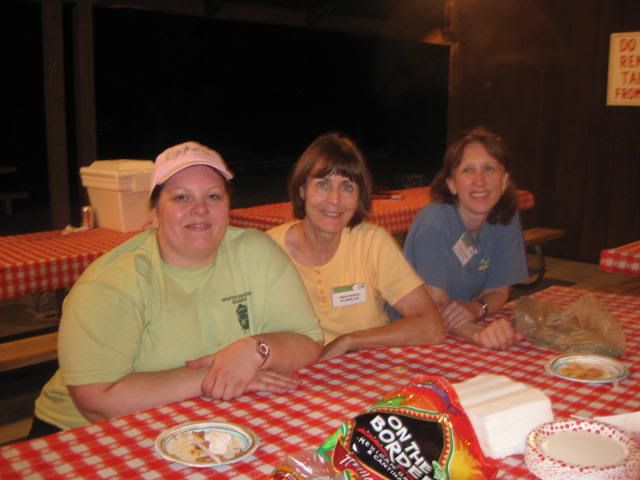 Catycorner was SSN686 (Jay)
with his famous breakfast bread roll, that is a great way to start your morning, absolutlely delicious: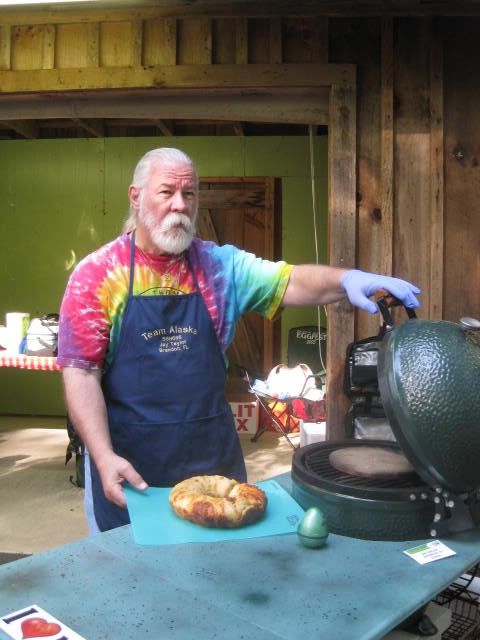 It was great to finally meet Rockytopsc (Jason). He's the quite type, but was able to provoke quite a bit of trouble as well!: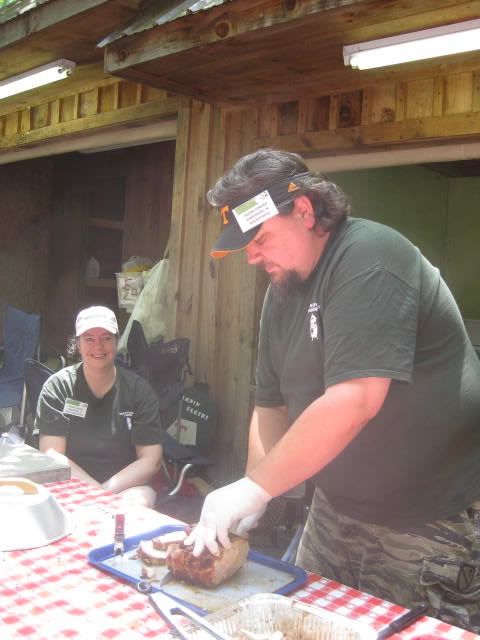 Jupiter Jim & his lovely wife, Kay NoCook:
Gator Balls made by eunuch, Jupiter Jim: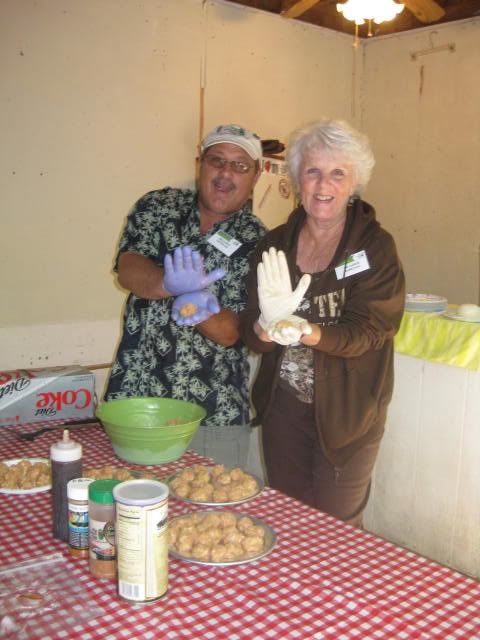 I don't know why they call her Kay NoCook, because she can cook a mean apple cake (and she can pole dance….check out the National Enquirer for THAT pic). I only got a nibble, it went so quick.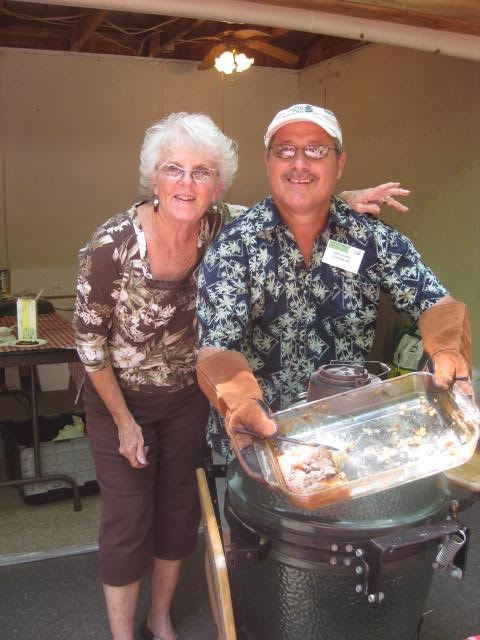 Down yonder was:
Gerry, the local Egg Dealer and a sponsor with wild hog sausage and other sausages with peppers, he cooked up some fabulous food all day long and sold out of his eggs: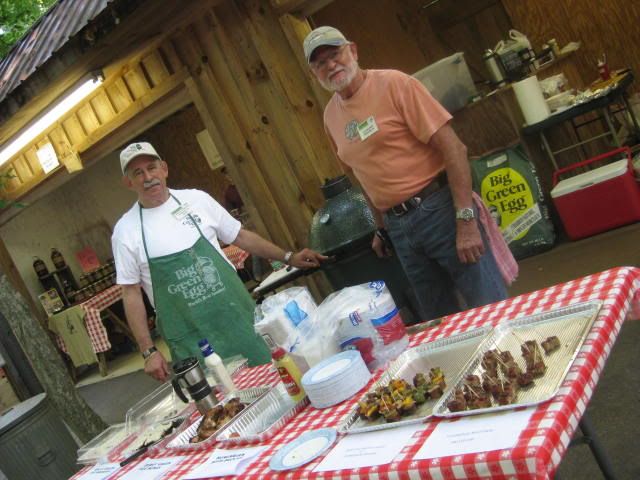 PMDoc (Vickie) & Double Bogey(Larry) :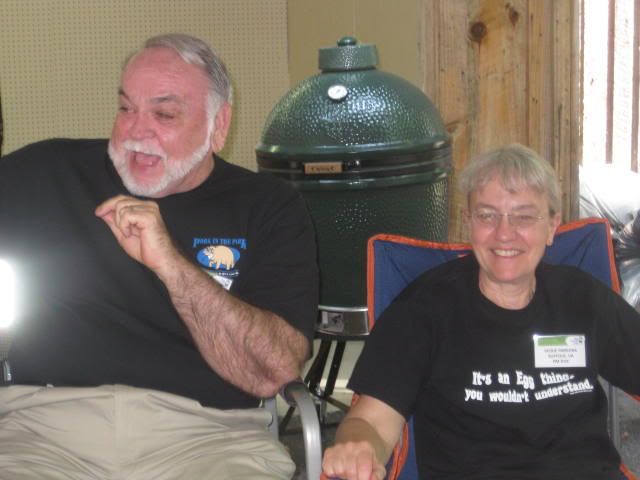 I finally noticed that Vickie and Larry are quite a coordinated couple.
You'd think Egret and Joan would be too busy to cook at the fest, but I was lucky enough to catch a bite of his famous Egret's Bourbon Maple ham and a fattie: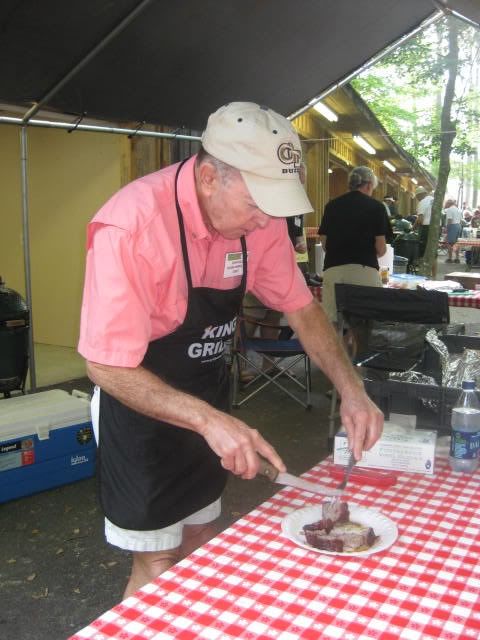 Fieroguy (Mike Tripp) makes it look so easy (but just wait till he has to unload that lump). Mike is a stealth egger, I could not have pulled off my cooks at the minifest without that gentleman.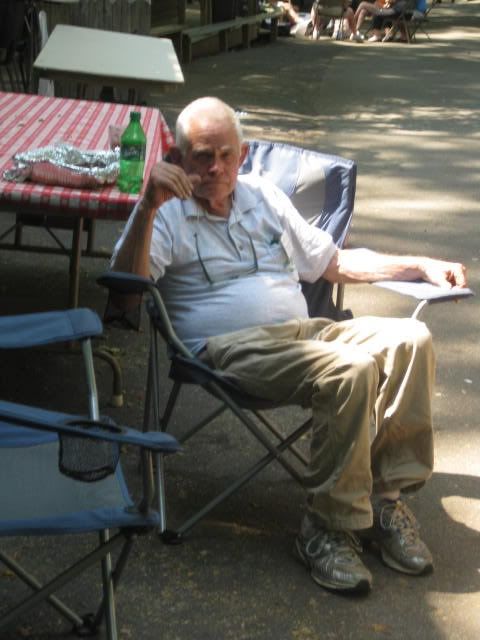 Down yonder someone cooked up this massive shoulder that stood up to serving the crowd: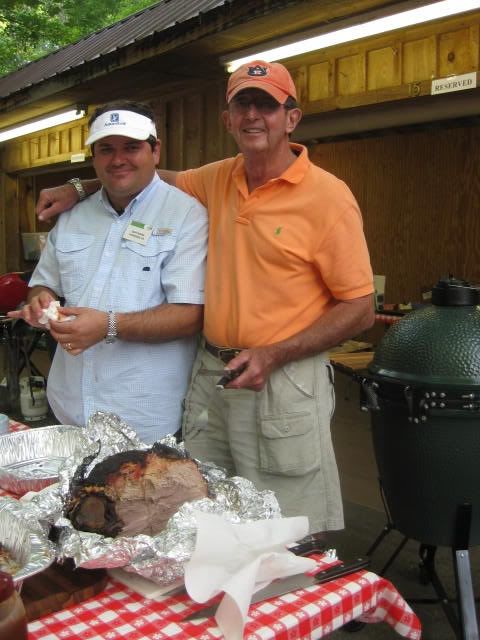 Up yonder were quite a few eggers.
Do you think Outrageous', (Paul's) chops are thick enough???? Poor Paul had his hands full overseeing Jay and Pork Butt Mike.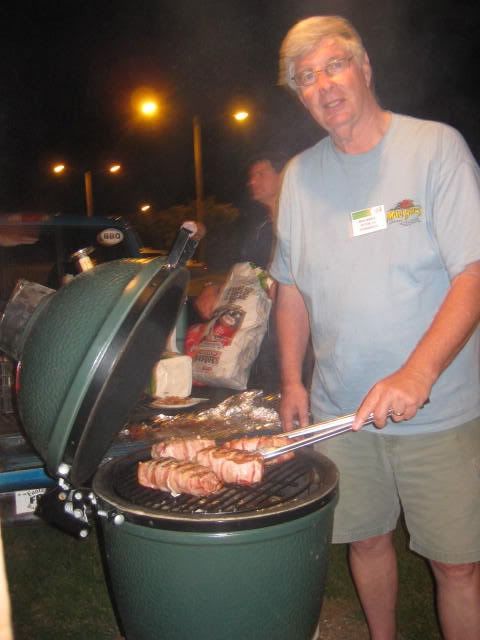 CTredwell is nothin' but Trouble, the boy can't seem to follow the rules: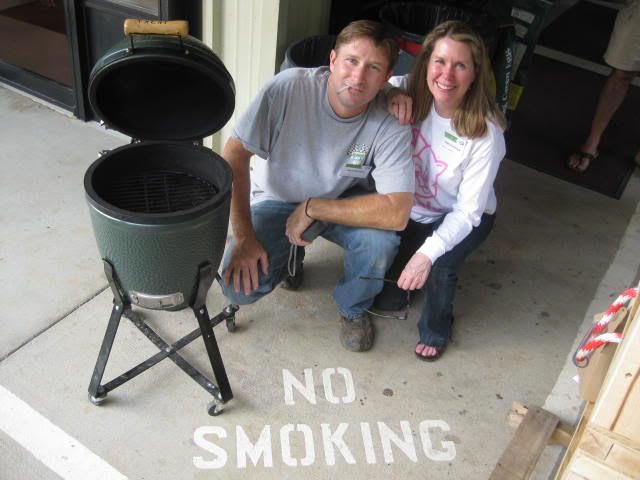 If you ever get a chance you must try Chris' breakfast pizza, yummy!: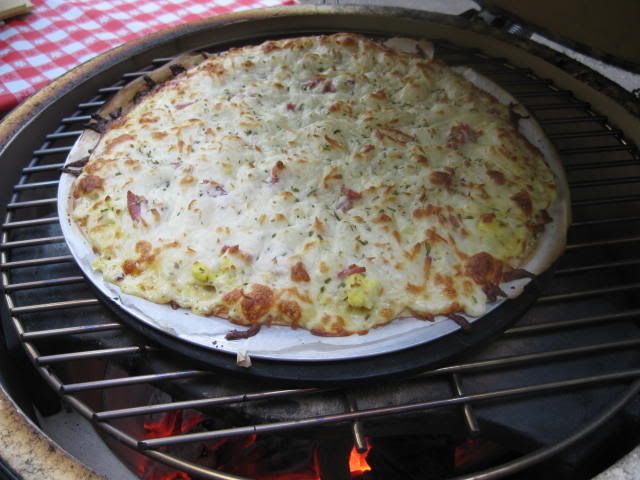 There were two eggers from Georgia that happened upon the fest through the web. Their names are Chris and Andy and they will a force to be reckoned with. They began their cook on Friday and cooked overnight with the security guard keeping them company. They egged a whole pork shoulder, ribs,
a brisket, and chickens. I feel ashamed after hearing all that! No wonder Kim and Mike signed me up for a remedial course.
Chris and Andy finally getting some deserved rest at the afterparty
: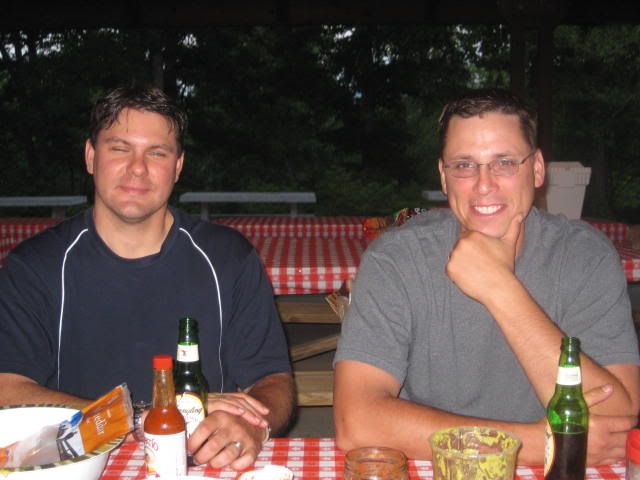 At the top was a large contigent leadby J Barnett Carter with eight cooks and did they ever cook!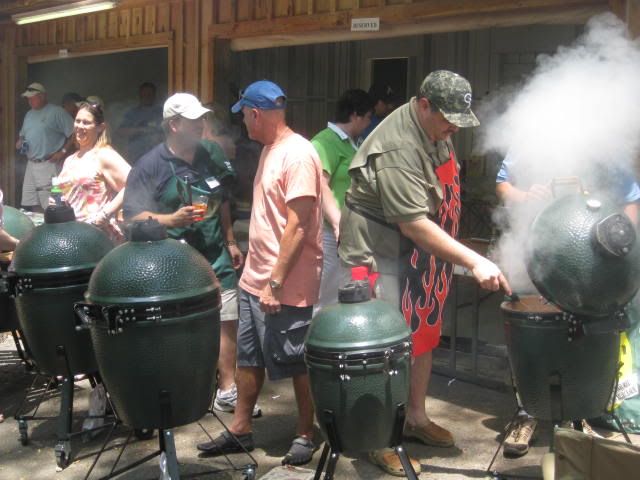 Of course, our beloved Big'un
was present with his family providing me with yet another fix of his addictive Carnivore sauces and his fabulous new rub! Did ya'll know Kenny was on my cooking team the first time I egged at a fest? My is that young man ever growing up.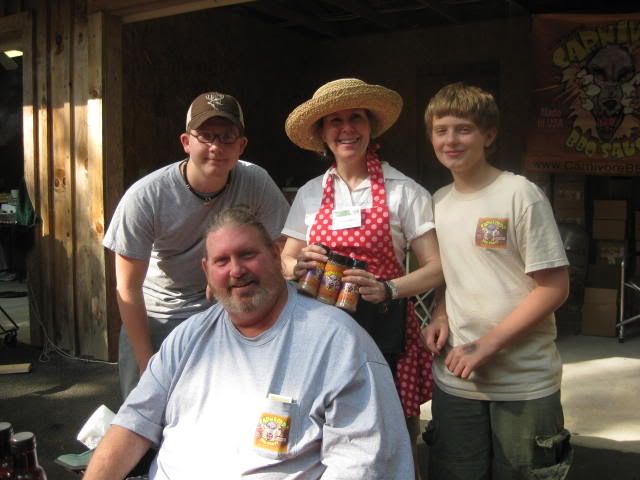 There was so much food cooked and the crowd was so inquisative. I didn't get around during the fest as much as I had planned, but what a did see was some fabulous egging. Very impressive. It was so nice to meet so many new eggers! I missed the Egging 101 course given by Vidalia1…….they said I didn't qualify, that I would have to go to a remedial 101. Pork Butt Mike's chicken wing class was crowded to capacity, as well (next time, save me a wing, handsome).
Here's Pork Butt Mike prepping for his wing class. No sweat, just drinking a beer before his curtain call.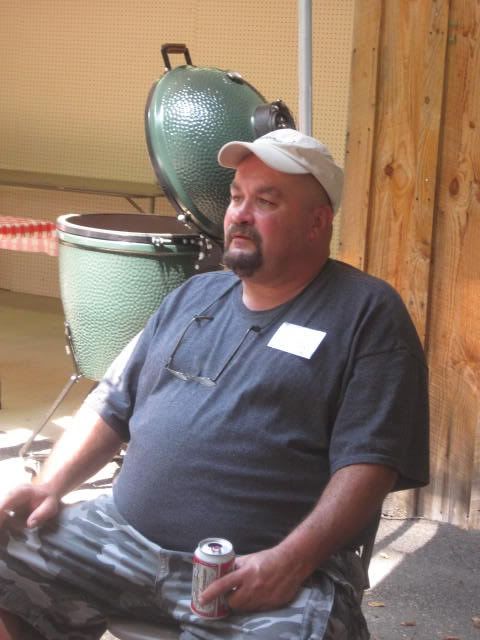 Egret coming to pick up what I cooked. I can't understand why he didn't just bring a plate???? You're supposed to eat it John, not pitch it in the trash.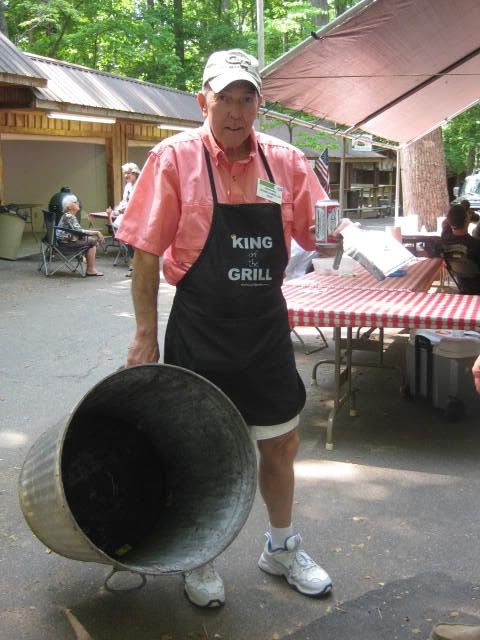 There was a plethora of gifts for the cooks. Once again, lady luck was on my side and I won a custom Lawn Ranger wiggle rod commemorating the 2011 Georgia Mountain Fest! Thanks Mike!!!!! Now I own two pieces of Lawn Ranger utilitarian art.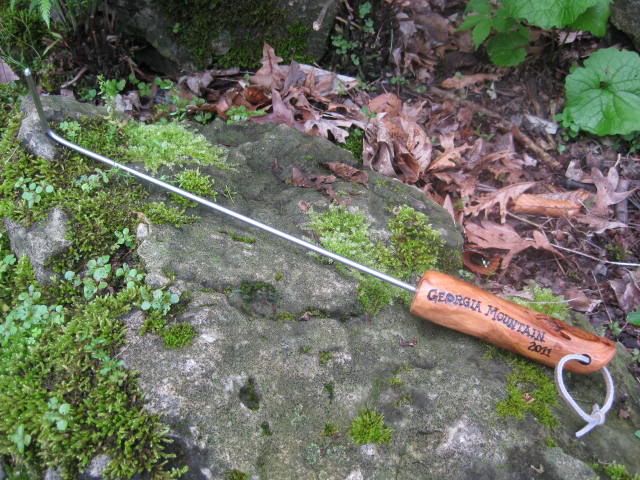 The generous Ginny (Mint Tulip) is one Georgia peach to have kindly given me one of the Big Green Egg Billy sticks to clean my grid………maybe I should of used this instead of doing a clean burn at the end of the fest.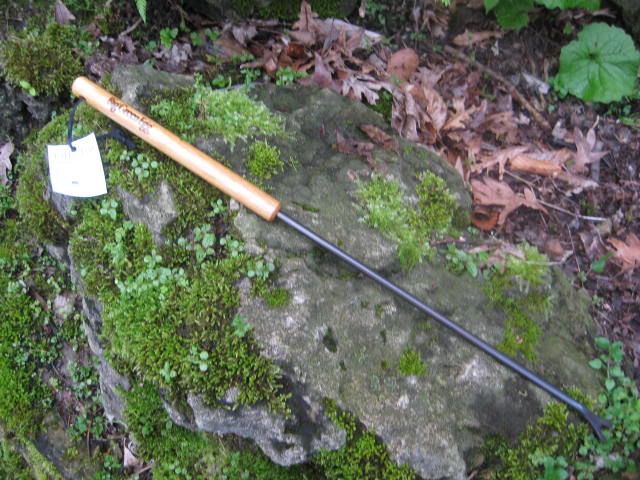 Then it was off to the afterparty given on the top of a mountain surrounded by rhododendrons, a setting sun, more delicious food, and most importantly, wonderful eggheads!
Lady Egret (Joan) and Brenda from BGE finally getting to relax at dusk: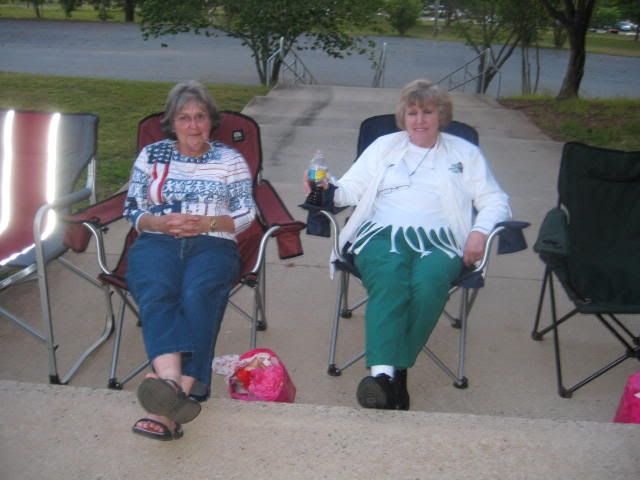 The pros coming out to cook:
BobbyQ (Bobby Cresap) cooked some nice, thick, juicy ribeyes to perfection (he was kind enough to cook my asparagus as well).
I had to fight back the wolves to get some of Bobby's delicious steak: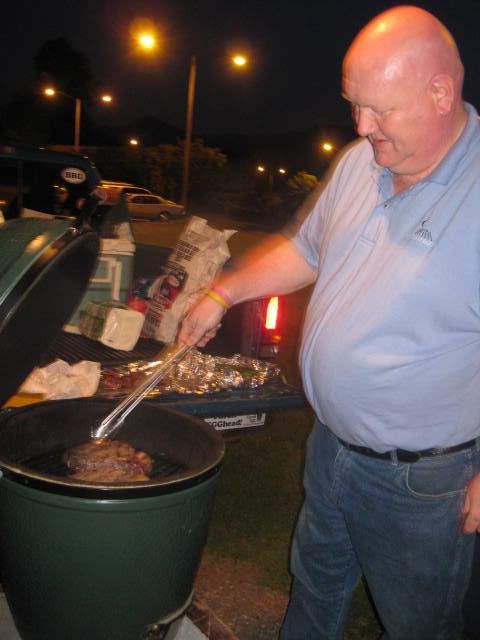 Kevin Jenkins cooked a beautiful stuffed pork roll: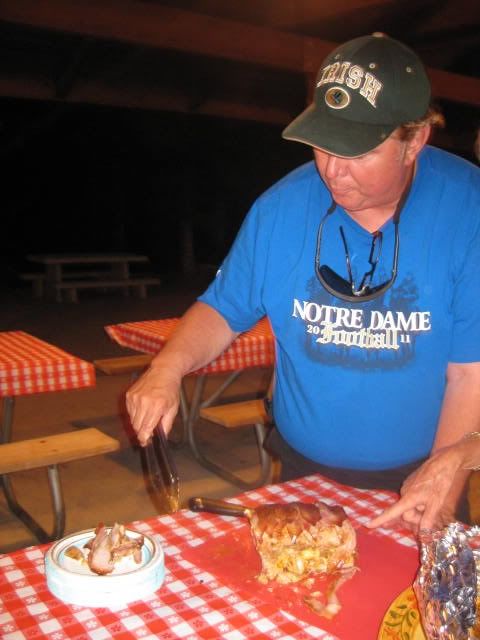 Legendary egger, YB (Larry) from Augusta, GA came to give Fidel some advice on egging.
Next time I hope he helps me cook!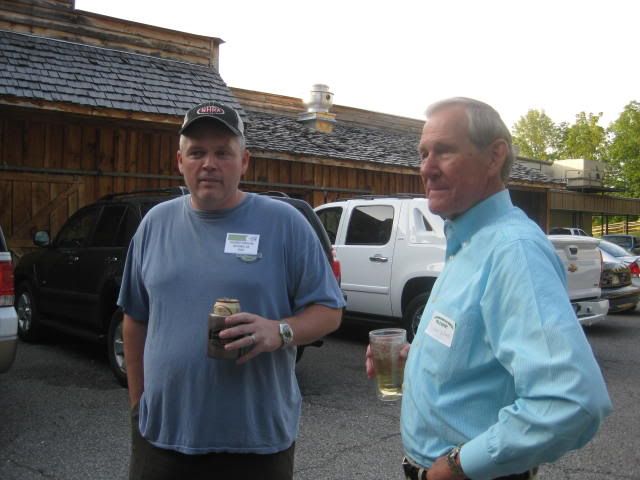 Don't ask me what Sparky and Pork Butt Mike were up to at the afterparty: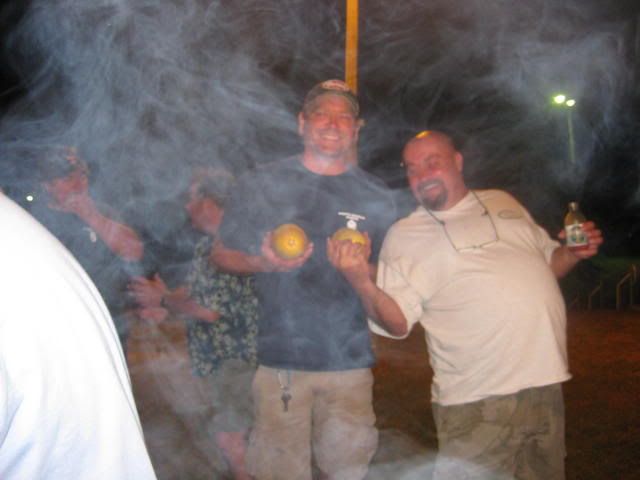 Figures these two can't tell a melon from a squash after a 'few' beers.
Robin, Dr. Zauis' better half with those beautiful Georgia Mountains in the background.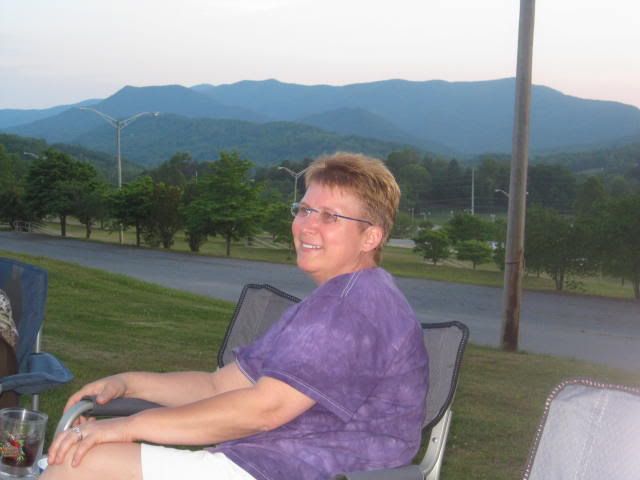 Leave it to Big'un to converse with a gorgeous woman.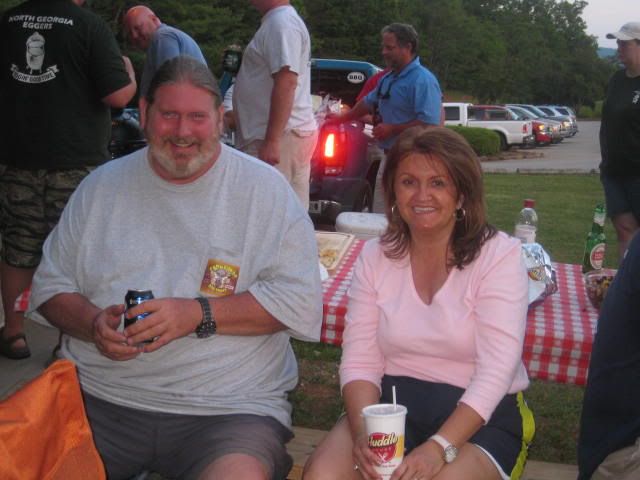 And Fidel thinking, "blasted, this ain't no apron." Sometimes a cigar is just a cigar.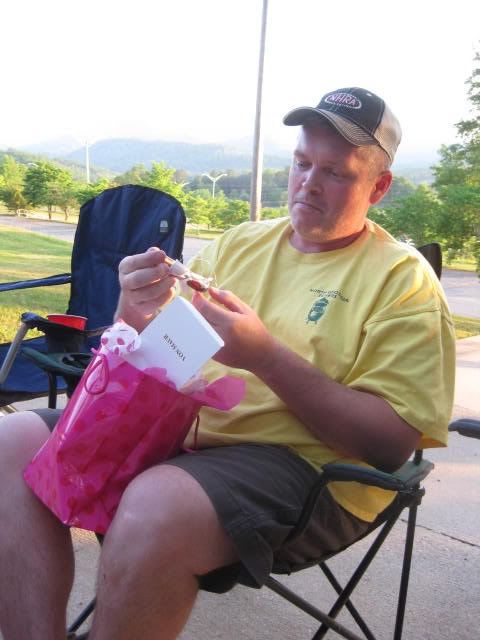 And last, but not least ………….our hostess and host with the mostest:
Joan & John are both precious pieces of art!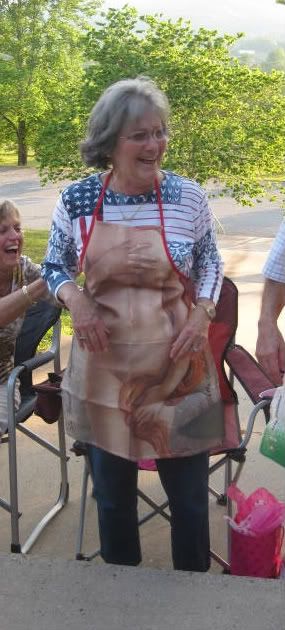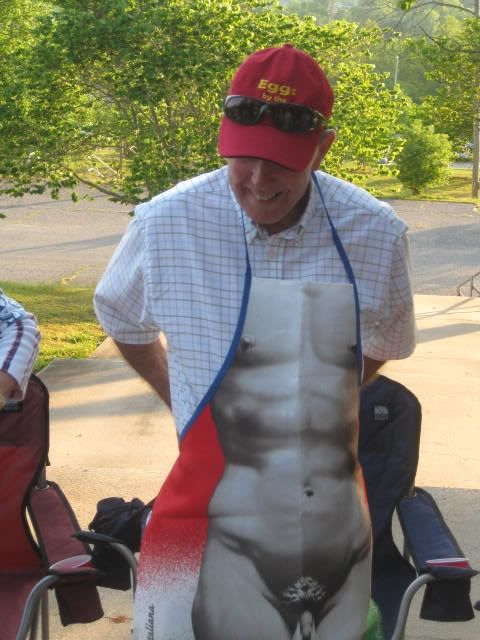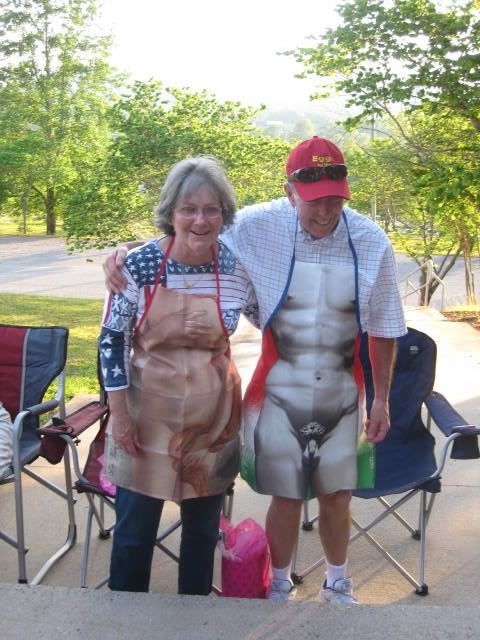 I'm certainly going to heed that invitation of Southern hospitality, "Ya'll come back now!"