First off special thanks to my betters.
Mad Max and WessB
And the help I reached out for on this post. Thanks everyone.
Stike, thirdeye, Little Steven, Little Chef and Fidel. Big thanks guys!
http://www.eggheadforum.com/index.php?option=com_simpleboard&func=view&id=1077825&catid=1
Here is the infamous wild turkey I've been talking about. I don't know how much it weighed but my guess would be 10 to 15 pounds.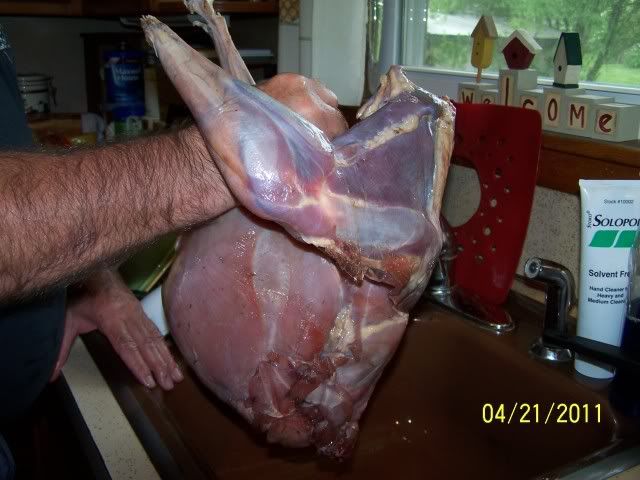 I decided to brine this bird for more moisture and add some flavor. I used kosher salt and canning and pickling salt and brown sugar and Richards Indian River Spice Blend.
I cut the back bone out of the bird. My Kitchen shears had a hard time going through it so I broke out the boning knife. I also, cut the leg quarters off.
After the brine cooled I injected it everywhere I could.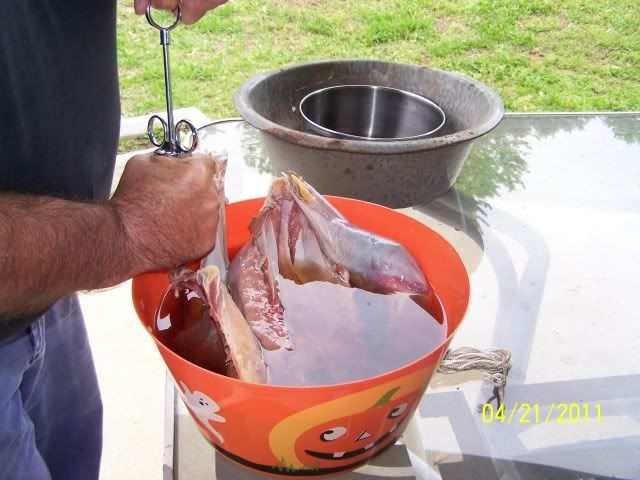 Sadly the brine was only overnight. I would have liked to go several days. I did take the bird out of the brine and soaked for an hour in fresh water then patted dry and the rub again from Richard. Indian River Rainbow Pepper. Thanks again Richard.
Now on the egg at 250F with a drip pan but as it turned out not much dripped out.
Now here is the kicker and I may have learned from this small issue. At the two hour mark the breast was at 152F IT and set for 155F IT and the leg quarters were at 145F IT set for 165F IT they didn't budge for a total of 3.5 hours. I called a friend and we decided to tent the bird and raise the temp to 300F dome. In 30 min's everything come to temp. I have a feeling I should have done that 2 hours earlier and maybe even cook at the 300F mark or in that area. Live and learn. My last wild bird was nothing like this one as far as cooking time and done time.
Now I admit I was worried I was making jerk but, It was nice and juicy in the inside.
:P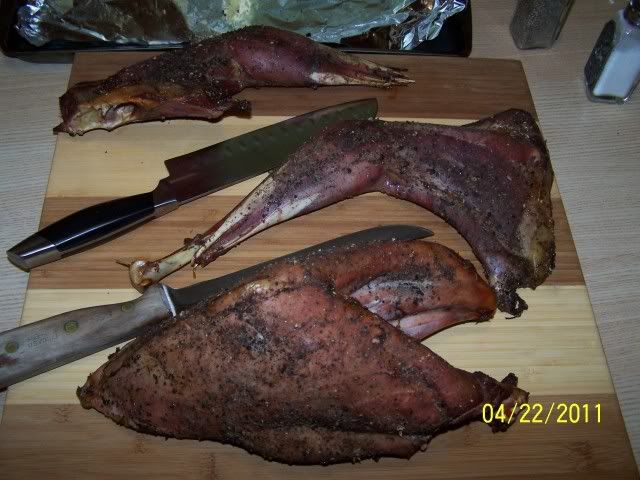 After the breasts cooled down I easily peeled the meat off the bone and sliced them up. We nibbled on a few pieces and thought the meat was very good.
I did have a turn in dead line dead line so I will hand it over to a friend on Saturday morning for an Easter Sunday meal with their family.
If I was to do it over again I would do like the others suggested to do and that was a strong salt brine like Stike and Little Chef said. Fidel was right I never tasted the salt in the finished breast. I would add more spices and throw in the pantry Like Little Steven and Fidel said. Also, thanks to thirdeyes blog there is a lot of experience there. I did especially like the brining and injecting of the bring. This time there was a lot more flavor in the breast and I think there could be more if I worked at it.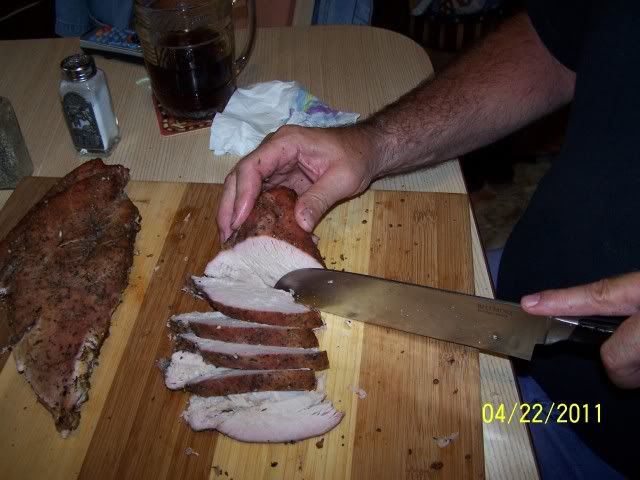 All in all we made one gallon ziploc full of sliced breast meat and the other bag had the leg quarters and the wish bone. Thanks for looking.