Welcome to the EGGhead Forum - a great place to visit and packed with tips and EGGspert advice! You can also join the conversation and get more information and amazing kamado recipes by following Big Green Egg at:
Facebook  |  Twitter  |  Instagram  |  Pinterest  |  Youtube  |  Vimeo
Share your photos by tagging us and using the hashtag #EGGhead4Life.
In Atlanta? Come visit Big Green Egg headquarters, including our retail showroom, the History of the EGG Museum and 
Culinary Center
!  3786 DeKalb Technology Parkway, Atlanta, GA 30340.
The Story of the Loin - and Sue E's Fan Potatoes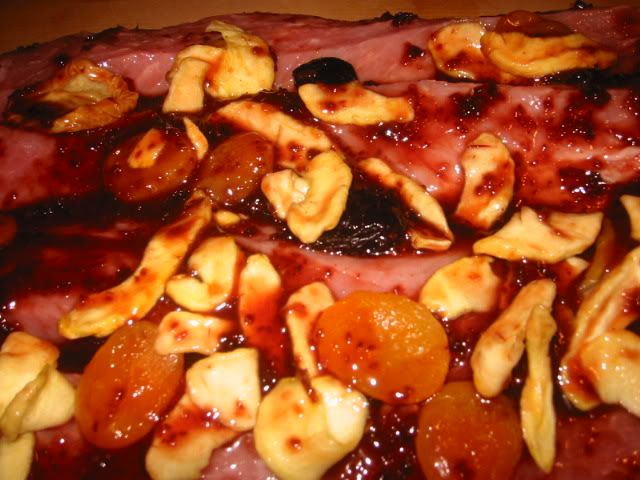 <p />
Began with one 5 1/2 pork loin from Kroger (on sale at the moment at $1.99 lb. Butterflied ans coated with raspberry chipotle sauce and dried fruit. Cashews were added after this picture was taken.[p]Loin was then closed, rubbed with more raspberry chipotle, and wrapped with bacon and tied. It then went into egg (indirect using plate setter and drip pan)until internal registered 138. Removed, rested, temp climbed to 146.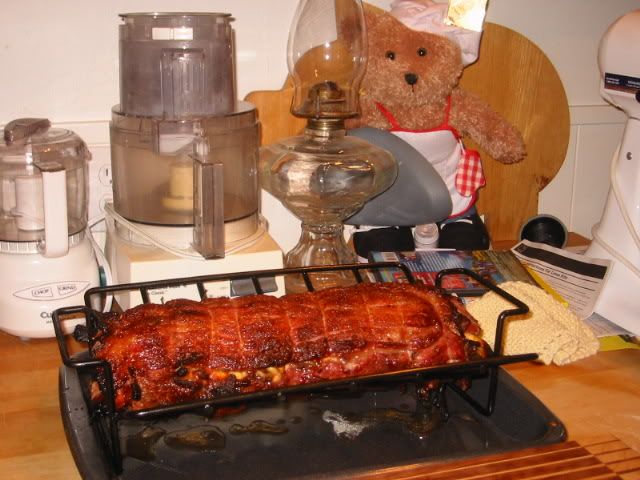 [p]Meanwhile, oven preheated to 400. Put 1/4 cup olive oil in a roasting pan and place in oven to heat. Take two russet potatoes, peel, slice down center to halve the potato lengthwise. Run out to woodshop and rip two pieces of maple about 1/8" thick. (You could of course use anything else that would serve the same purpose).


Place potato half between the strips and make a series of vertical cuts at about 1/16 intervals. The wood will prevent the knife from slicing through the base of the potato - you want a "hinge" to remain.


Remove pan from oven, add potatoes, spoon oil over tops, sprinkle with salt, roast for half an hour. Remove pan,, push potatoes around to make sure that they are not stuck, spoon oil remaining in the pan over the potatoes,


roast 30 minutes more.[p]Meanwhile, take 1 head bok choy, seperate stem from greens. Saute stem pieces in one tablespoon peanut oil for 5 to 7 minutes until browned. Add greens along with a mixture of 1 tablespoon soy sauce, 1 tablespoon sesame oil, 1/2 teaspoon ginger powder, 1/4 teaspoon garlic powder. Saute until liquid has evaporated.[p]Make plates, garnish bok choy with toasted sesame seed - enjoy! Note that Sue E's potatoes have browned nicely and the vertical cuts result in a "fanned" effect. The exterior and underside is flavorful and crunchy, the interior moist and succulent.[p]
[p][p]