So, with spring here and the weather changing I have been real busy in the yard and with the Egg. I decided to just include all the pics in one long post, since nothing was very creative or unusual, but it was all good eats. And I'll apologize....some of these pics are from my new phone (an HTC Evo) and some are from a camera
Some of you may remeber that brisket I did recently from an 800 lb calf. Well, we also got some ribeyes from that same calf. Friday night we grilled them up on the egg at 650-700, about 90 sec a side. Along with some grilled zuchs and squash and a baked tater. This was definitely in the top 5 steaks of my life.
Saturday, we went to the farmers market and got some veggies and then had some friends over for some beers and dinner. My cousin is a vegetarian (or I guess a pescatarian/ I don't know. He eats fish and stuff from the sea) and my brother loves tuna, so we went with some tuna steaks. Seared at 650. But first some ABTs.
Some people can't even wait.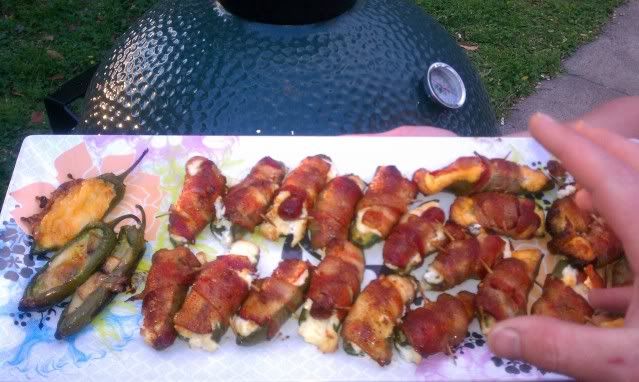 Plated up. My wife made some sort of balsamic glaze from a restaurant from our home town in Corpus Christi. Not sure what was in it.
And then last night, me and the wife sat outside and enjoyed the weather and cooked a few things up....abts and salmon with ragin river rub.
All in all, a couple of great days weather wise and grill wise. Think I might grill something tonight.
Rowlett, Texas
Griffin's Grub or you can find me on Facebook
The Supreme Potentate, Sovereign Commander and Sultan of Wings