Poulet et Mandarines à Mourir Pour or Chicken and Tangerines To Die For :laugh:
No, I don't speak the language, I cheated and let Babel Fish translate for me.
The other day Sam's Club had in house whole chickens marked for quick sale, the sell by date was fast approaching and they had a whole cooler full of them. I picked up a package of two, almost 10#, for $7.54!
Now what to do with them in short order, they needed to be used up. My original thought was to stuff them with some lemon and a piece of onion or two. Sort of a Greek thing. When I got to the supermarket lemons were 3 for $1.99. A little further browsing and I found fresh tangerines 3 for $1! Hmmmmmmm, what can I do with chicken and tangerines?
Well, I had some homemade Herb's de Provence at home and a good supply of honey, why not combine the three and go from there.
I purchased a dozen tangerines in hopes that i would have a few left over for eating out of hand, they are a real treat. I started by making an herb butter, I had left the butter out before going to the market so it was good and soft. I used 2 sticks of butter (salted), three heaping teaspoons (regular spoon not a measuring spoon, I was to lazy to get up and get one) of Herbs de Provence and the zest grated from one tangerine, a pinch of S&P, and probably three or four tablespoons of honey and mixed all well.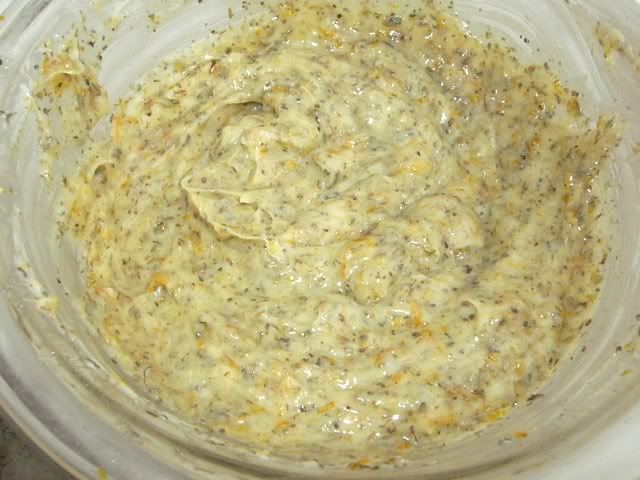 With that done (it tasted fantastic) I next juiced seven of the tangerines for a basting sauce.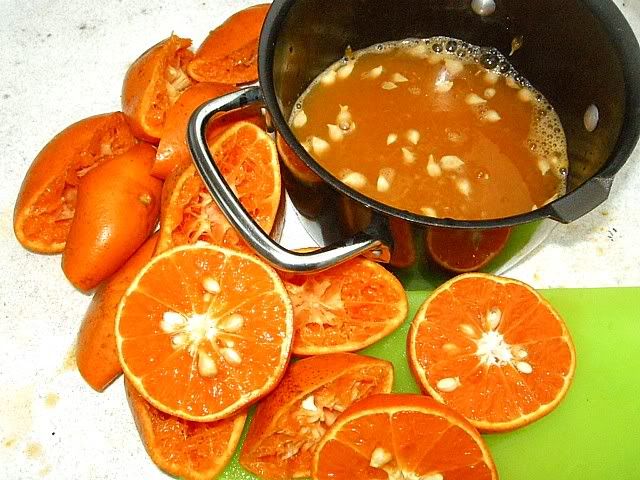 To this I added the zest from two tangerines and about three tablespoons of honey and set it aside till I was ready for it again.
I rinsed out the chickens well and dried them with paper towels.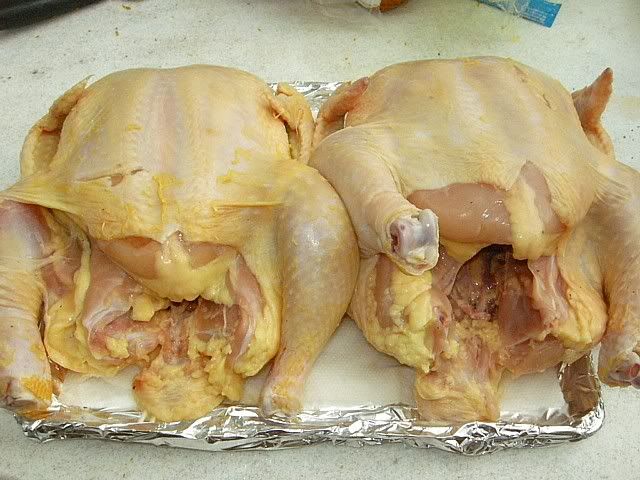 While they were air drying a bit more I took the carcases of the tangerines I had juiced and put them in a plastic bag to which I added a two or three teaspoons of Herbs de Provence and a good squeeze of honey from the bottle.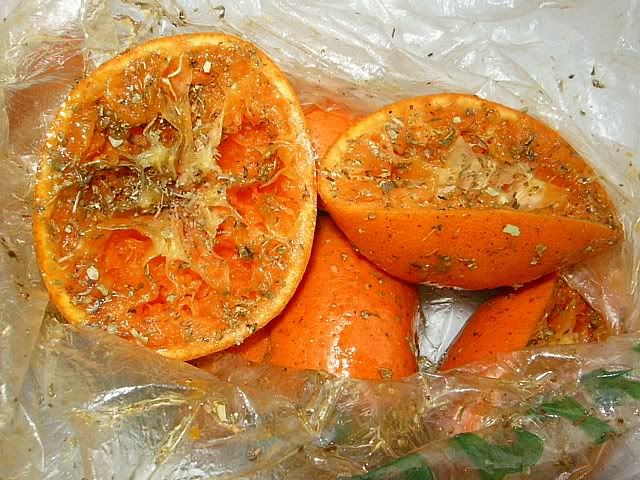 These I stuffed (crammed, lol) into the cavity of the birds.
I then started to slather the herb butter under the skin on the birds, first disconnecting any of the places where it is connected to the breast. When I had a generous amount of the herb butter under the skin I slipped in a couple slices of peeled tangerine under the skin and started to truss the little darlings up so as not to have anything falling out. I was also wondering how I was going to get both birds to fit on my medium egg! When removed from their package they had sort of relaxed and were looking much larger.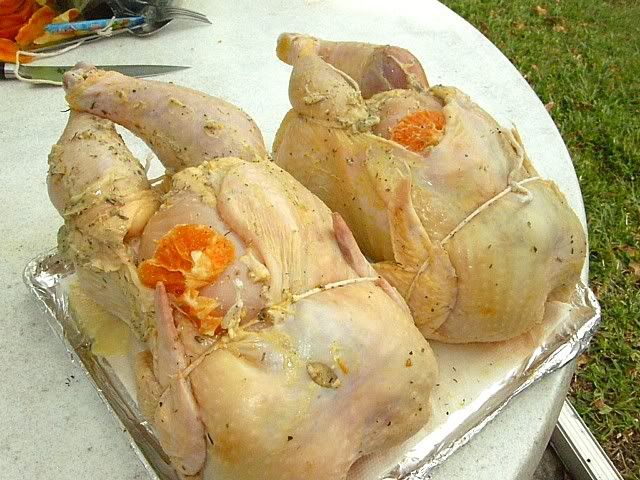 I covered them with plastic wrap and put them in the frig till I was ready for them again. I took the juice/zest/honey mix to which I had added about a teaspoon of corn starch and placed it on a 400º egg to reduce. Be careful, it can boil over.
As it reduced I added more honey as needed. I had used a lot of zest and my sauce was becoming quit powerful! A good thing! I did not get it to sweet but knocked back some of the power of the zest. I probably reduced it by half and it was good and flavorful to say the least!
I retrieved the birds and finished slathering them in herb butter and add a truss to help hold everything in and give me a chance of fitting them into the egg. I did not truss the legs to the body as is traditionally done but let them hang out. The dark meat always takes longer to get to temperature so I tried to leave it exposed. It seams to have worked.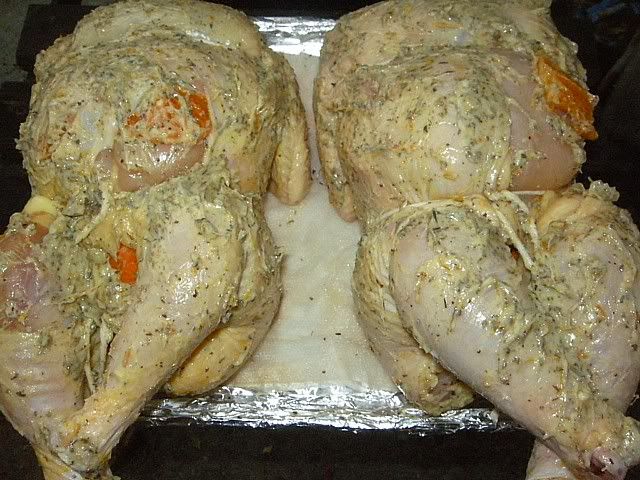 They fit! This is about half an hour in when I started to baste them.
I basted them ever fifteen minutes after that and had to re arrange them about half as often so they didn't burn in the eggs hot spots between the legs of the plate setter.
More basting an turning, probably at the one hour mark. When I ran out of basting sauce I drained the contents of my drip pan into my little pot and basted with that. It had great flavor and much butter in it. It worked out very well.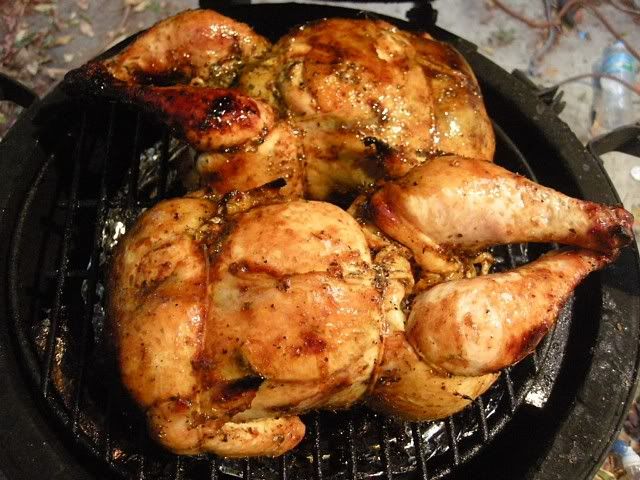 I was running the egg at between 300º and 350º dome, indirect. After about two hours I was getting many different temperatures from my thermometer so I tested them to see if the juices were running clear when stuck with a fork. They were, so I called them done and pulled them. They were looking good and smelling great!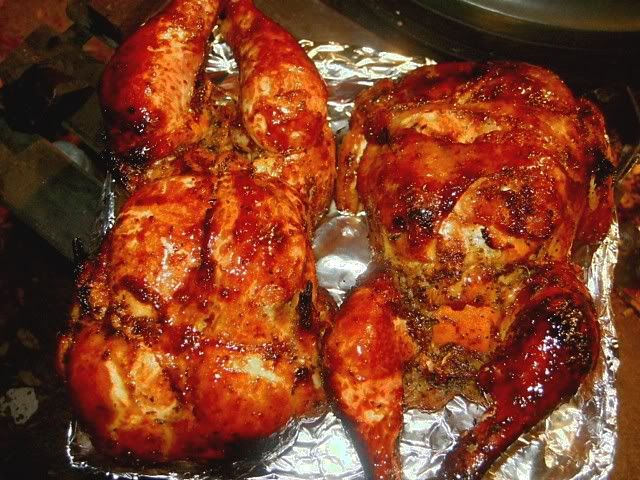 I let them rest tented loosely with foil for thirty to forty minutes before cutting into one.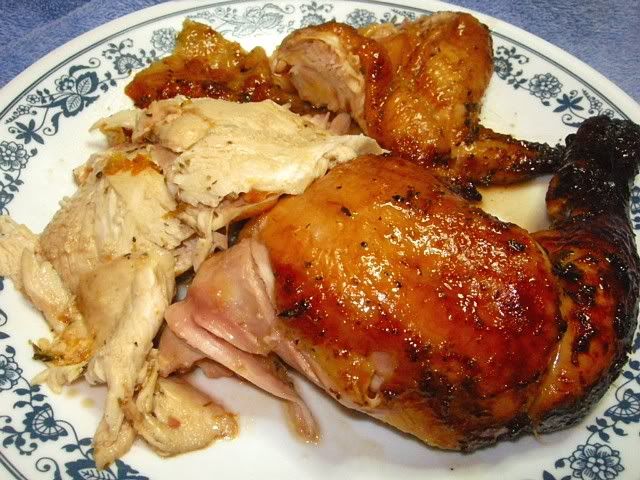 Tender, succulent and juicy hardly come close to describing this chicken. The flavors are a great combination and not overpowering but very flavorful. This is the best chicken I have cooked on the egg by far!
My home made Herbs de Provence are:
4 T Thyme
3 T Marjoram
1 T Oregano
1 T Basil
1 t Rosemary ground
1 t Sage ground
1.5 t Anise Seed ground
Traditional Herbs de Provence does not have anise seed. It was what the French housewives and cooks could find growing outside their doors or on the near by hill sides. I have read that in the 1930's lavender was added for fragrance and to make it more appealing to the tourist trade, it to is not a traditional ingredient and if used to much of has a very soapy flavor. I added the anise seed once when I was experimenting and it fits in with the sweet herbs. Feel free to add it or not. This Herbs de Provence has a wonderful fragrance, if this is what the sun drenched hill sides of France are anything like I'm packing my bags. :cheer:
Have a woderful week,
Blair