I did a whole round of Firsts earlier this week. Woosday, actually:
First Boneless Pork Shoulder, a small-ish 5 pounder
First Night Time Cook
First Cook in the Rain
I used my new Maverick ET-732 for the second time. It is a neat-o accessory. I was able to monitor the grill and meat temps while nice and warm and dry inside the house.
I have some questions, something was wrong. I know lots of Eggers cook in the snow and ice, so I wonder about this cold weather cooking. Any more senior eggers have some hints?
1) Outside/ambient temperature was about 50 degrees (southern CAL winter weather) and drizzling, which turned into rain later. I set my cooking temp to 250 to 275 degrees. The temps were higher at the start, around 300, but I just shut the alarm off and continued cooking.
2) I filled the fire-box pretty high, past the vent holes, figuring I might have some left-over lump, and not have to re-fill lump somewhere in the middle of the cook
3) I set the meat temperature target to 190 degrees, well done....
4) I figure this is a smallish chunk of meat, and anticipated 2 to 3 hours max...
4A) Somewhere in the late night, the temperature dipped way low, to about 200 degrees. I shut the noise off and took a nap, since the meat temp was still low.
5) The temp continued to drop rather than hold steady, so I opened the vents to get the temp up again.... it did, but after a short time the temp continued to drop, to about 180 degrees. I know from early experience this means I am out of fuel!
6) So I went out in the rain, took the meat out, and re-fueled....
7) Finally - at 4AM on a school night, the meat temp reached 170-something, and I declared it done.
I let it rest, and pulled/shredded the meat. Nice and juicy, with a crisp and dark crust on the outside. It looked a bit dry. But it wasnt. It was still very tasty!!
Here's some images. . . . . .
Ummm - A shot in the dark. . . .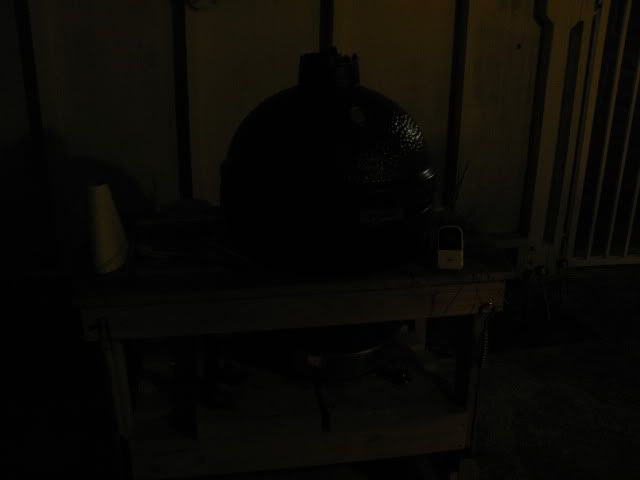 With the flash turned on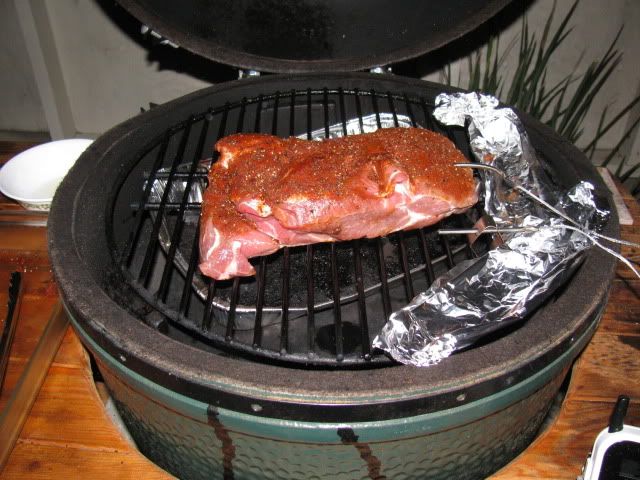 Gettin cookin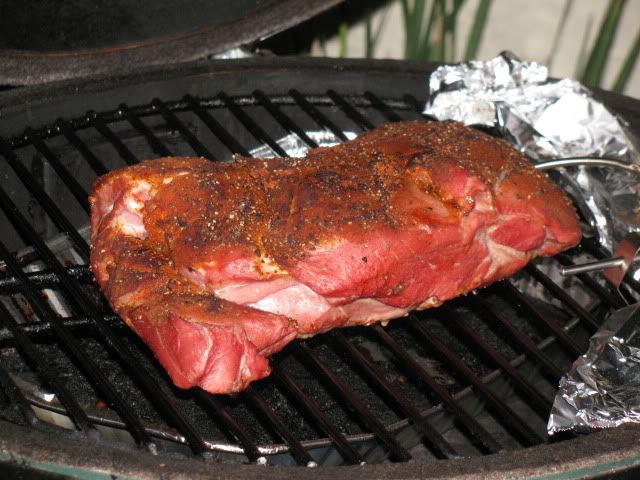 Lookin real nice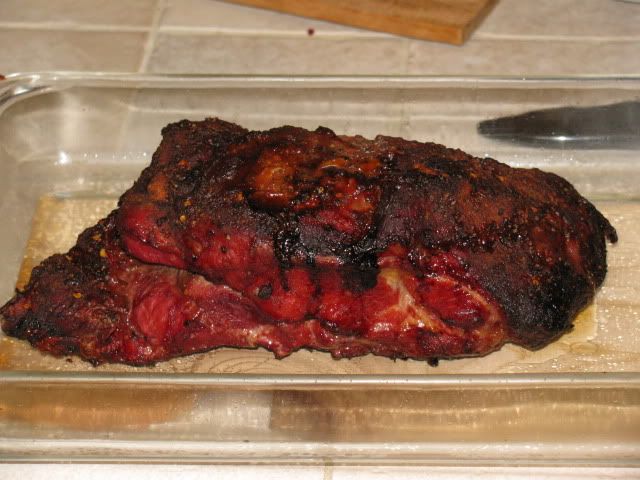 Plated shreadded and ready to eat at 4AM!