Last Tue I tried a little eggspearmint. I made a small batch of flavor brine using:
one quart water
one table spoon of kosher salt
one table spoon of dark brown sugar
1/2 table spoon of la hossa
I warmed this on the stove top until the salt and sugar dissolved then I let it cool and placed 4 chick legs in my quick marinator by foodsaver. After cycling for 20 min's I held the vacuum and placed the legs in the marinade container in the fridge for about 6 hours.
I set my egg up for direct 400F dome with the rig extender on top of the rig. Once the egg was stable I took the legs out and dusted them with Dr. BBQ's sweet rub. I also had 4 thighs so, I dusted them with the sweet rub as well.
I'll let the pic's tell the rest of the story.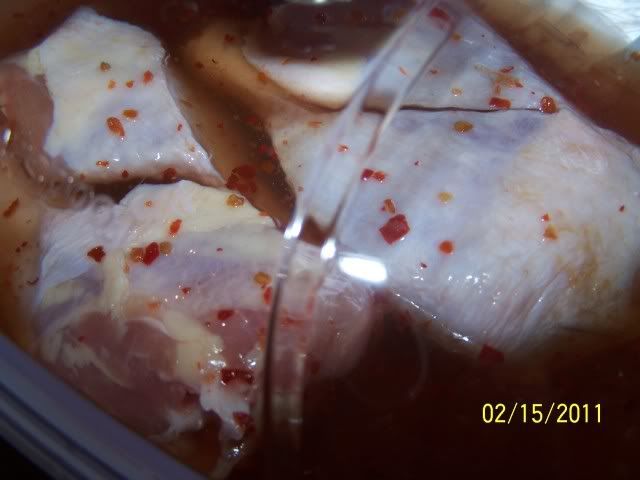 Here they are off the egg at 200F IT. I love them this way. I have to add that the legs had a sweet heat to them because of the dark brown sugar and la hossa. I will continue to eggspearmint with this heat delivery system.
Special thanks to Hoss for the la hassa from last fall.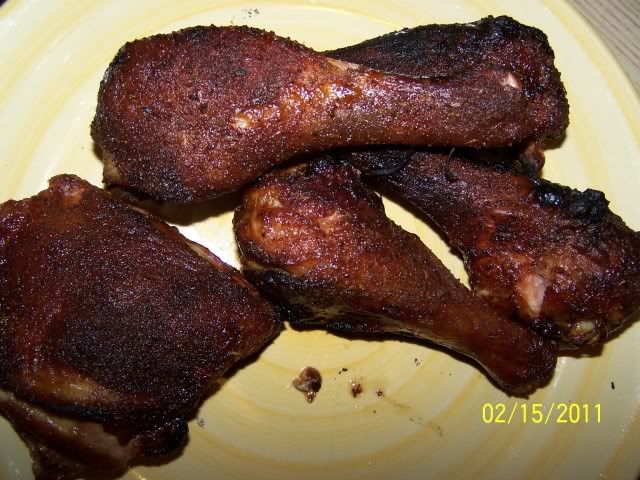 Now on to last nights cook. Last night we tried our luck at hamburger sliders for the first time. While we have grilled many a large hamburgers we never mad out own flattened out crystal style burgers and buns.
This was an easy peasy cook using 2.64 pounds of 80/20 fresh hamburger meat. I crumbled the hamburger meat on a large piece of parchment paper and dusted it with DP's Raising the Steaks. We made around 12 flat burgers rolled out with a rolling pin between parchment paper and cut with a pizza cutter. WessB.com is where I got my idea.
http://wessb.com/Cooks/sliders/sliders.html
Special thanks to WessB
These little buggers were good. :P We bought a pack of ready made dinner rolls by Merita Brown & Serves and nuked them for about 10 seconds.