I am liking the new set-up I started testing last weekend.
I went from 2" to 3" extensions between the plate setter and the pizza stone to get the pie higher in the dome.
Here is a picture of the copper pipe fittings I am using. I started with one fitting that was 2" long then went for a combination that made them 3" long. This would be easier to do of you just bought a section of pipe and cut it to length with one of the rolling, pipe cutters, but I did not have one.
Last week I mentioned that I had problems getting above 550, but after cleaning the grill I had no problem getting to 680 today.
There is no doubt that there is some restriction on air flow, but I am trying to keep it under 700, so this is not a problem.
Earlier today, I cooked some Italian Sausage with fennel to top one of the pies. Here it is getting happy on the small Egg.
The first pie was one of the ones with fig jam, prosciutto, and Gorgonzola cheese. It went on at 650 dome and the pizza stone was at 744. I did not get a temperature on the top of the plate setter, but the last time I looked, during the warm-up, it was running 104 degreed higher than the pizza stone. I was using parchment.
This dough was made with 50/50 Caputo Antimo 00 (this is the classic Caputo flour) and Caputo Rinforzato 00 (a higher gluten flour) at 70% hydration. The dough was a little too wet to handle easily, so I am going to cut back to 65% next time.
Here is a shot of the bottom of that pie.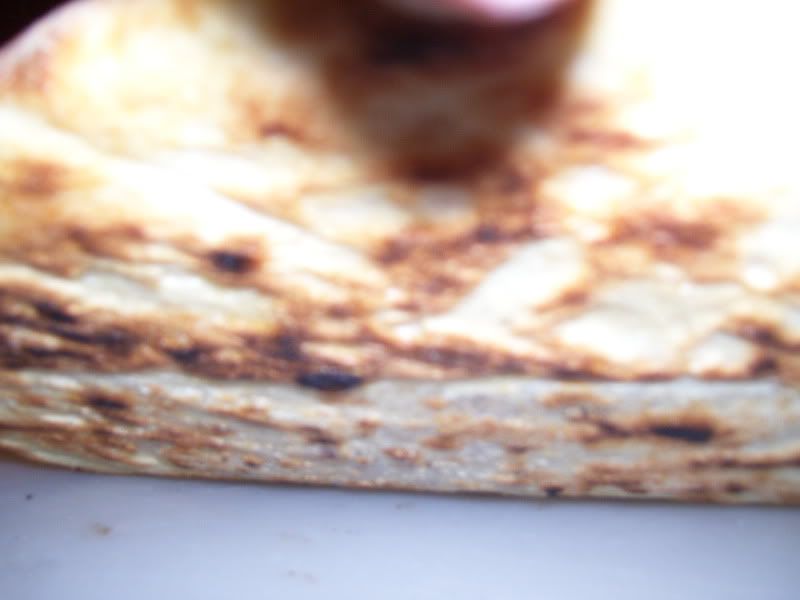 The second pie was topped with the Italian Sausage, sauteed mushrooms and a three cheese blend (fresh mozzarella, aged provolone, and extra sharp white cheddar).