First the steak...
here's what's left of the 22 pound rib eye i tossed into the fridge on the 18th of November (for the Christmas Roast)
The knife cut is where I split a steak off of it, to eat while tailgating at the Patriots/Jets playoff game.
I carved it off right along the bone and slipped between the little bits of bone at the near end. There's no need to cut thru the bones, although you end up with a really thick steak. in this case, it's really a roast. almost 2.5 pounds.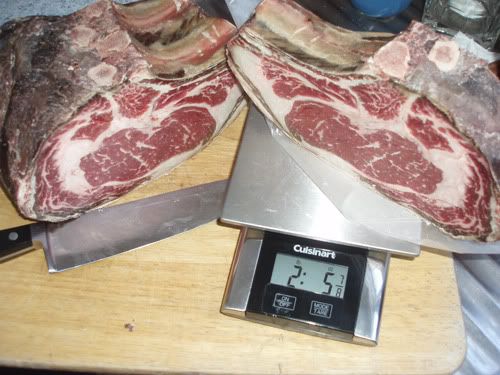 the steak was far better than the game. 60 minutes of lack-luster frustration. The Patriots laid down, and never once had anything going. The Jets deserved to win that one. I think Bill was 10-0 in the playoffs at one point in his career. They have lost the last four in a row. Ah well. It would have been nice to have them in the superbowl again. that would be 5 times in ten years. not to be. Playoffs have been marked by upsets. crazy year.
...but that was not the worst thing to happen. The oil light came on about 10 miles from the stadium. no oil pressure. My wife, the trooper, drove down to meet us in my car (i was driving hers to the game when it died). She rode back home with a friend in their car, and I continued to the game with my buddy in the car she had driven. The DOA car (no oil pressure) was towed to the garage.
On the way home from the game, listening to the sports radio guys try to explain what happened, the SECOND car dropped its rear suspension. Two cars, both crapped out in one day.
I would drink heavily, but the walk to the liquor store is too far.
A few shots from the storm last week. Officially we got 20 inches. this was about 8:30 the next day, still snowing. Had about 6 more hours of snow (about four inches more) after this.