Had just a little time yesterday so I decided to do a little sea food. Several kinds so bear with me. The raws: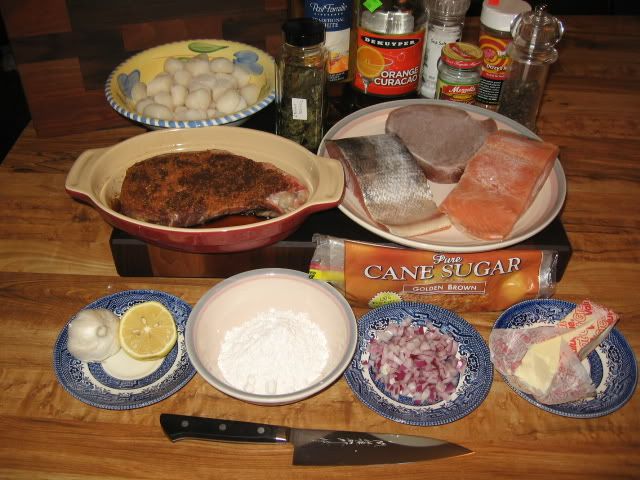 First up was a little salmon on adder wood plank. A simple baste of butter and brown sugar, capers and a limon slice on top along with a sprinkle of smoked dryed parsley I did from my garden. Cooked at 300 till the fish weeped.
Next up tuna real simple. Sea salt and cracked pepper straight up at 350 for about 45 seconds a side. Took all pans out to the shack with hot water in them so as not to cool down food.
Next scallops provencal, a recipe by Ina Garten
Ingredients
nocoupons
* 1 pound fresh bay or sea scallops
* Kosher salt and freshly ground black pepper
* All-purpose flour, for dredging
* 4 tablespoons (1/2 stick) unsalted butter, divided
* 1/2 cup chopped shallots (2 large)
* 1 garlic clove, minced
* 1/4 cup chopped fresh flat-leaf parsley leaves
* 1/3 cup dry white wine
* 1 lemon, cut in 1/2
Directions
If you're using bay scallops, keep them whole. If you're using sea scallops, cut each 1 in half horizontally. Sprinkle with salt and pepper, toss with flour, and shake off the excess.
In a very large saute pan, heat 2 tablespoons of the butter over high heat until sizzling and add the scallops in 1 layer. Lower the heat to medium and allow the scallops to brown lightly on 1 side without moving them, then turn and brown lightly on the other side. This should take 3 to 4 minutes, total. Melt the rest of the butter in the pan with the scallops, then add the shallots, garlic, and parsley and saute for 2 more minutes, tossing the seasonings with the scallops. Add the wine, cook for 1 minute, and taste for seasoning. Serve hot with a squeeze of lemon juice.
First drain scallops well and coat in flower.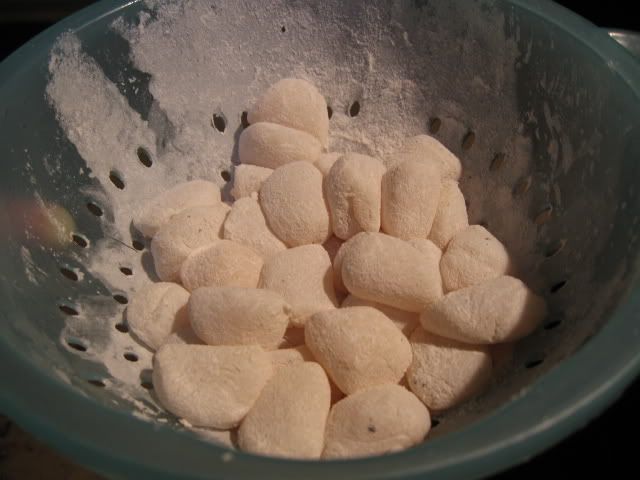 Fry in real butter till just starting to brown then I added the vegs.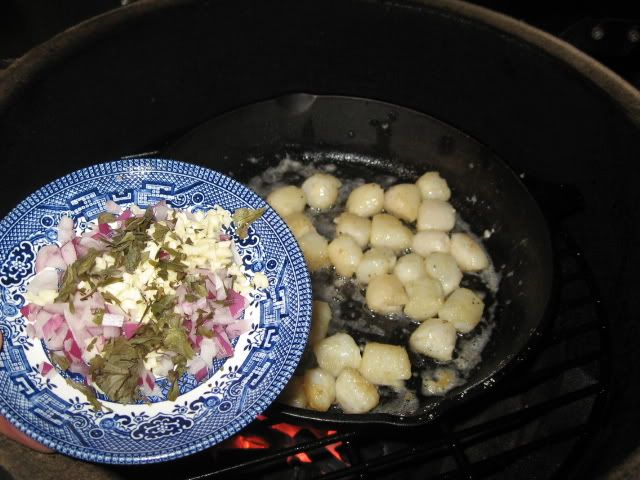 Cook till vegs tinder and add a little wine.....to the dish as well as yourself!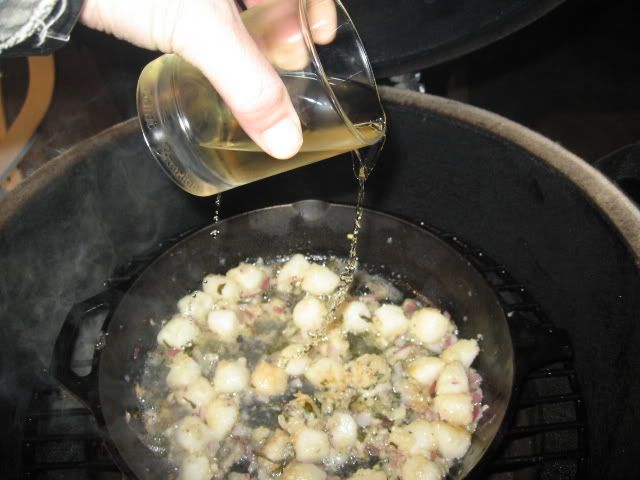 Then add limon juice and reduce till scallops are tinder and done.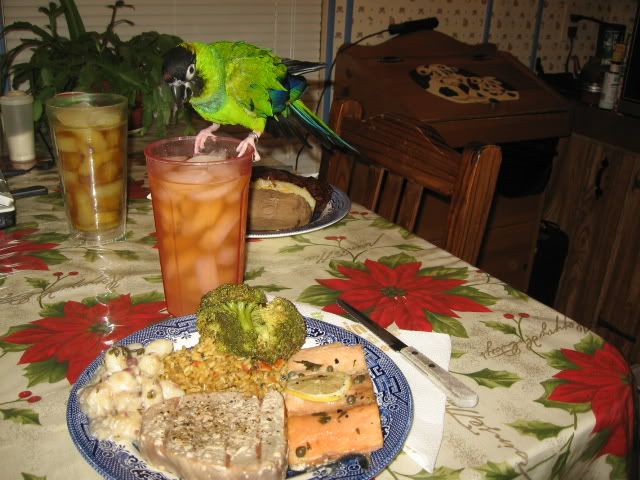 Threw on a little red meat for the wife while at it.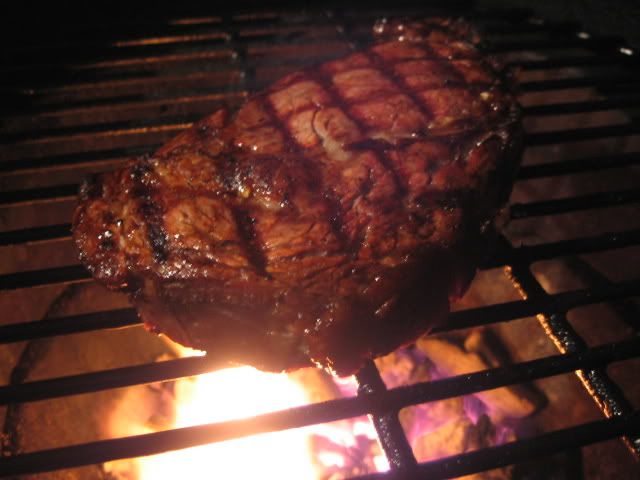 A nice sunset going down to finnish the day.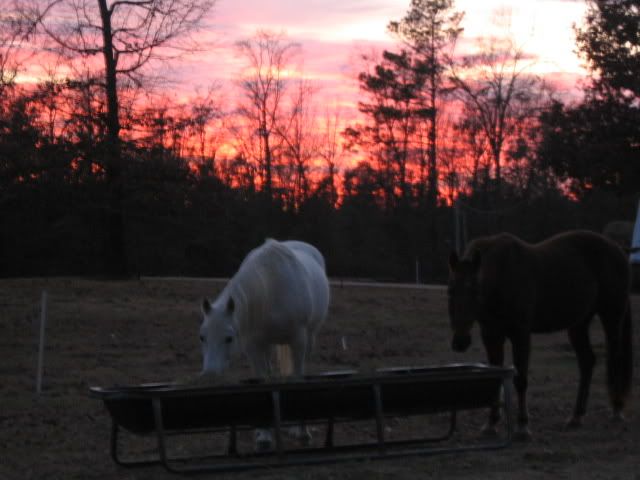 Auron making sure no one steals any of HIS food!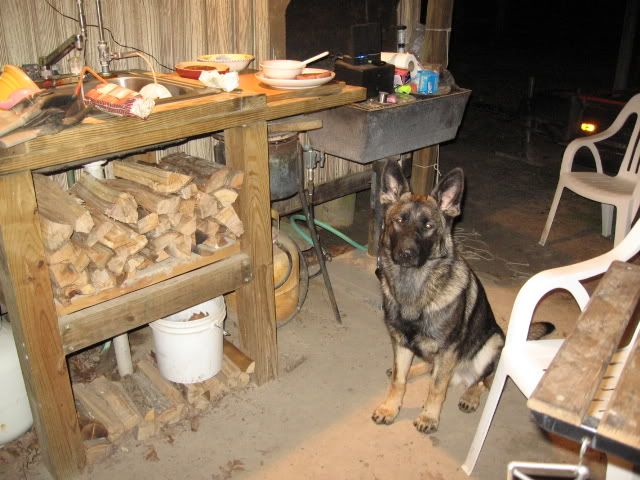 And supper was served. Really good meal that except for the butter in scallops good for you.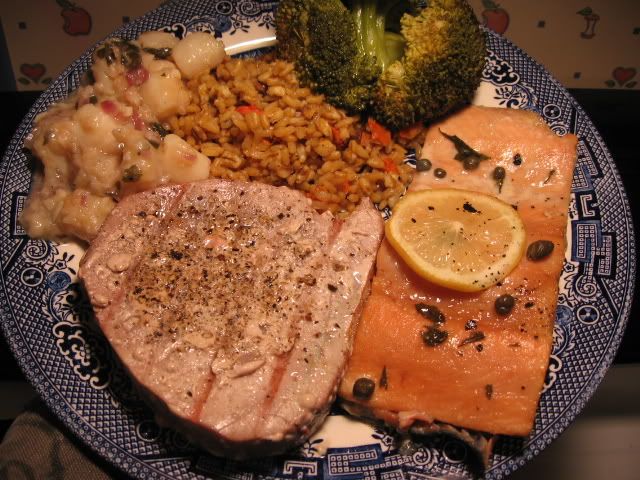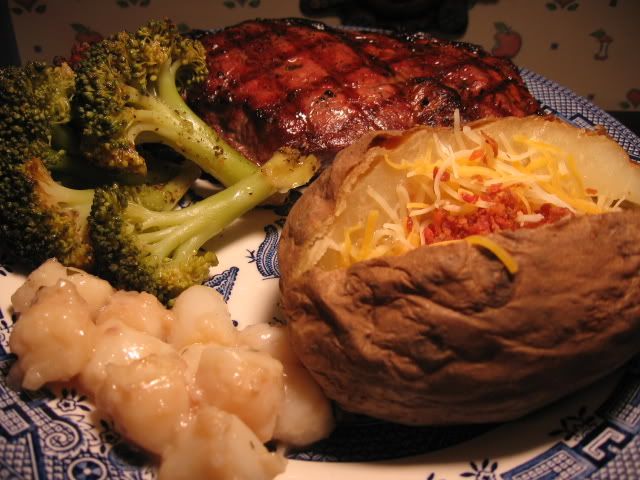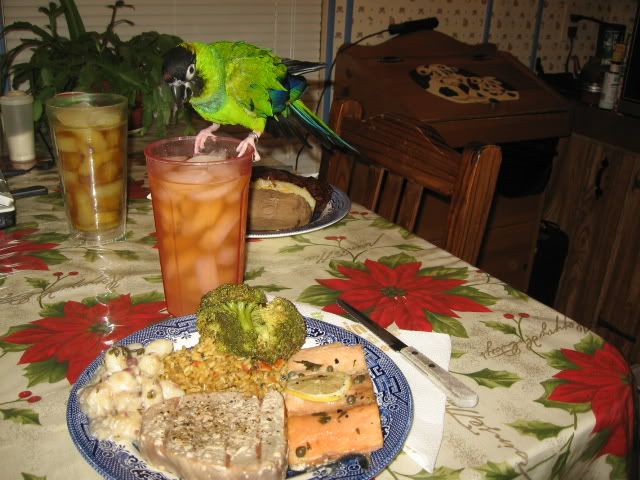 By the way for you duck hunters, we worked on them again this morning!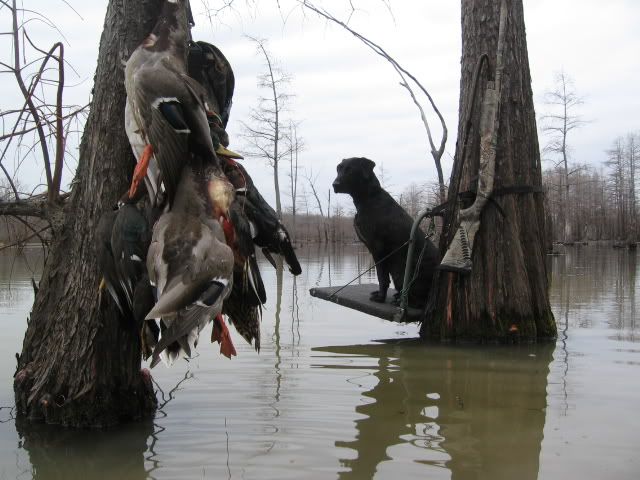 Oh had a couple turkey quarters folks cut off for Christmas as all they eat is breast. Tossed them on indirect at 225-275 for about 4hrs to 180 meat temp. Legs got eat tonight. Thighs deboned and along with boiling the bones will go into turkey noodle soup tomorrow for supper.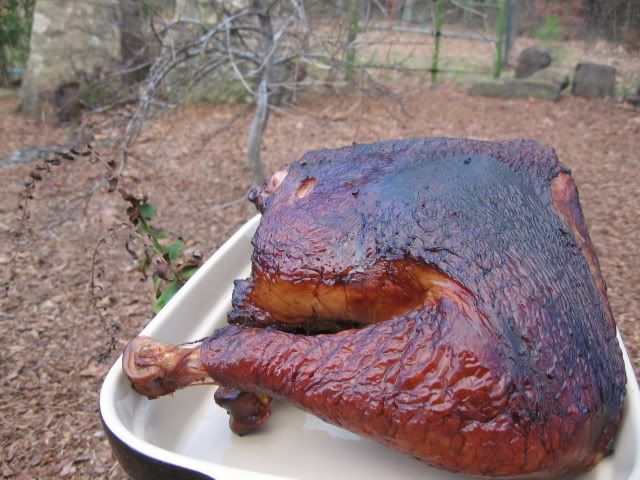 Work tomorrow and alarm goes off at 2:15am. Night folks!