Baby Back Ribs
This time I tried cutting my cooking time. Instead of three hours and one hour foiled I gave them two hours and one hour foiled. I used my DigiQII to control the egg for the most part and had it set for 300º.
My usual rib set up with plate setter, drip pan, grate and V rack. Foil shields in the grate between the feet on the plate setter to help eliminate hot spots. Do not place any shielding directly under the dome thermometer or it can mess with your readings!
9.44 pounds of Baby Back Ribs from Sam's Club, brushed with yellow mustard and coated well with rub. These were cold from the frig when the went on the egg and it took the egg just about an hour to recover.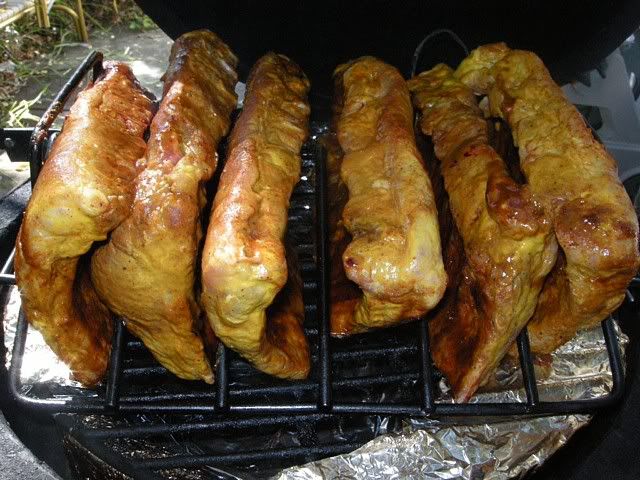 After one hour . . . the egg had pretty well recovered it's pit temperature and I started spraying them with an equal mix of apple juice concentrate, cider vinegar and Texas Pete's Garlic Hot Sauce every twenty to thirty minutes. I think I rearranged the ribs once during this time so that none would get too well done.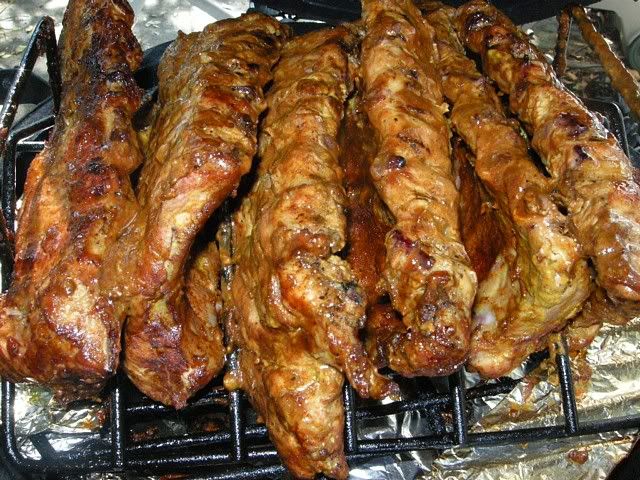 After two hours I pulled them to foil them . . .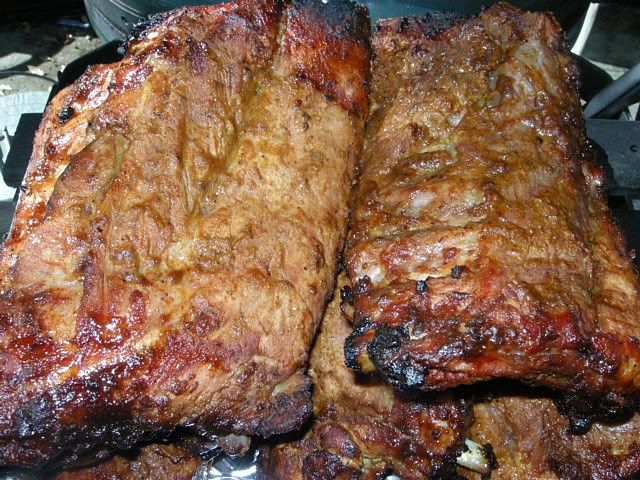 In the past I have used Parkay Squeezable Margarine and had good results. This time at the suggestion of Buster Dog BBQ I tried butter and like it. Everything is better with butter! The other goodies in the foil are brown sugar and honey. This was inexpensive honey, it was dark in color and was quite strong in flavor. I thought it was great for this cook.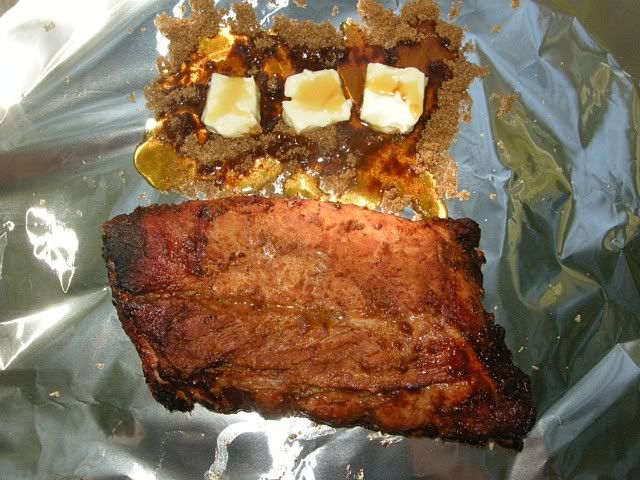 I place the rib's on the foil so I can see how much of the goodies to put down and then flip the ribs over on top so the meat side is down and in the goodies.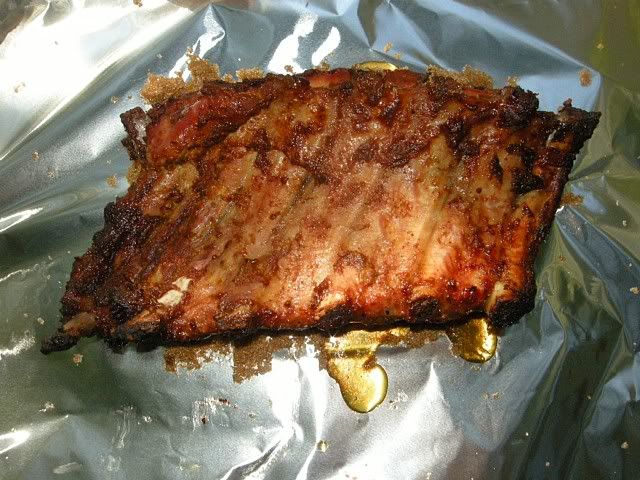 Wrapped them well . . .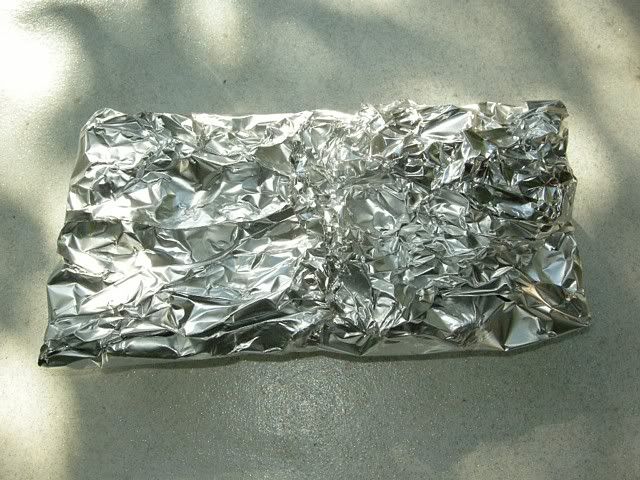 . . . and stacked them in the egg any way they will fit. As the cook progressed the egg was creeping up in temperature. I am guessing that it is because the ribs are now hot. When the temperature reached 325º I cut it back a little but didn't really worry about it.
One hour later they were done. The brown sugar, butter and honey make a great sauce that is worth saving. It is very good with your favorite BBQ sauce.
Plated . . .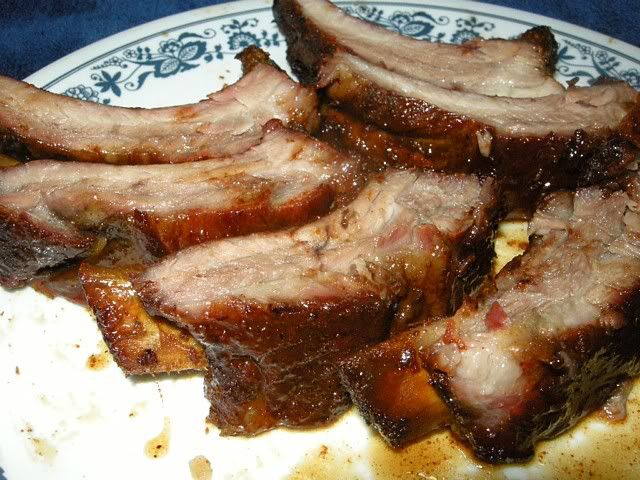 . . . juicy and tender. They still had a little stick to the bone but were far more moist then ones I have cooked in the past.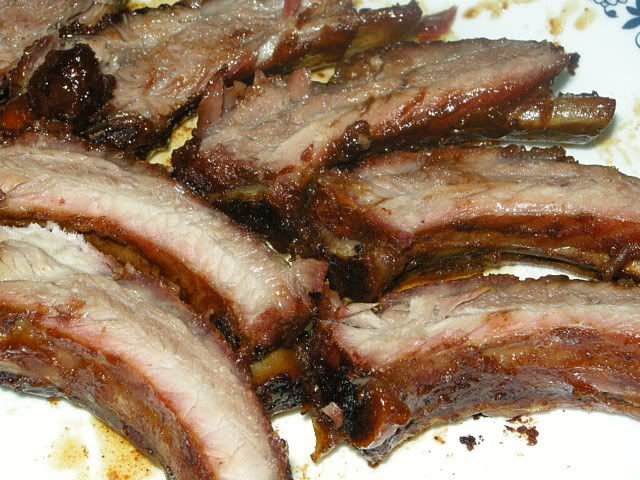 I was ready for a second opinion on them so I took a couple half racks to a best friends house where he, his wife and I had them for dinner. They both thought they were excellent. I think I am making progress with Baby Back Ribs!
Blair