I made three pizzas today attempting to find a good stone temperature for perfect char, "snap" and oven spring of the crust. There's a guy in Atlanta who started
his own pizza place, Jeff Varasano
, and his website has a fairly detailed recipe I've adapted for yeast, flour, mix, tomatoes, method, etc. I won't go into all that so check out the recipe link at his site if you're interested in making true Neapolitan "DOC" wild yeast pizza doughs. He gives good tips on how to mix, hydrate and "cold rise" dough in the fridge which I highly recommend even with all-instant yeast doughballs. Mine were made with about 51% flour by weight (of which 80% was 00 flour, 20% bread flour), 29% water, 18% wild yeast "poolish", about 1tsp of instant yeast, and 17g of kosher salt. When you factor the water and flour in the poolish I was at about 60% hydration...ideally I'd use a little more water next time as the dough wasn't as sticky as I'd like and 65% hydration is probably ideal (00 flour calls for more water than you'll expect and it just takes practice to get the feel of it).
Varasano's crusts look like this and they're fantastic- extremely light and easy to eat an entire pie:
This is the crust and char we're looking for! These are cooked at about 800 degrees. Can we replicate on the BGE??
The setup: I found if you keep the lump level low (mine was just below the start of the fire ring), and use a grate extender you can fire the stone direct and get good results.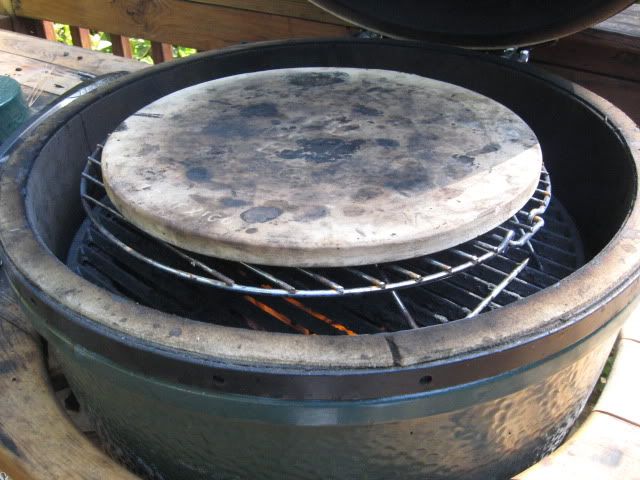 "direct" setup with low lump level
The pizzas and results:
Pizza#1 – traditional margherita- fresh mozz from
E. 48th St. Market
in Dunwoody GA, tomato sauce (uncooked – just crushed tomatoes, I used Cento San Marzano, oregano, parsley flakes and a little salt), and fresh basil and sliced tomatoes from the garden.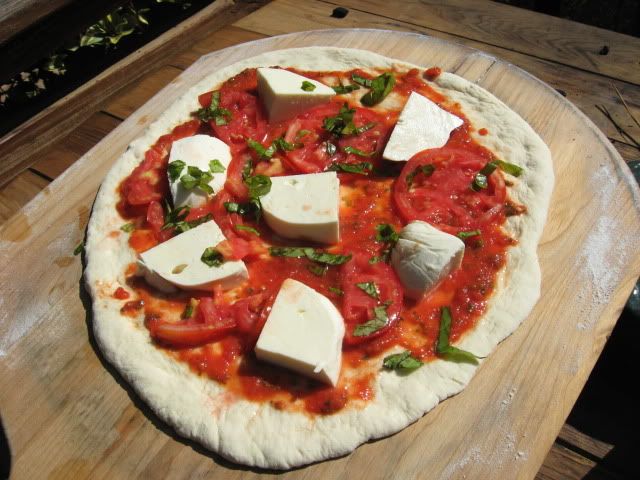 margherita with added sliced tomatoes from the garden
Dome: 500
Stone (using infrared thermometer): 530-550
Cook time: 5 min
Results: I had my wife and her sister give me (southern girls, but respectable) commentary. This first pizza tasted great but I knew the temp wasn't hot enough. The bottom was crisp enough but the top of the crust (the "cornicione") wasn't springy or charred in the least. Too chewy for me. The girls consumed it all so I guess it wasn't a failure but I'd give it a B- / C+.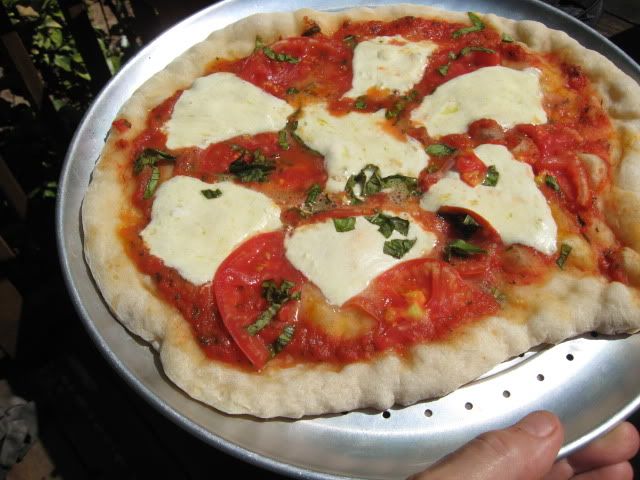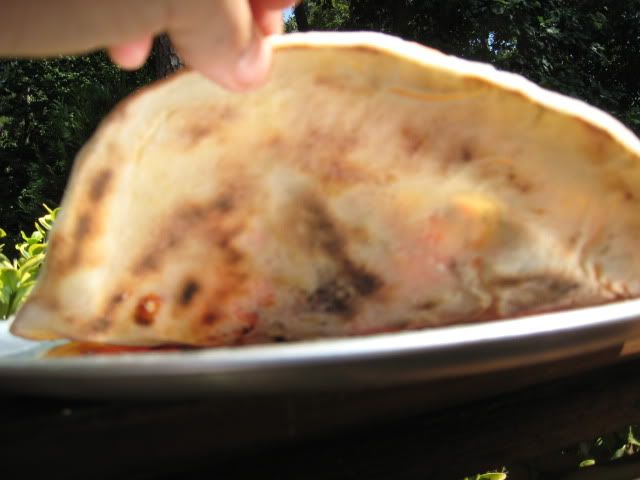 nice crust bottom but the top needs more bake and char!
Pizza #2 – Mediterranean veggie: sundried tomatoes in oil, artichoke hearts, Moroccan olives (for me), and some green peppers thrown in there for my wife, and fresh mozz.
Dome: 600 (had daisywheel off completely, bottom vent wide open. The low level of lump kept the temp from going nuclear which was good).
Stone: 600-700 in some spots
Cook time: 5 min
Results: I didn't nuke the crust and really liked the char on certain pieces, but the ladies said it was a little too charred for their taste. I'd have to agree. Interestingly, at this high of a temp for 5 min the top of the crust still didn't get the cook I was looking for, though the toppings were perfect. Would give this one the same B- / C+.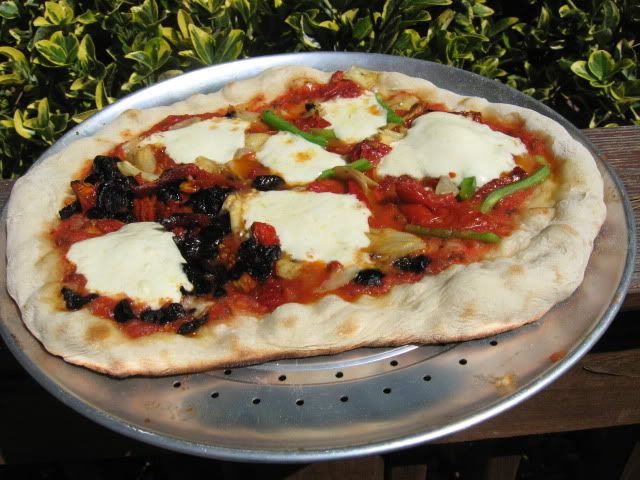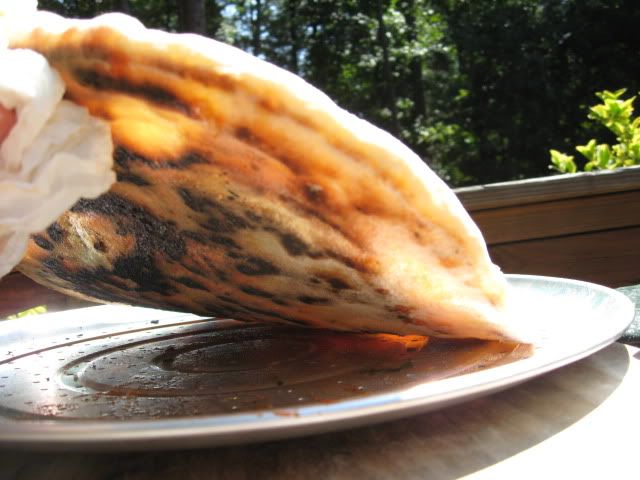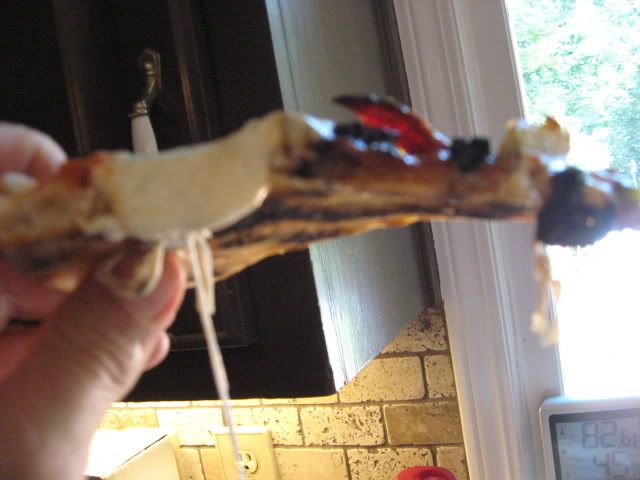 better pizza but a little too much char and still not enough bake on top!
Pizza #3 – basic Margherita with no added tomatoes
Dome: 600
Stone: 580-650 (lump wearing down by now)
Cook time: 5min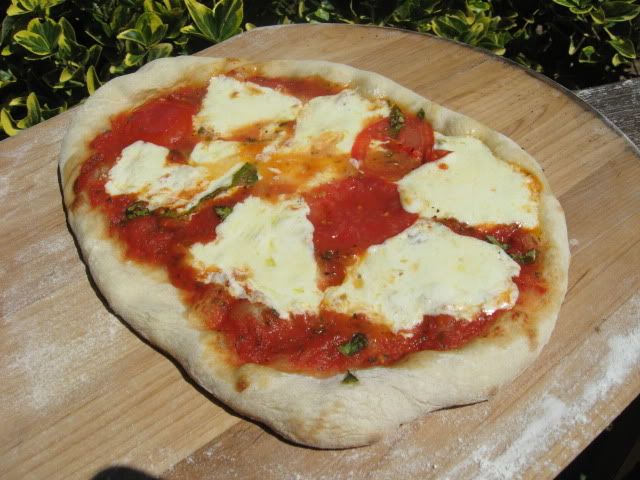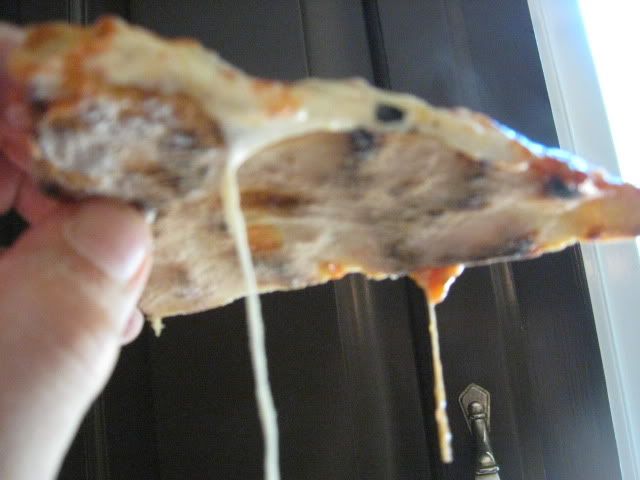 the winner... stone about 600 gave the best char without nuking and good oven spring in the crust!
Results: much better! You can see the top of the crust got a little more baked (but still not as much as I'd like to see) and the bottom of the crust was near perfect.
Final thoughts: Based on the three trials, the big takeaway is 600 average stone temp is something worth shooting for. Obviously this will vary based on the type of crust you use—a 00 flour crust can take far more heat than All-Purpose flour, but at 600 I got the right char and "snap" I was looking for. The negative from this cook was the setup. While I got the 600 stone I wanted, the crust top wasn't cooking as fast as the bottom. Note in this pic where I used a placesetter and BGE feet to raise the stone above the setter, I got a much better top crust: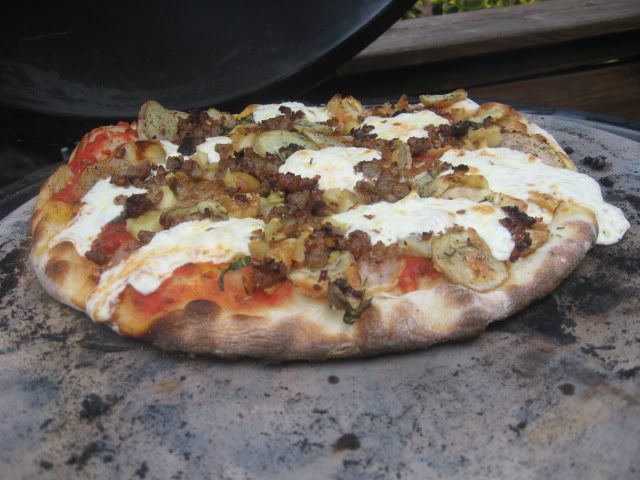 This is my "gutbuster"—roasted potato and Italian sausage…a man's man pizza! One of my best crusts ever on a traditional setup, cooked at about 550 for 7 mins
So... My next pizza post will be on the more traditional platesetter setup but will see how hard it is to get to a 600 stone temp and report back.
I'd be curious if anyone out there has experimented similarly, and any explanations or suggestions on getting a more even cook bottom and top using this direct method. I suspect opening the BGE, even for short periods, simply takes too much heat away from the top of the crust on short cooks like this where the stone is at the right temp.
Yours in pizza nirvana…J
some outtakes...mix and dough stuff: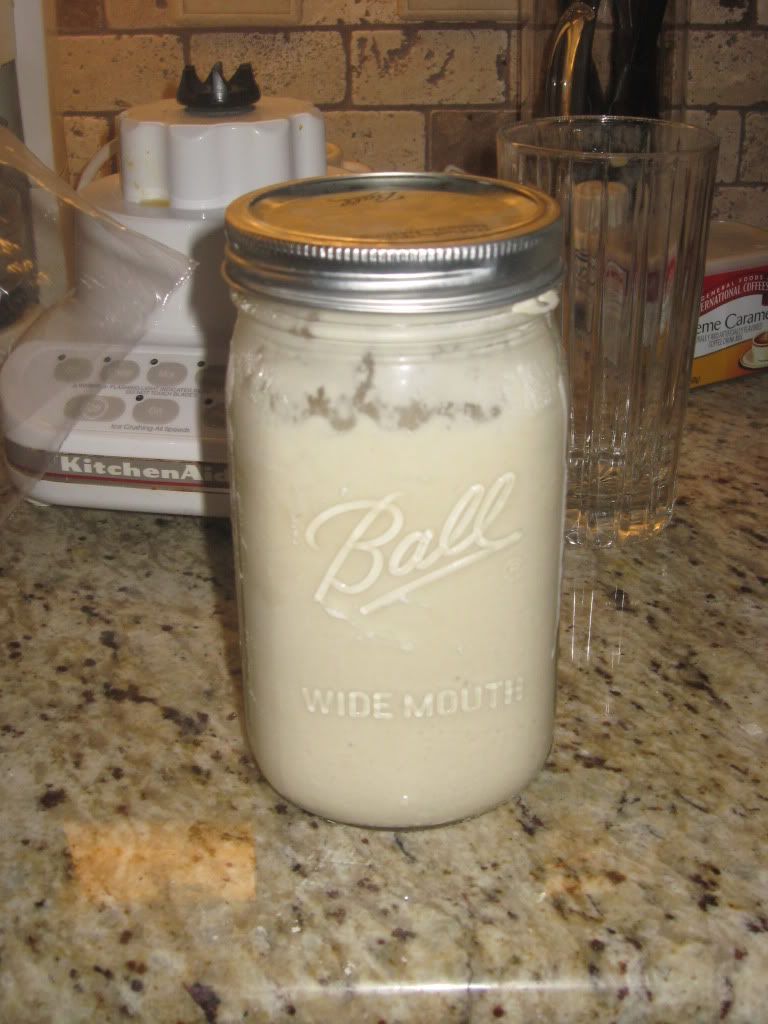 wild yeast kept in a jar, refrigerate and feed it regularly with flour
wild yeast "poolish" that's fully active, takes a day or so to feed at room temp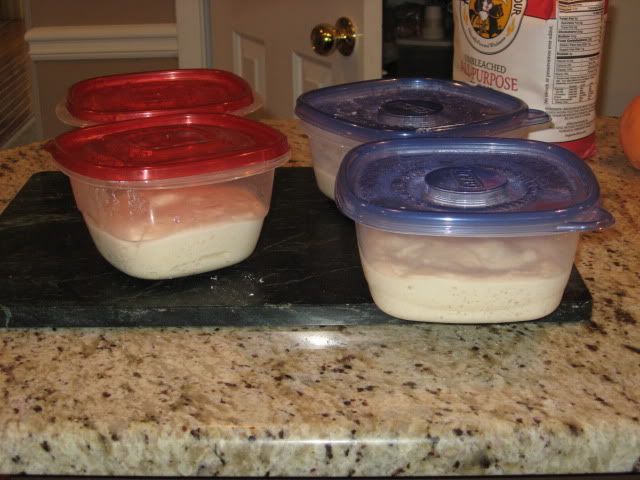 4 days in the fridge, bring these babies to room temp while your egg and stone are heating up, about an hour needed before you can shape and bake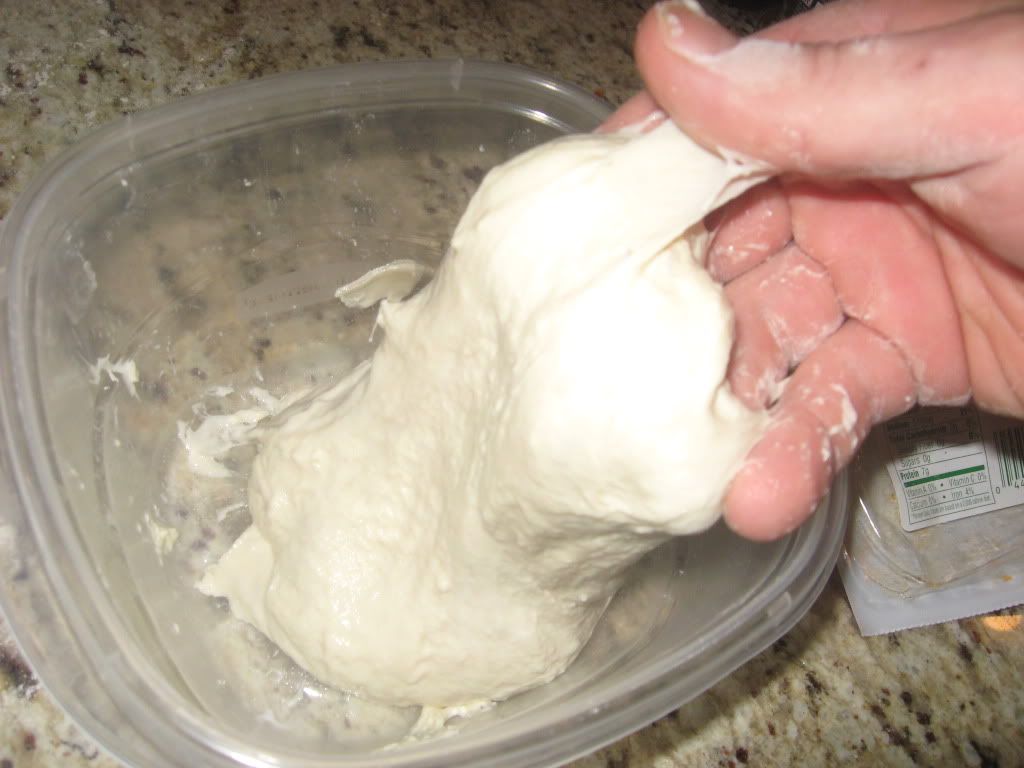 here's how sticky a good pizza dough should be, even after a couple of days "cold rise" in the fridge