Another Bobby Flay recipe for me, my girlfriend, and some special friends of ours. As the title says, I made a 'hacked' chicken mole that was basted with a habanero-cilantro butter and was plated with home made pickled red onions on top, a tomatillo-green onion guacamole and yellow rice. I also did a sweet potato and roasted plantain soup (that probably didn't make a lot of sense with the warmer weather today), with a smoked-chile crema and red chile oil. I also took a ripe plantain lengthwise to my mandolin and then fried the piece for 60 seconds, which I added to the soup for a garnish. I'm so pissed I didn't get a picture of it plated! Personally I didn't quite care for the finished product of the soup, but it looked awesome. I forgot to mention the soup was another recipe out of Flay's 'Mesa Grill Cookbook', and it came really damn close to looking like the picture.
All in all, minus the soup, I thought everything came out well. Everyone really seemed to like the finished products (even the soup) which I'm thankful for. Like my last cook, this was way labor intensive. I made a homemade chicken stock for the soup, spent too much time on the garnishes/oils, and pickled, roasted, pureed, reduced, grilled, and fried a lot of stuff today. AZRP mentioned in my last post that the cooks that take all day are his favorite, and I couldn't agree more.
Because I was so busy, I only got a picture of the plated dinner. The Egged portion of the dinner was the chicken thighs and legs, which I had indirect on the egg at around 375 until the internals were met. Very juicy, which is no surprise when the Egg is involved.
You can find the recipe for everything here:
http://www.cbsnews.com/stories/2010/05/05/earlyshow/contributors/bobbyflay/main6462369.shtml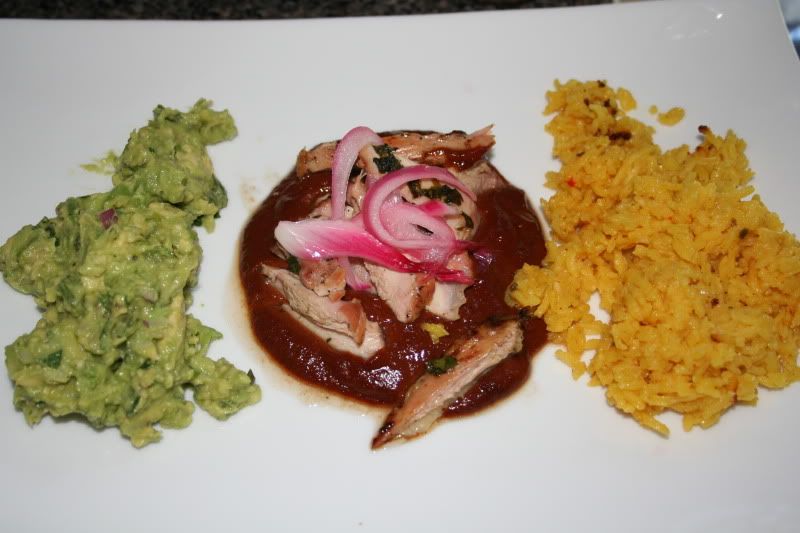 Thanks for looking!