Tried a Triple butt cook last night. From the thread about my pizza cook, I learned a few things from all the good help here. I started out cleaning out the egg. Taking everything out, making sure all was clean, and putting brand new Royal Oak using big chunks first, then filling to the tip top of the fire ring. I lit the lump with alcohol (I use 99% pure) three spots, it lights well!! I let the Egg get stable at 250 with the computer hooked up.
Here is the start of my cook.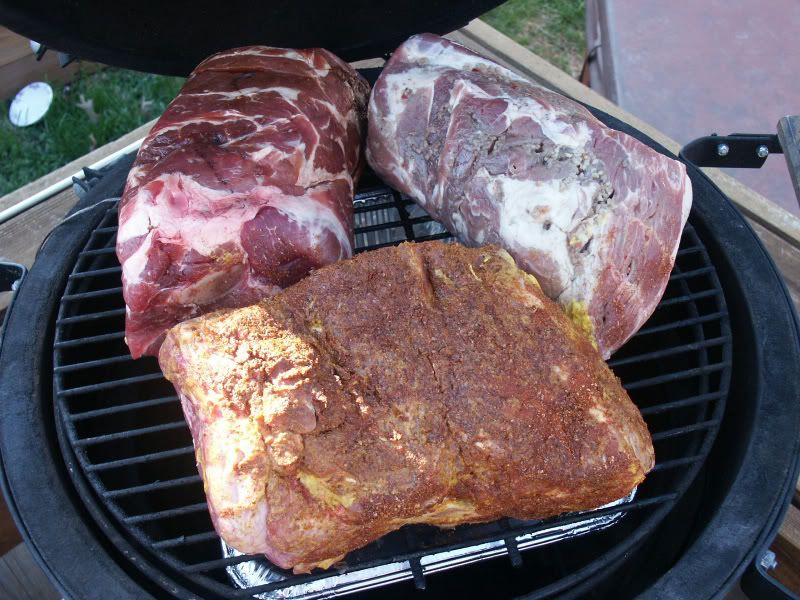 Learning not to watch the temp for hours on end is a hard thing. ( Its gone from 250 to 260, now it's back to 245, now it's up to 270) this is without messing with a thing . Near dark, I gave up watching, and went inside. Checked on the Egg around 10 pm, and all was well, just cooking at 250.
Got up at 6 am (put them on the fire at 5:30 pm last night, that is a 12.5 hr. cook) and went out to check them. Temp. was 185 on two of the butts, and 170 on the third. Lump was almost gone, and dome temp was 230 with the blower going almost all the time. I took the butts off, and they nearly fell apart as I put them in pans. Took them inside and "pulled" them. The two 185's pulled like pulled pork, the 170 came apart in shreds. This seems right from what I have learned here. The lower butt finish, the different it will behave when pulled.
My question is, can I do anything different next time to get the temp on the butts up to that magical 200 degrees?
Thanks for the help.
Bob (working on Pizza and Butts)