I just got home from an egg cooking demonstration conducted by RRP.
All I can say is "WOW"! Nice job, Ron!
Ron cooked for 12 guests and did a fine job demonstrating the quality of the food prepared on a BGE and the high quality of the chef. He had helpful handouts on the recipes he prepared, links to BGE sites on the web and also a bonus bottle of the Witchy Red rub he recently prepared. Being the classy guy that he is, he also went out of his way to credit the original creators of the recipes he prepared.
I can't tell you which dish was my favorite since they were all so good. The Double Smoked Ham was fabulous. The rolled pork loin, ABTs, asparagus and smoked deviled eggs were wonderful. The salmon was fantastic and the prime rib was out of this world!
Ron sure appreciates this forum and it shows in the way he promotes and references so many of the people and products from here.
Thanks Ron, Hearth & Patio and fellow guests for an enjoyable night!
Here are some photos of the chef at work!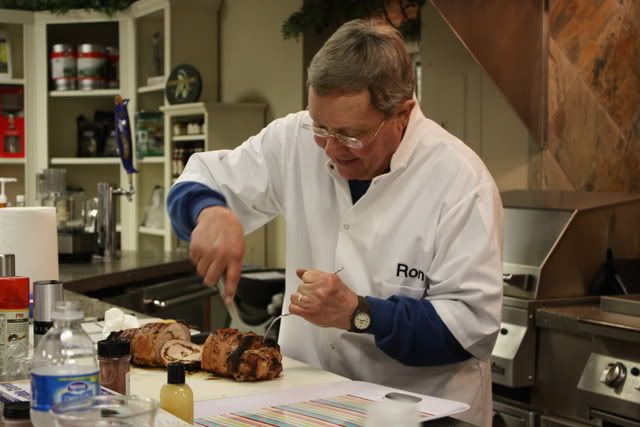 John