Several peeps have emailed me and posted looking for the meatloaf recipe I posted on last night..the recipe is from Dinosaur BBQ Restaurant in Syracuse, NY. I just adapted it for making on the egg...so here it is including the 'mutha sauce' that goes so well with it...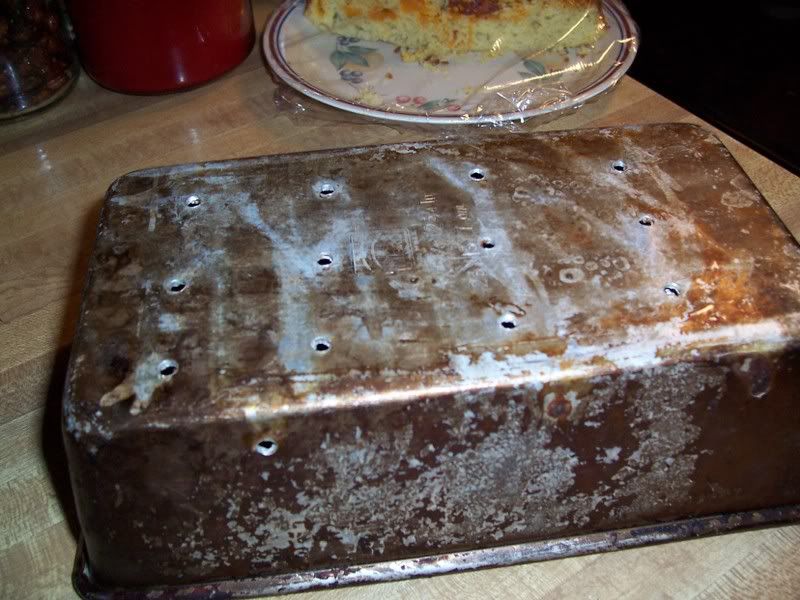 Ingredients
2 TBSP EVOO
1 1/2 cups finely diced onion
1 cup finely diced green pepper
Pinch plus 1 tbsp kosher salt
Pinch plus 2 tsp black peppe
1 heaping tbsp minced garlic
1 1/2 lbs ground beef (I use prime ground chuck)
3/4 lb bulk sweet Italian sausage
5 slices soft white bread
1 1/4 cups Mutha Sauce (sauce recipe follows)
2 tsp chili powder
1 tsp ground cumin
1/8 tsp cayenne pepper (adjust for heat you like)
2 eggs, slightly beaten
PREP
1. Preheat egg to 350 dome. Setup for indirect cook with drip pan.
2. Swirl the EVOO in a hot skillet or sauce pan. Stir in the green peppers and onions with a pinch of salt and pepper. Cook until soft.
3. Add garlic and cook another 1 min
4. Remove to a large bowl
5. Crumble in ground beef and sausage and mix with hands
6. Soak bread under faucet and squeeze it out like a sponge
7. Finely chop moist bread and mix into bowl of ingredients
8. Add 3/4 cup Mutha Sauce and sprinkle in the chili powder, cumin, cayenne, 1 tbsp salt and 2 tsp pepper and mix with hands
9. Add 2 eggs slightly beaten and mix with hands
COOK
1. Press the mixture into a 9 1/2 x 3 1/2 loaf pan (I perforated pan by drilling holes in bottom and sides for grease drainage) or meat loaf basket
2. Slather on the remaining 1/2 cup Mutha Sauce
3. Add mesquite wood chunks and let smoke until initial white smoke turns to blue (or sooner if you like it that way)
4. Place on grid in egg, indirect and cook for approximately 1 to 1 1/2 hrs or until internal temp is 170d F
5. Remove from egg and let rest for 20 mins before slicing.
6. Slice into thick slabs and serve with Mutha Sauce on the side for ladling on
Feeds 6 to 8
MUTHA SAUCE - (Note: This will make much more than you need for just the meatloaf. Make 1/2 recipe and you will still have plenty leftover)
Ingredients
1/4 cup Vegetable oil
1 cup minced onion
1/2 cup minced green pepper
1 Jalapeno pepper, seeded and minced
Pinch each of kosher salt and black pepper
2 Tbsp minced garlic
1 can (28 ozs) tomato sauce
2 cups favorite ketchup
1 cup water
3/4 cup Worcestershire sauce
1/2 cup cider vinegar
1/4 cup lemon juice
1/4 cup molasses
1/4 cup cayenne pepper sauce (I used Louisiana hot sauce)
1/4 cup spicy brown mustard (I used Blues Hog Honey Mustard BBQ Sauce)
3/4 cup dark brown sugar, packed
1 tbsp chili powder
2 tsp coarsely ground black pepper
1/2 tsp ground allspice
1 tbsp Liquid Smoke (optional)
1. Pour oil into a large saucepan and set over medium-high heat.
2. Add onions, green peppers and jalapenos and stir
3. Add pinch of salt and black pepper and sautee until soft and golden
4. Add garlic and cook for an additional 1 min
5. Add remaining ingredients except Liquid Smoke
6. Bring to a boil.
7. Lower heat until sauce simmers.
8. Simmer for 10 mins
9. Swirl in Liquid Smoke and let cool
10. Pour into container and refrigerate until ready to use.
Makes 6 to 7 cups