It's been a while for me - very busy time of year at school, but we got a long weekend for President's Day so I trekked down to Augusta to have guys' weekend with my dad (mom is out of town). By the way, some wonderful looking cooks share on this forum here lately!! You guys have been killing me with some killer pics!
Friday night we cooked some huge ribeyes - we were so hungry though that I took no pics - sorry.
Last night my dad wanted to do his Italian marinara "quick sauce," (as opposed to the longer version that simmers for 3 - 4 hours). So I decided to venture out into uncharted territory and do some homemade french bread (inspired by Bente, as of late).
This is the recipe I used,
just found by Googling "french bread recipe." It seemed simple so I gave it a shot.
In short, you first make a sponge using half the dry ingredients to all the wet ingredients, let rise for 3 hours, fold in remaining dry ingredients, knead for 10 minutes, let rise for 1 more hour, knead again for 5 - 8 minutes, then form into baguettes and bake in 425 degree oven for 25 minutes (it took about 30 to get doneness temp inside). Also, I used ice on a tray on the bottom rack of the oven for steam and I did an egg wash on the baguettes prior to baking to enhance the color.
Now for some pics:
The baguettes ready to be baked:
In the oven:
Meanwhile, my dad's sauce going on the stove:
Bread done:
Perfect texture, crust, and interior - dad and I were very pleased:
The meal - delicious!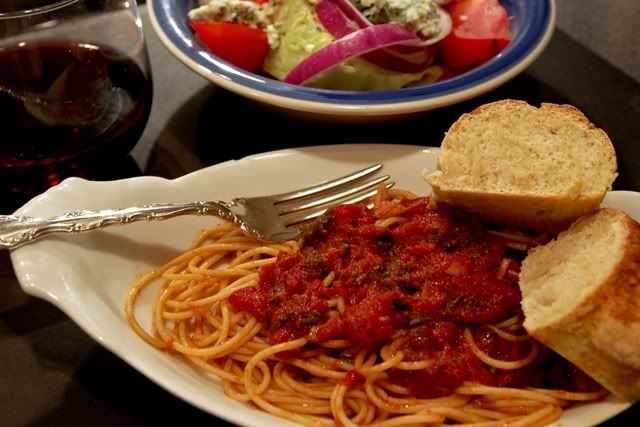 Oh, and here's a 1/3 whole wheat no knead loaf I did about a week ago - just thought I'd post this pic as well because it turned out really nicely - lately, I've been extending the covered baking time and decreasing the uncovered baking time and I like the crust results better.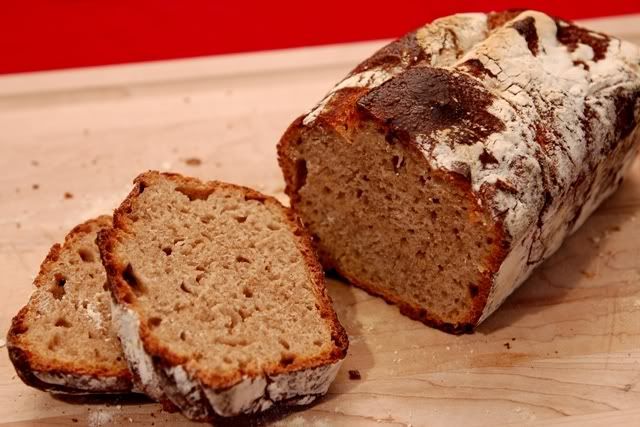 We have some more no knead finishing its final rise that we'll bake this morning, then contemplating doing some beef ribs on the Egg tonight - I may be popping back in for some pointers on beef ribs - never done them before.
Cheers!
TRex