What better way to enjoy Christmas Eve than by watching Anthony Bourdain sample roasted whole pig in the Phillippines?
I'm a big fan of
Parts Unknown,
and tonight he's in the Phillippines, during Christmas (The Phillippines are 85% Catholic). He got into the cooking area of one restaurant, where there were two parallel walls containing a long bed of coals. One wall was about 2' high, with several notches in the top edge; the opposing wall was about 6' high and had corresponding holes. Kids would come in with whole pigs skewered on bamboo, and insert one end of the pole into the hole of the large wall, and drop the other end into the notch on the small wall. On the other side of the tall wall, kids and very old people would slide a stick into a hole or split in the end of the bamboo, and begin rotating the pig over the fire (the taller wall kept them shielded). Hell of a job, but they didn't have to do PowerPoint. The finished pigs looked perfect. I couldn't find the exact footage on EweTube, but this (from an earlier show) shows a lower-budget setup: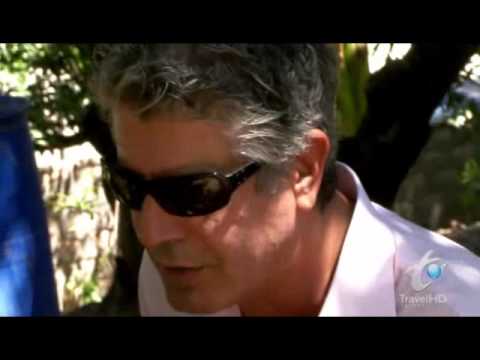 I didn't realize that the Phillippines' #1 export is manpower. Most kids end up emigrating for many years to other countries around the world, as doctors, engineers, farmhands, service industries, construction, etc; and one of the biggest specialties is... club musicians! I remember, even back in college, sometimes the Holiday Inn clubs would feature bands of entirely Filipino members; that's still going on. And a band still in the Phillippines has to work their way up through a particular group of critics: the bikers! This amused the hell out of me as I've been in at least two states where the biker crowd determined whether you kept playing or not (including here in utard, we did a lot of pre-MM Doobies
). This episode got me in a really reflective mood, appropriate for a xmas eve....
Merry Christmas, folks.
_____________________________________________
Live fast, die young, and leave a well-marbled corpse.
Ogden, Utard.