First time I've fired up the Blackstone since fall, was worth the wait.  This thing is amazing, a 15 minute preheat & it was at a sufficient temp to bake each of these pies in 2 minutes.
Here's about 30 seconds worth of video of the last pie I did: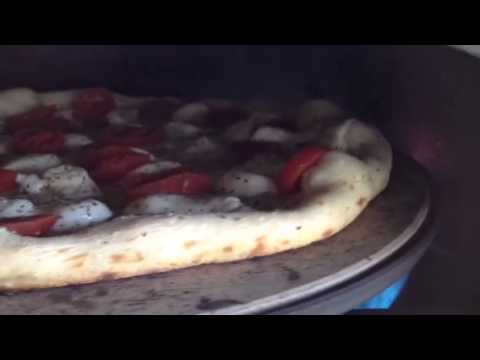 First up was cherry smoked sausage. Here's how I do it. Begin with this:
Build one of these:
Smoke it hot until it looks like this:
Then give it a little sear:
Then plastic wrap it overnight to develop the flavor:
One pound sliced into 3 sections makes enought for 3 pies:
Slice it thin, top the pie & onto the Blackstone for all of two minutes:
Bottom came out real nice:
Made a plain too:
Inside & ready to slice:
Finally a fresh mozzarella, tomato & prosciutto:
Damn tasty:
I still haven't fired up my egg for a pizza since getting the Blackstone; if anyone is on the fence about picking one of these up it's a no-brainer.
__________________
Eggs & Kettles