Started withg a 16#'r 5 days ago. Defrosted in a cooler for 2 days in ice, then brined for 36 hours, rinsed for 4 hours and dried uncovered in frig for 24.
Plan was to cook
@325F
for 15-20 minutes/pound. Took out of frig 1 hour before cook and placed bag of ice on breasts per Mad Max--Great Idea thanks Max!
Had BGE large set up 325 indirect drip pan and then started the UNPLANNED turbo cook.
Placed bird in "V" rack over drip pan with chardonney, basted with butter and seasonings and went away for 20 minutes. FORGOT to replace the top on and the bottom was 1 inch open.
Came back and thermometer in dome was 325F and looked great until I opened the lid. 30 minutes into the cook The bird was getting VERY brown and something was wrong.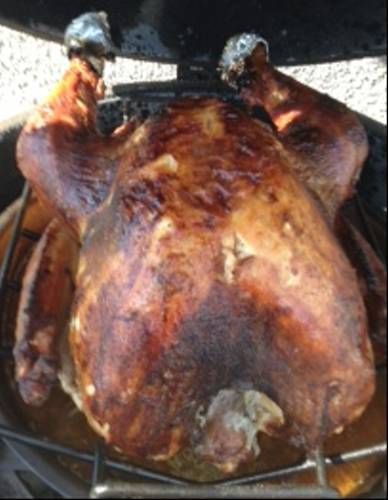 Got out my Thermapen and inserted into dome thermometer hole and it pegged out at 570F then went blank. First thought I had burnt the unit up. Shut the bottom and placed the ceramic lid on top, basted with butter and drippings. Came back 20 minutes and did the same thing.
In the mean time I placed the BGE thermometer in boiling water and after 10 minutes it was saying 180F. Knew that was screwy. So finally my thermapen got better and managed to drop the temp down. I do not recommend a turbo cook, but it was done in 1 hour 45 minutes. breasts 160 ish and thighs 175 ish. Turned out great for a mistake.
Had on the medium BGE
@225F
a 10 pound spiral cut ham "ala Egret" and it was @ 140 after 2 1/2 hours.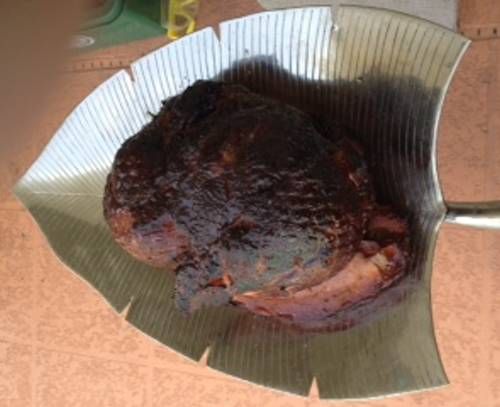 The meal was an eggcess even with my error.
.
Lessons learned
1-Make sure your thermometers are calibrated before a big cook
2. REMEMBER to place the DFMT on top before walking away to socialize.
Thanks for looking!