This past weekend, I headed down to our family's ranch The Dos Locos outside of Goliad, Texas for our annual Guy's Dove Hunting Trip. Although nothing was Egged, I thought I'd share some pictures anyway.
You may or may not know that I went to Baylor and am a huge fan. Hard to snap a picture flying down I35, but here's the new stadium they are builing right on the Brazos river.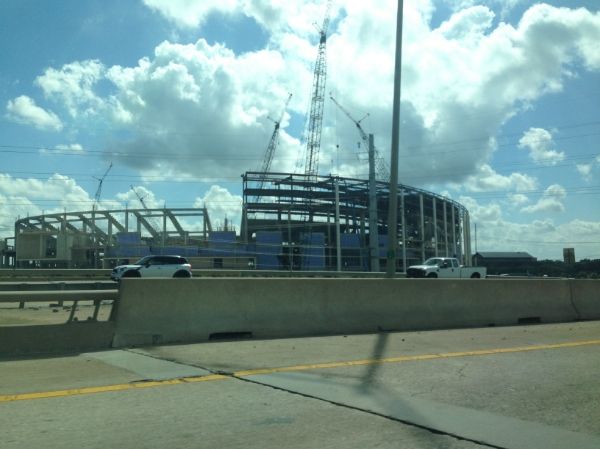 The wife asked me to stop and get her a new Baylor shirt for the upcoming Homecoming game. While I was there, I spotted this. If anybody is looking for ideas for a Christmas present for me...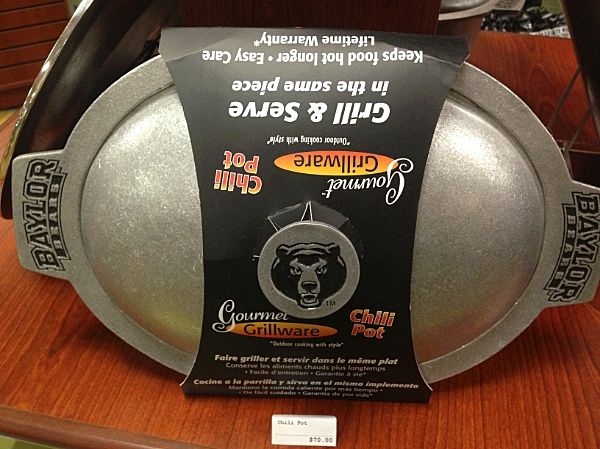 After hunting Thursday night (I got 2 dove, weren't really flying), it was time to pull out Old Faithful, my offset that retired down to the ranch after getting the Egg. On the menu was just some simple wings. Unfortunately, there were no tots involved. :(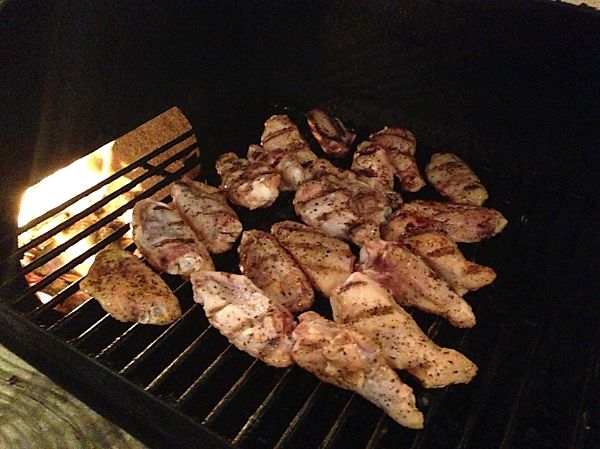 Maybe it was the ambiance, being down at the ranch all by myself, no distractions, just a cold bourbon and coke and a book, or maybe I did something right, but these were the best wings I have put out in a long time. It wasn't the recipe as I did them the way I always do. Might sound sacrilegious, but better than any I've done on the Egg in a long time. Regardless, it was a good, quiet first night alone before everybody was sheduled to come in on Friday.
Fast forward to Saturday afternoon. I wanted to cook up something for lunch that would hold us through the evening hunt until we could get back, start a fire and grill steaks for dinner. Awhile back, I saw Chris aka @NibbleMeThis do some Smokey Pork Tenderloin Sliders on his blog and I knew it would be perfect. I started off with 4 yellow onions (he used Vidalia, but I couldn't find them), sliced thin for carmelized onions. He did his on the grill and I was planning to as well, but at the last minute, just did them on the stove.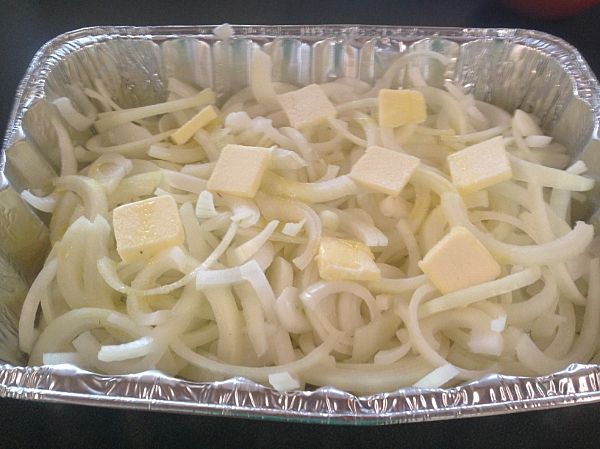 Next up was the tenderloins. I used Salt Lick rub in lieu of what he used. Good, but it was a bit peppery. Would probably use a different rub next time.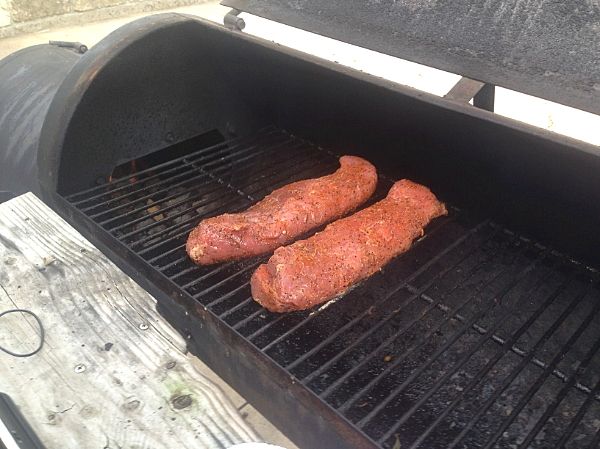 He glazed his with a bacon honey mustard sauce. I was planning on doing that, but there was no honey to be found at the ranch, so mine got a bacon mustard sauce glaze right at the end, pulled at 140F. Sliced super thin, as thin as you can get it.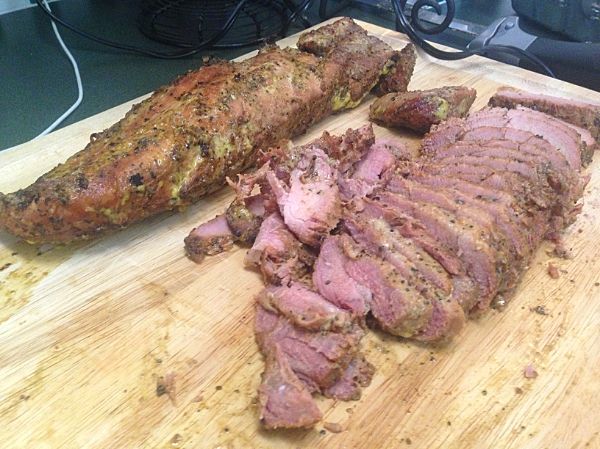 My plate up picture wasn't the best, because I wasn't sure I was even going to post anything about it, but at the last minute I figured what the hell. Served up on King's Hawaiian Roll sliders, pork tenderlion, coleslaw, carmelized onions and bacon mustard sauce. This stuff was the bomb. Off the hook and the chain both. No, seriously...it was really freakin' good.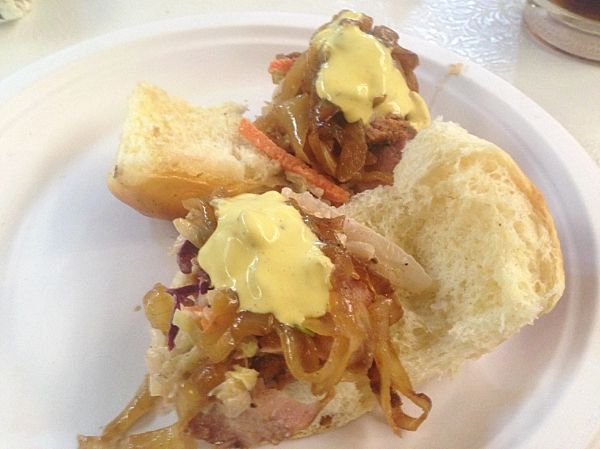 So good, I'll probably serve it at the next Eggfest I attend. Or tailgate party. Heck, there's still a bit leftover and I'm having it for lunch today and I'm still excited about it.
And just in case you wanted some proof that we did do some hunting, here's a few I got. Ended up only getting 8 total. I'm telling you, they really weren't flying, but I did take my oldest and best friend and saw him shoot his first dove. He was super excited and now I think he is hooked so it was all worth it. That about wraps it up for another successful Annual Guy's Dove Hunting trip.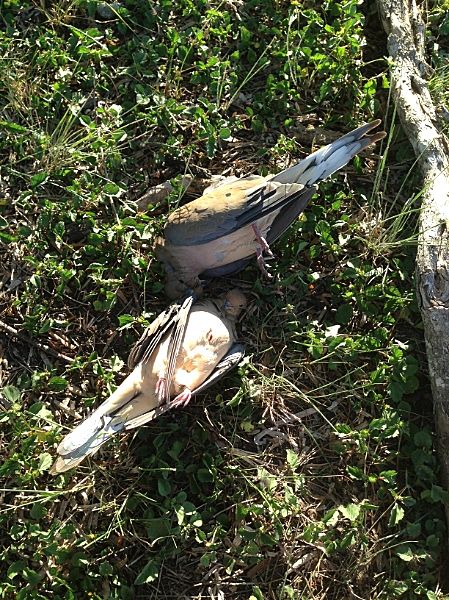 Rowlett, Texas
Griffin's Grub or you can find me on Facebook
The Supreme Potentate, Sovereign Commander and Sultan of Wings