Busy weekend for sure (had to work both Saturday and Sunday), but still had to take some time off for fun. Saturday, we went over to a buddies house to sit in the pool, sip on some cold beverages and he grilled for us. Not Egg food, but when temps are up in the 100s, sometimes pools trump staying home and cooking on the Egg. We started off with ABTs two different ways, one with pimento cheese and one with Laughing Cow queso fresco and chipotle.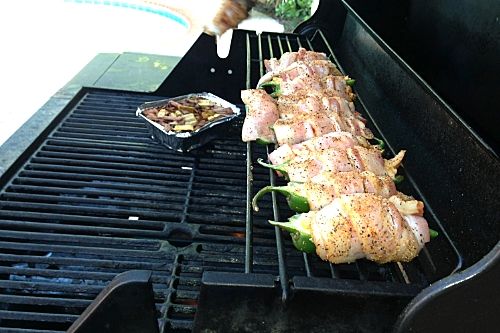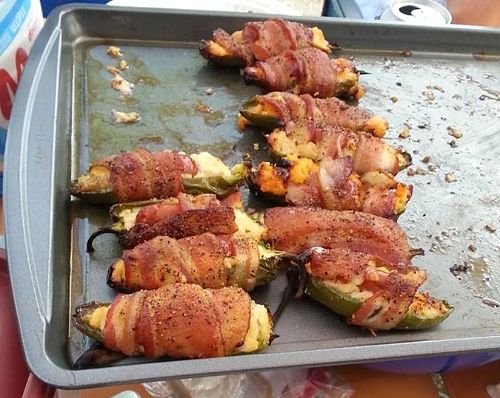 I really liked the pimento cheese ones. Unfortunately, it was just Price's Pimento Cheese, but they were still tasty. I'm going to do some later this week with home made pimento cheese. Somehow, I didn't taste the ones with queso fresco and chipotle, but they looked good and the cheese held up, it didn't leak out everywhere. There were some other things cooked as well, but I didn't take any pictures.
Sunday, I decided to cook some chickens on the Egg. One for dinner and one for Mrs. G to throw in a casserole or something later this week. The first one just had a light rub of salt and pepper, some Ranch dressing powder and some Greek seasonings. No smoke since it would be used in another dish. Cooked using the top rack of the AR at 400 direct.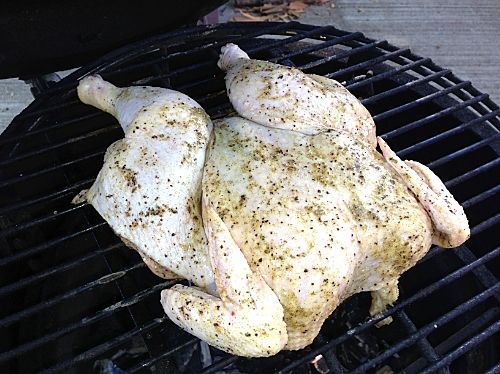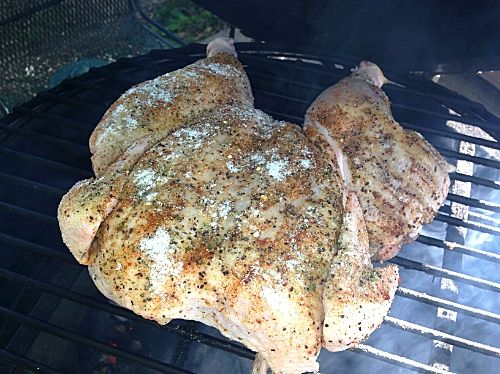 On the second one, I used a blend JH Texas Chicken Tickler, Stubbs BBQ rub and some ranch. Cooked them with the same set up but used some mesquite chips for the smoke (the smoke being the reason I didn't cook them both at the same time).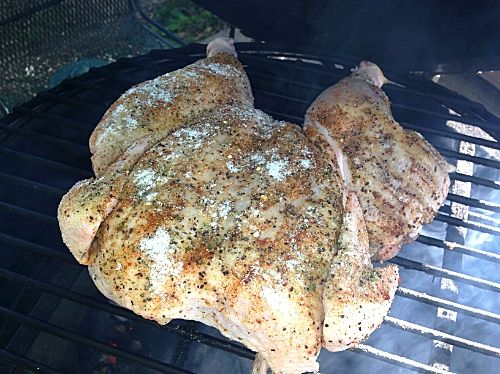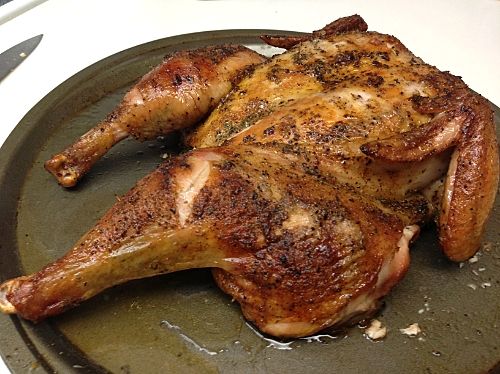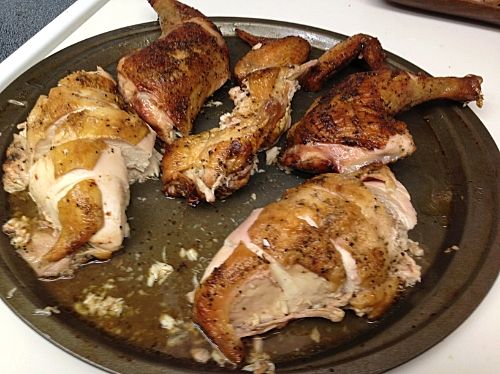 No plated up pics as we were starving as sides were only some bacon bleu cheese potato salad and a cucumber salad both from Central Market. The potato salad was outstanding. Would love to figure out a recipe so I can make it at home. Anybody got one they are willing to share? Even after having the Egg as long as I have, it still freaks me out some times how juicy chicken comes out. Look at all that extra juice on the tray even after letting it rest for over 10 minutes! Definitely was a 3 paper towel kinda meal.
Rowlett, Texas
Griffin's Grub or you can find me on Facebook
The Supreme Potentate, Sovereign Commander and Sultan of Wings