I took a pound of stacked bacon, added some fresh cracked black pepper and cooked it in the Egg with apple wood smoke.
Let it cook and had the whole neighborhood smelling GOOOOOOOD! My first beer since early January. Detroit Lions edition Bud Light! Dr. Atkins would not approve.
Meanwhile, I took the pork loin I moved from the deep freeze to the fridge yesterday...
And doing some serious hacking (butcher shop amatuer hour), I butterflied the loin.
The filling was mozzerella cheese, roasted red peppers (from a jar), bacon and baby spinach. The inside and the outside got some Dizzy Dust.
I rolled while Wilma stabbed the beast. I neglected to buy string again so we are left with the skewer toothpick method. I gotta admit I kinda like it. Also I was never a Boy Scout and so I know little about tying knots. When I was a kid, I was a proud member of the politically incorrect Indian Guides.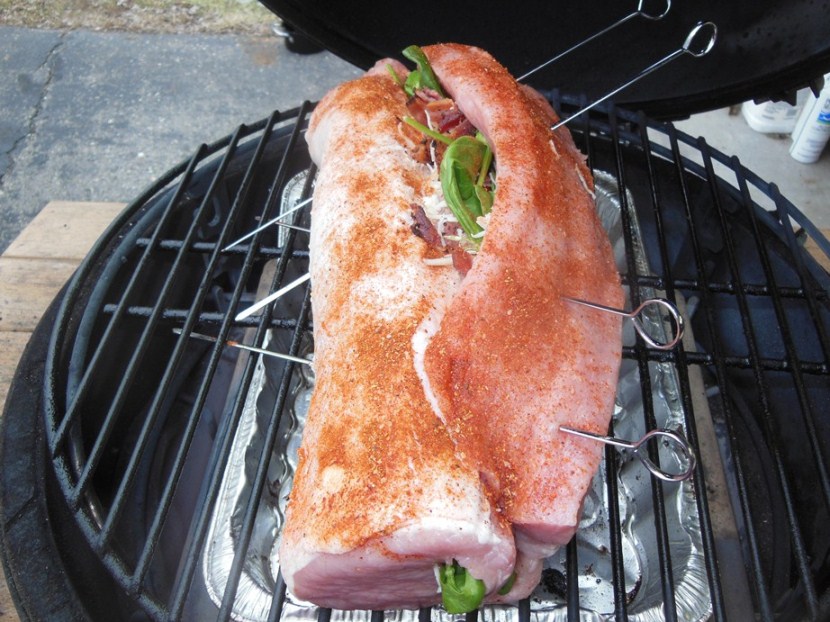 I'll let you know how it turns out.