My cousins son turned 8 yesterday so she had the Superbowl / Birthday Party at her house. Thankfully it is only 10 houses down the street and she wanted wings on the egg for our contribution. On Saturday she gave me 20 lbs of wings and had premarinated 5 lbs for
Wildly Wicked Raspberry Wings
, and left the rest up to us. We decided to hop on the cornstarch train and see if it made a difference, 5 lbs traditional Buffalo and 5 lbs BBQ, the remaining 5 lbs were
cazzy's wings - recipe (updated)
which we had a marinade in the fridge for a couple weeks and probably always will since it makes them even better!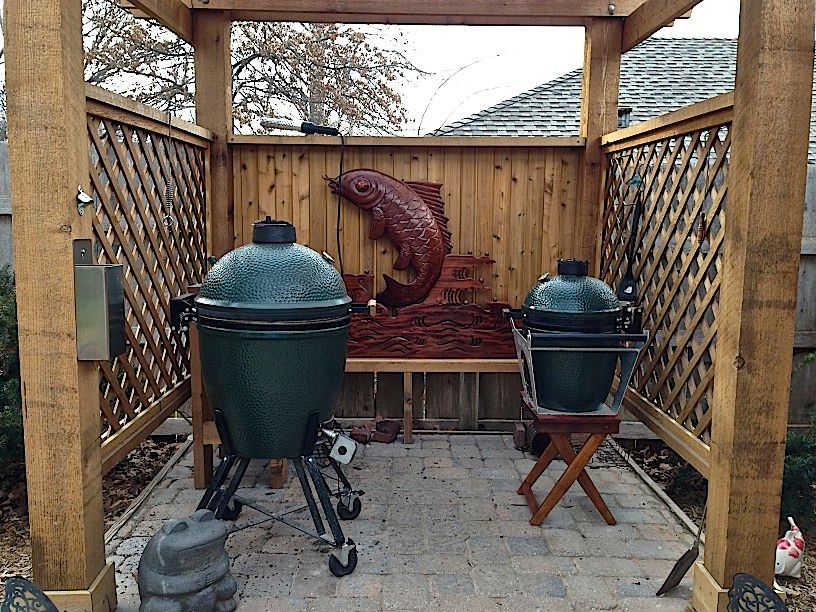 My cousins older son wanted to come over and help cook so I showed him how to stir the coals and clean out the ash. Then I had him put on a welding glove and use the Looftlighter to get both eggs going. He had a pretty big smile on his face and wants me to help convince his mom they need an egg! (and a looftlighter) He was over on saturday and I had him make the dough for the garlic knots and just told him how to use the kitchenaid. He also was right there with me all day and started flipping the wings but needed a little help since there wasn't any extra room to move them around so I took over and he helped swing the rack out of the way and held the pans while I piled on the wings to take inside. He was a great helper and will be put to work on other cooks where he can be more involved.
Now I've made wings many times on the egg but never this many at time. We did it in two batches, the cornstarch / rubbed ones first and the marinated / sticky ones last. I used my Ceramic Grill Works
Swing Rack
to help with the much needed real estate and the digiQ to help stabilize the fire at 400° indirect with the platesetter and a drip pan, since I knew I would have the lid open for longer than usual to flip all those wing I went with the fan.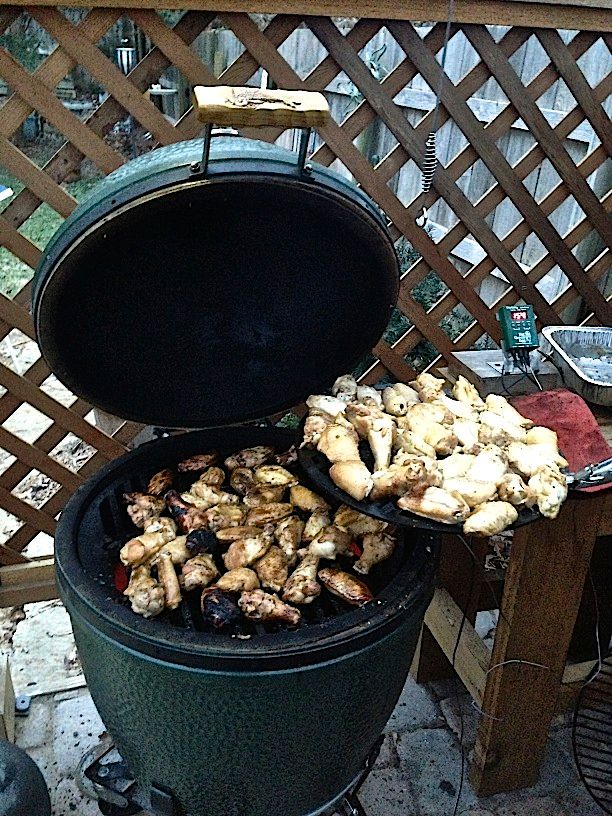 So thats 10 lbs of wings, we did a second batch the same size. but after the first batch flipping and moving the crispy ones toward the middle of the full grate the last thing on my mind was a picture of the 2nd batch.. (but it did happen) I also did
Garlic Knots
from a Rachel Ray top 10 recipes from 2012. We used a half batch of Jamie Oliver's
Pizza Dough
with 2 1/2 cups King Arthur Bread flour and 1 cup semolina let it rest overnight, cut it into 1 inch balls, tossed in some melted garlic butter, rosemary, with salt and pepper into a bunt pan. Put the first half of the dough balls in, then 1 cup cheese, then the other half, and the remaining cup of cheese and some more rosemary onto my small egg at 400° indirect for 35 minutes. Which I also forgot to take a picture of and am not too happy about that.. When you take it out of the bunt pan you can fit a little glass inside the opening and put your favorite pizza sauce to dip them in.
With so many wings my timing was off for the first batch and just had to have people run them over to the party right at kickoff (again thankfully on the same block as us) and I finished the second round during the 2nd qtr of the game. So I did not get any pictures of the spread or the Garlic Knots as they were almost gone by the time I arrived with the second wave of wings.
I would probably cut back on the cornstarch a tad for next time and do 3 batches of wings so there is some room to move them around. Cazzy's and the Wicked Raspberry ones were the big hit and arrived fresh right before halftime with me and my sous chef. Turned out to be a nice day in February to get the family together for a birthday and the big game.
And since this is somewhat related to the egg and some people might be interested. We used a new toy for the wok on Saturday a
Tao Charcoal Burner
from Thailand. Just a simple pail with clay lined with concrete. We got the IR thermometer to read - - - so it was above 1000° right in the center of the round bottom. Just a fun little toy to have another way of using a wok that more portable than your precious BGE. I know atleast one other egghead uses this to wok on.
Large & Small
BGE
, CGW Two-Tier Swing Rack for
BOTH EGGS
, Spider for the Wok, eggCARTen & and Cedar Pergola my
Eggs
call home in Edmond, OK.