Every year, we do dinner on Christmas day with another family who also doesn't have family local. This year, it was our turn to host and decided to do a whole beef tenderloin. Of course, I had to do it on the Egg. I had two Choice Tenderloins around 3.5# each. I pulled the roasts out of the fridge about an hour in advance to let them get up to room temp while I got the fire going. I kept it simple and just did sea salt and fresh ground black pepper on both of them. Here they are getting ready for the Egg.
I decided not to sear and just cook indirect around 375 until internal temp reached 120 or so and then let them sit and rest while we got the rest of the meal ready. I also used my DigiQ just to track the grid temp and internal meat temperature.
Meat is on and ready to go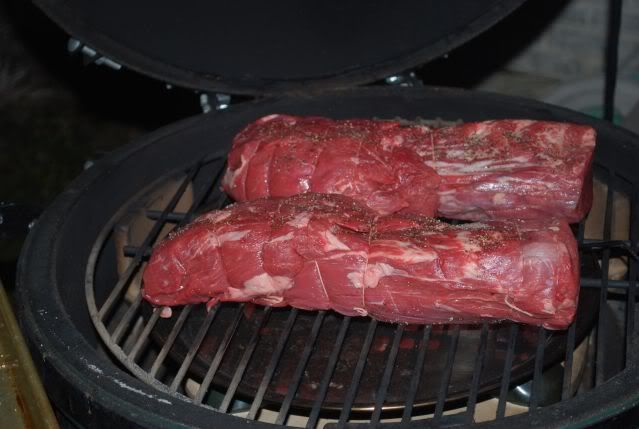 After about 40 minutes, they are ready!
Here is a plate pic although doesn't do the meat justice with all of the mushrooms on top.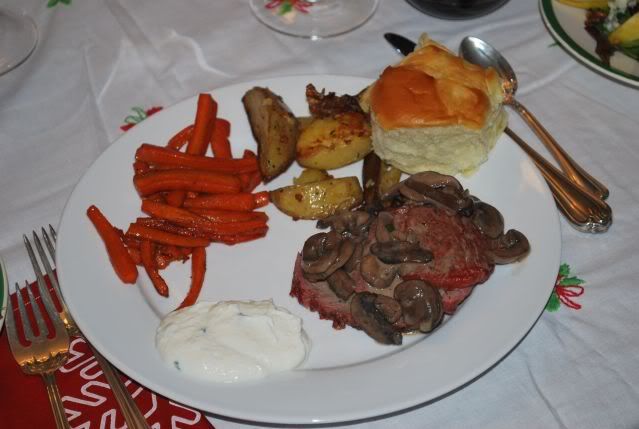 We served it up with herbed roasted potatoes, Glazed carrots with pomegranate molasses (so good!) and both horseradish sauce and mushrooms. It came out great with definitely a smoke flavor but not overwhelming. One other note is that I was surprised how red the outside of the beef was when it was finished cooking. The finished pic above is accurate on the coloring at the end. I have never cooked one of these over charcoal before so maybe that is normal. Either way, it was a fantastic meal and a big hit with our Holiday crowd thanks to all the help I have received from this site.