Mickey got me thinking (which is never a good thing) with his post on consensus the other day. While the majority might sometimes agree with what they think is the 'Best" way to do something, its not always the only way. Ask how to do wings on here and on a slow day you will likely get at least 5 answers. Try ribs....or chicken. But when it comes to pizza, most people will say placesetter (legs up or down), spacers of some kind and pizza stone. Some variations on temp, but its all pretty much the same technique
A long, long time ago, in the days of BE (Before Egg), we used to [b]"GRILL"[/b] pizza. Not what we've been doing lately with the place setter and pizza stone and all. Actually taking the dough and throwing it directly on the grate over fire. I've been thinking about that a lot lately. I miss the crunchy cracker like crust and the charred flavor. I've been pondering how exactly I could go about doing that on an Egg (I used to do it on my gasser). With Mrs. G being outta town, perfect time to experiment. If I screw it up, I coud easily run down to Toxic Hell or Whataburger or something.
Started out by defrosting some sauce. I like to take leftover sauce and freeze it in ice cube trays for days when at the last minute I might decide I want pizza.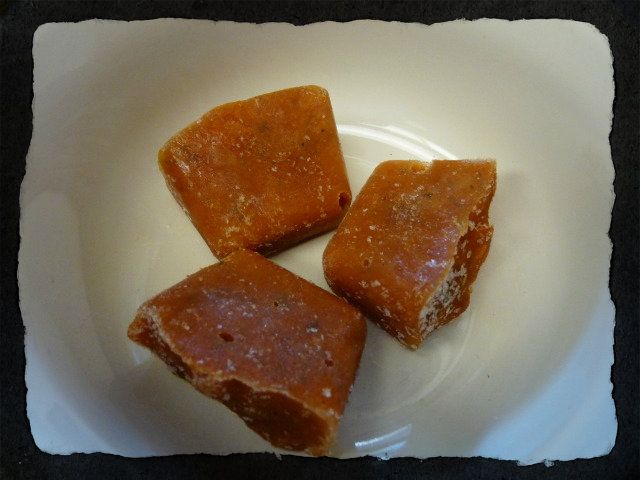 There was also some dough in the freezer, but I must not have labeled it, so I have no idea what batch this was from. After thawing and allowing it to rise, I rolled it out (yes, I used a rolling pin....shock....gasp!) to get it as thin as I possible could. Paper thin. I then tossed it [b]DIRECTLY[/b] on the grate with the dome temp reading 400F. See how thin it was? It even started ripping in some places.

After about 3 minutes I checked it and pulled it off. Seems like I forgot a step I used to do....brush on a thin layer of canola oil or hit it with Pam so it would toast up nicely and get a brown color. Oh well....good enough.

This time, don't forget to spray the uncooked side with some Pam or brush with canola oil. Next step is to put your toppings onto the side that you just grilled. Since this is such a thin pizza and its grilled [b]DIRECTLY[/b], its going to cook fast. So you want to keep your toppings to a minimum. It helps to have your sauce at least warm to hot already and you might want to nuke your pepperoni for 30 sec to a minute to pre cook it a bit. One more thing....cheese. Do NOT use store bought shredded mozz. They coat that stuff with corn starch or potato starch or something to keep it from clumping in the bag. That coating also prevents it from melting as easily. Buy a block of mozzarella, any kind will do, and spend the 30 seconds it takes to grate it yourself. Just something I've learned over the years.
Lightly sauced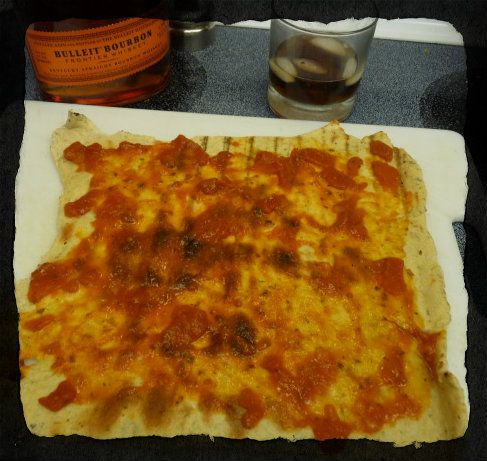 Lightly topped (those who know me will be shocked with the olives....can't really explain that one. Sounded good)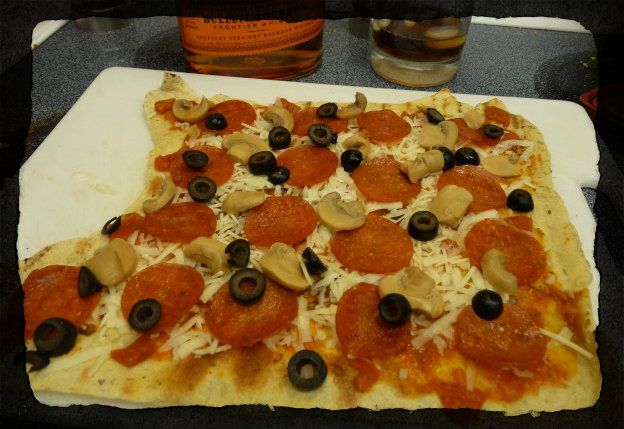 Now take it back out to the Egg and toss it back on. Check after a few minutes. You might need to spin your grate to achieve uniform doneness (is that a word?) I think it took about 3 to 4 more minutes. Somehow I forgot to get a picture of this step. But here it is done.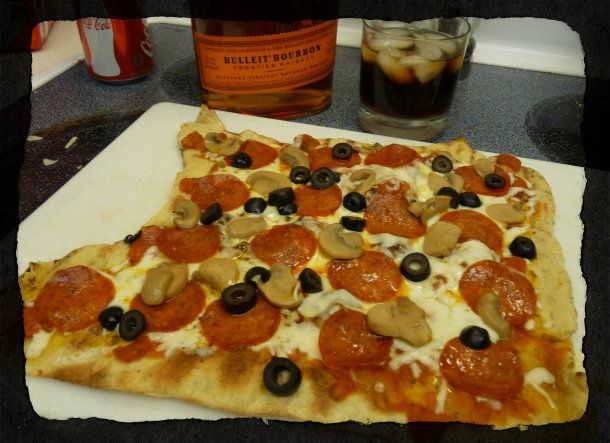 Almost paper thin

Nice char on the bottom

Totally different then the pizzas most people are baking on their Eggs right now, not that there is anything wrong with that. This is just an alternative way to do it. I'm gonna work on it a bit more, experiment with some different doughs and temps and time and get it down, but for a first attempt, I gotta say it wasn't half bad. Actually, it was pretty darn good. Sometimes I want that paper thin, cracker crunchy crust on my pizza.
Rowlett, Texas
Griffin's Grub or you can find me on Facebook
The Supreme Potentate, Sovereign Commander and Sultan of Wings