This year I was lucky to cook next to Rich Miller who I have cooked next to for three Eggs By The Bay Eggfest. This time is the first time that I was able to watch him cook his Tri-Tip this year my wife Jackie came with me to help and help she did. She was so helpful that I had time to see what others were cooking, she had such a good time she can't wait for the next one. This is the Tri-Tip that I cooked tonight.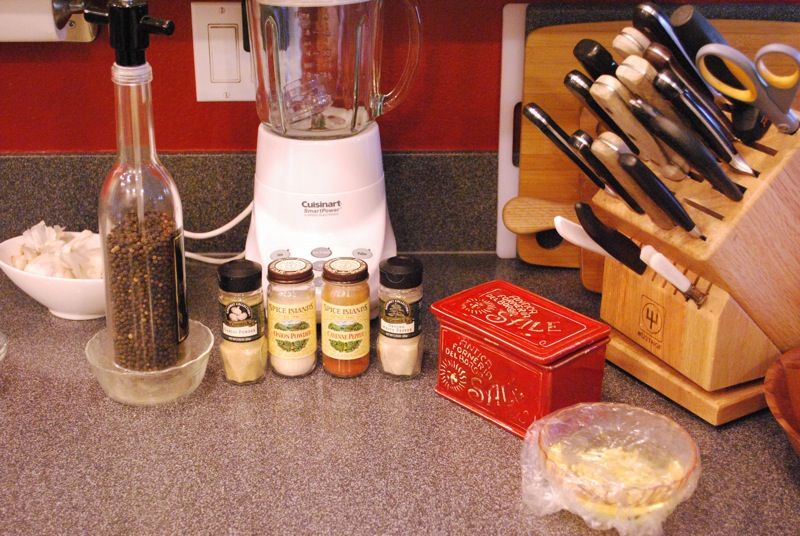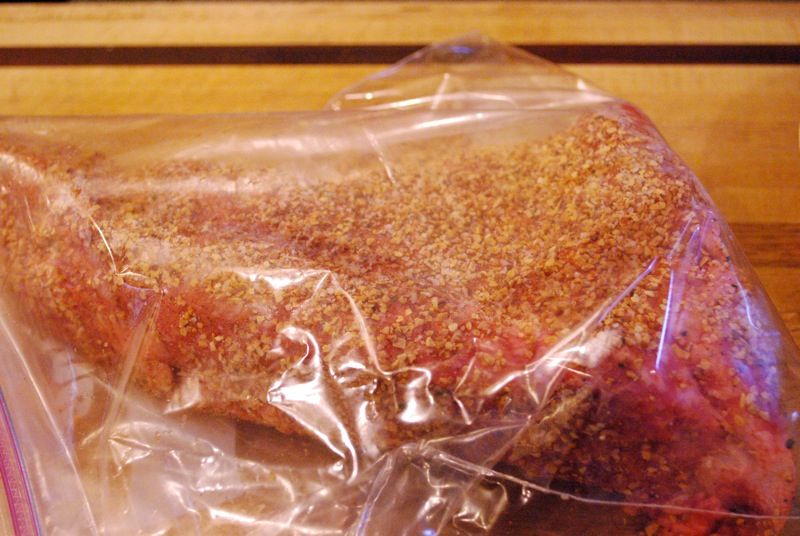 Rubbed and put in the fridge for 3-hrs.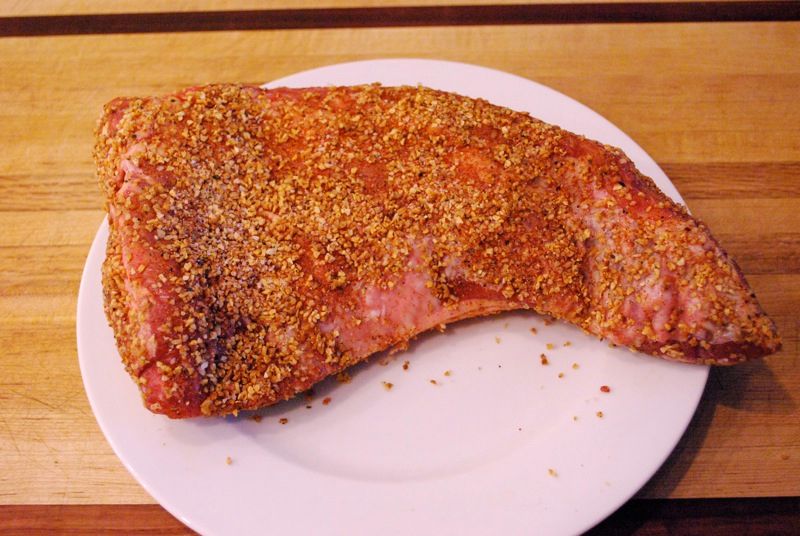 Out of the fridge 1-hr. before searing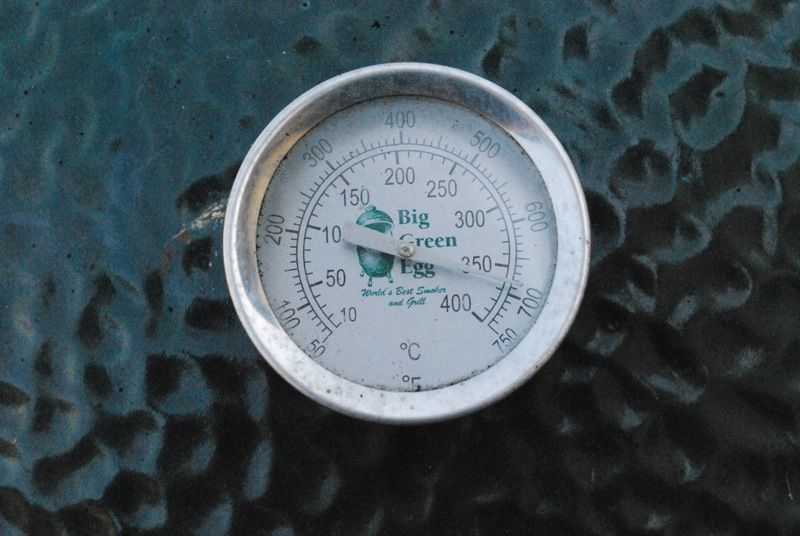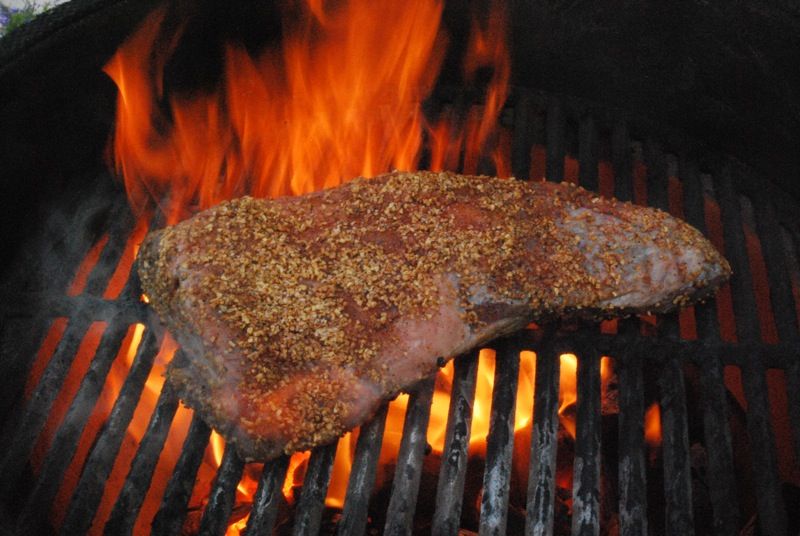 Seared for 3-min. a side then pulled and rested in foil until I got the temp. down to 400*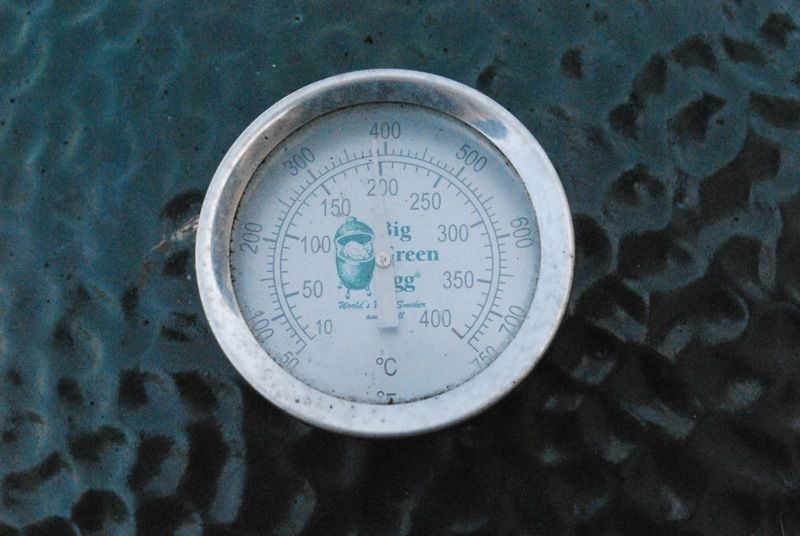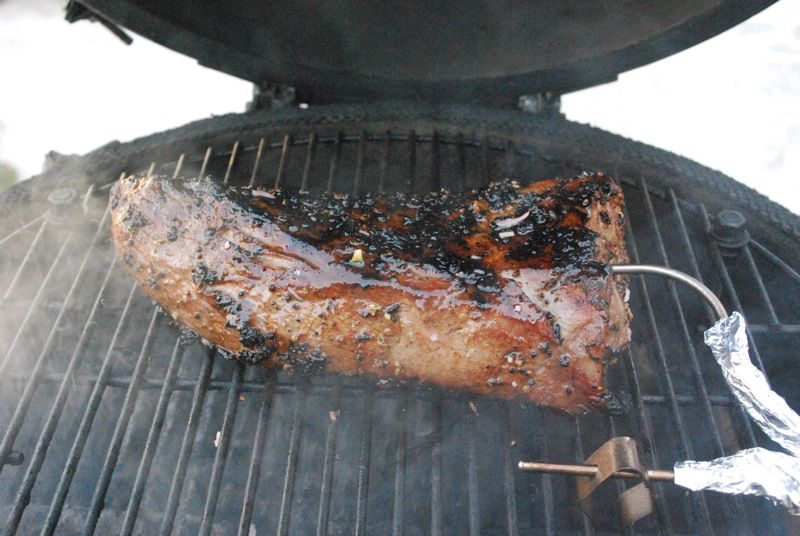 On a raised grid to roast until internal temp. 124* about 30-min. Basting @ 15-min. intervals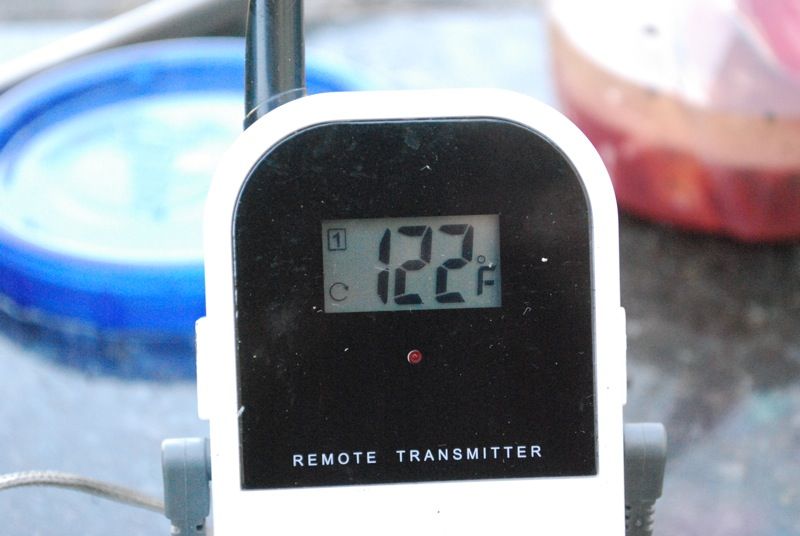 Almost there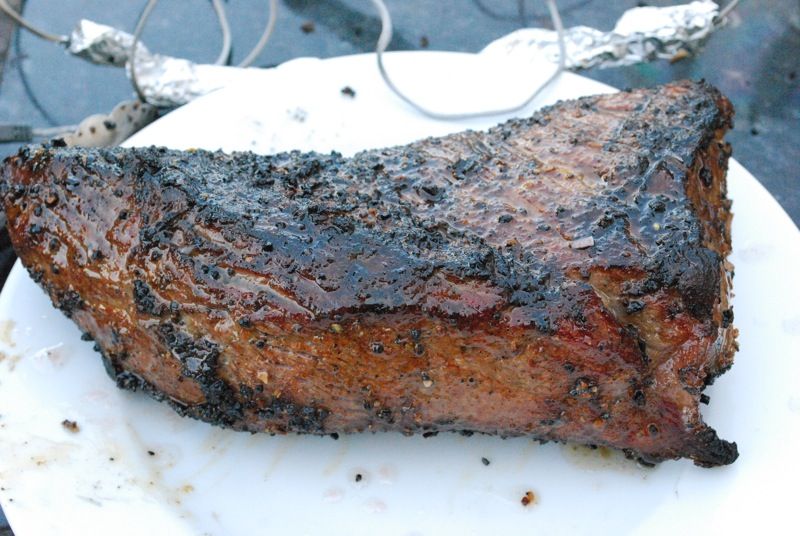 Will foil for 15-min. while I grill some romaine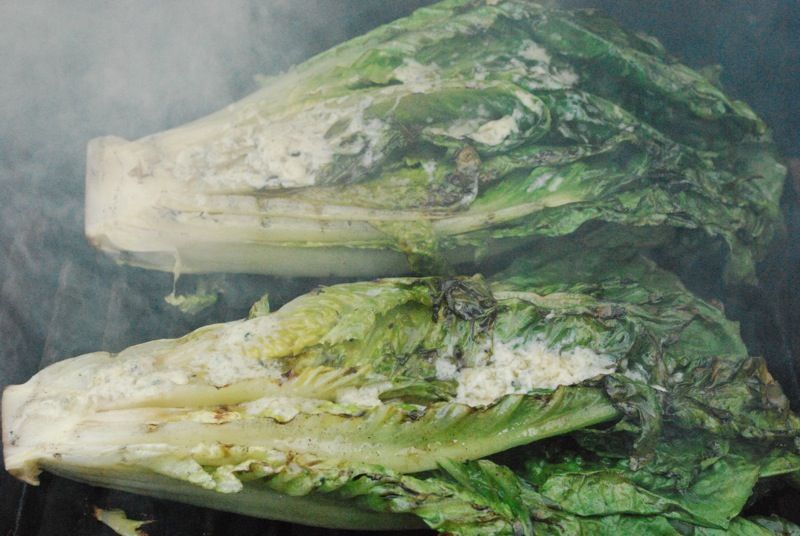 Romaine with Bernstein's Restaurant Recipe Italian Dressing and grated Blue cheese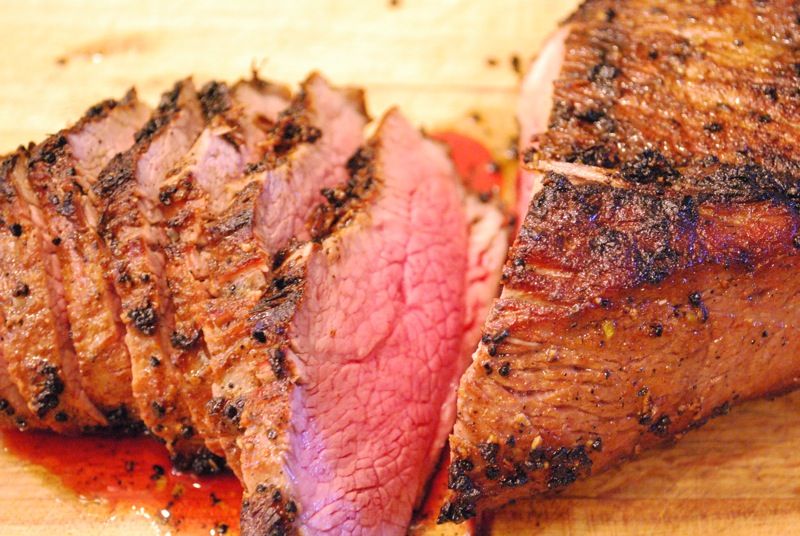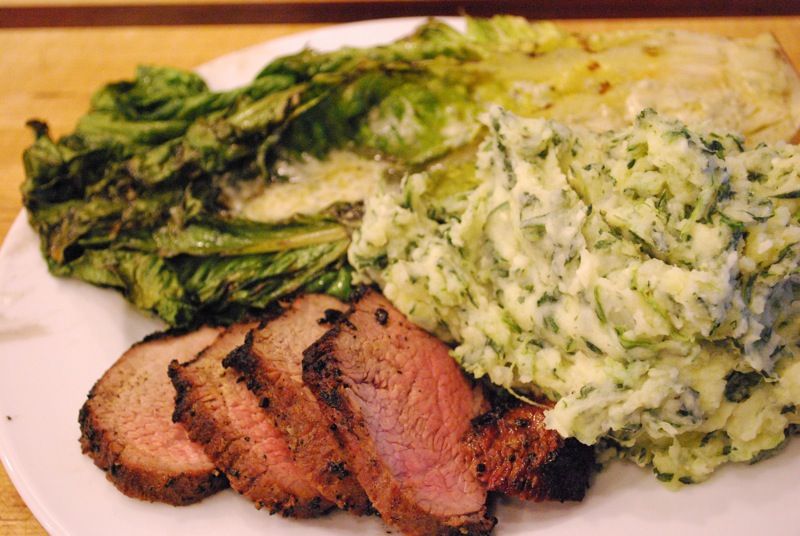 Served with Garlic Mashed Potatoes with Spinach that Jackie whipped up it was a wonderful meal Thanks Rich for the recipe and your friendship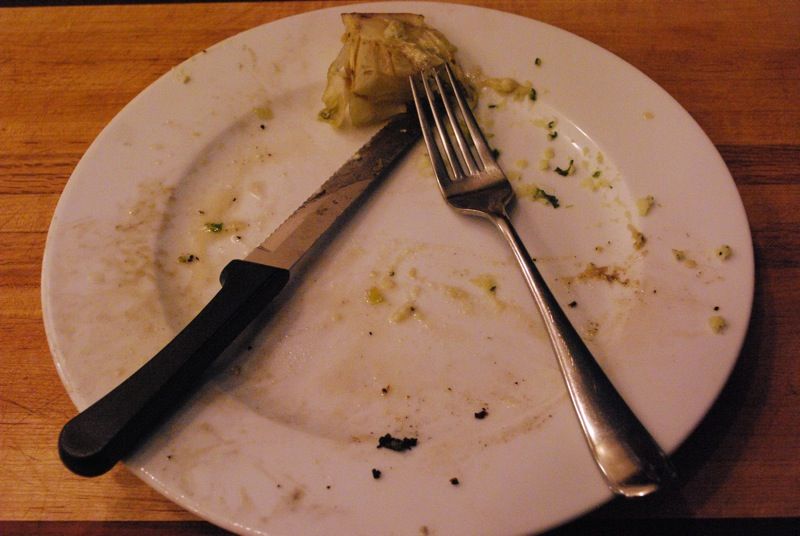 YUMMMMMMMMMMMMMMMMMMMMMY
Recipe for the Tri-tip
Santa Maria Style Tri-tip
Richard Miller aka Morro Bay Rich
Morro Bay, CA

2 (3 pound) tri-tip roasts
Basting Sauce, recipe follows
Seasoning Salt Mixture: recipe follows
Seasoning Salt Mixture:
2 teaspoons freshly ground black pepper
2 teaspoons white pepper
2 teaspoons cayenne pepper
1 teaspoon onion powder
4 tablespoons granulated garlic
6 tablespoons salt
Mix together all ingredients in a small bowl
Basting Sauce:
½ cup red wine vinegar
½ cup garlic-infused vegetable oil
Whisk together vinegar and oil in a small bowl.
Coat both sides of the tri-tip roasts with the seasoning mixture, rubbing it in as you would a dry rub. Let the seasoned tri-tip rest for at least 30 minutes at room temperature. Sear each side of the tri-tip at 600 to 700 degrees for 3 to 4 minutes each. Remove seared tri-tip from the BGE, cover it with foil and let it rest while bringing the BGE temperature down to 350 to 400 degrees. During this cool down period I usually toss in a couple of oak chunks. Put tri-tip back in the BGE and cook to an internal temperature of 126 degrees for medium rare, basting with the sauce every 5 to 10 minutes. Remove tri-tip from the BGE, cover it with foil and let it rest 15 minutes. Cut into ½" slices against the grain.
This recipe is from Foodnetwork.com's website. It is titled "Santa Maria Style BBQ" Oakwood Grilled Tri-tip. It is as close to authentic Santa Maria tri-tip as I have been able to find.
I usually cook this on a Large BGE and find it take 1 hour and 10 minutes from the time I strike the match to taking the tri-tip out of the BGE.
Recipe for Potatoes:
http://www.foodnetwork.com/recipes/rachael-ray/garlic-mashed-potatoes-with-spinach-recipe2/index.html
Thanks for looking
Ross