Here are the finished Ribs. I think they were cooked too long. They fell off the bone and were not chewy. I cooked the tips as well and took them off at the 2 hour mark and were cooked just right. The Dome temp went up to 280.
I guess it is true, cannot cook by time but by temp and/or feel. However, at what point can the ribs be cooked where they have some chew to them, temp-wise ?
Would 3 or 4 hours be too short of a time at 250 ?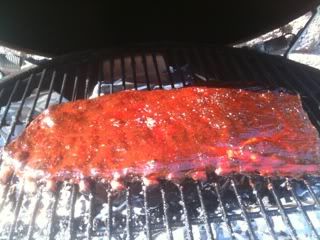 Thank you for everyone's help. Will use for future cooks.
Gary