Well it's been a while since I have posted a cook on the forum. Been lots going on around hear with the old seven year old Dell laptop finnaly laying down on me and having to get a new on. Got 6G of memery and i5 Pentium processer so this new one smokes compared to the old one. Working between 35 and 55 hours of OT a check and of course Jake dying on me hear a few weeks ago. Want to say thank you to all the words of condolences in all the differant was about that. Sure miss my old buddy on my shoulder as I type this right about now.
Any way I got off graveyards yesterday at 4am and had to be back at 4am this morning but just had to cook some'en! With no raws at the house and time on the short side I fired up the old Harley and made a run to town then got right to it. Hear we go. The official JL raws: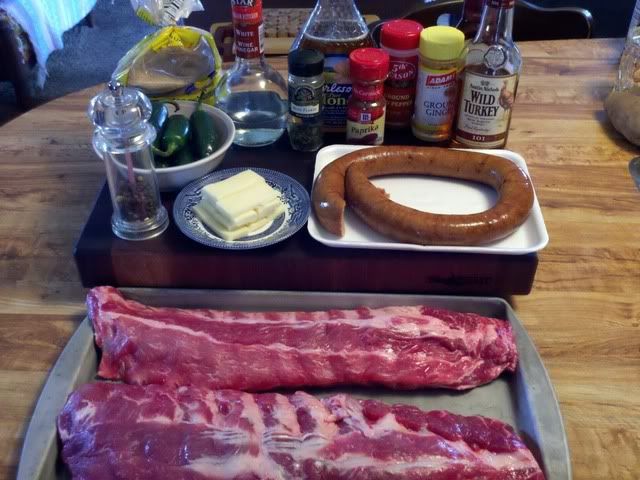 Didn't even have any rub or sause so made up my rub with about two cups brown sugar, 4 table spoons cracked pepper, 3 table spoons powder ginger, table spoon dryed ment, 4 table spoons pepreka and a table spoon red pepper. Next made my sause up using a commercial base and adding honey, Turkey, white wine vinegar, and some ADP sause.
Removed the membrain off the ribs and gave them a good rub.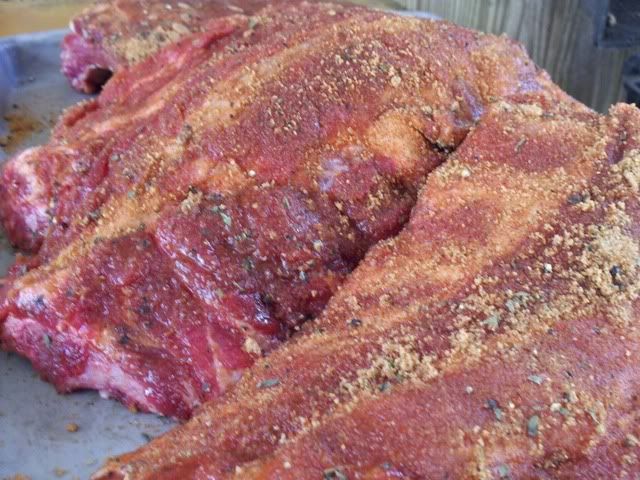 Put them on the Egg with rib rack at 325 for 45 min. then flipped and back on for another 20 min or so.
While the ribs were cooking I did up a batch of peppers. Real easy just cut wedge out of peppers like in pick. Stuff with a little pepper jack cheese, some fresh thyme and a little Tony's over the top.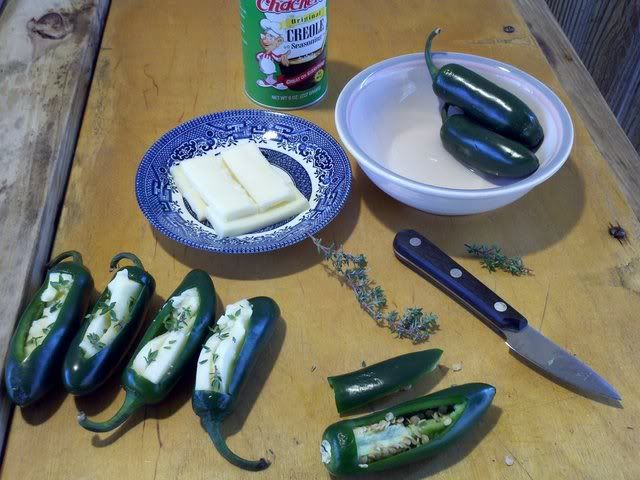 On the Small at about 250 indirect with a thing of Aundui for about an hour with plenty of smoke wood.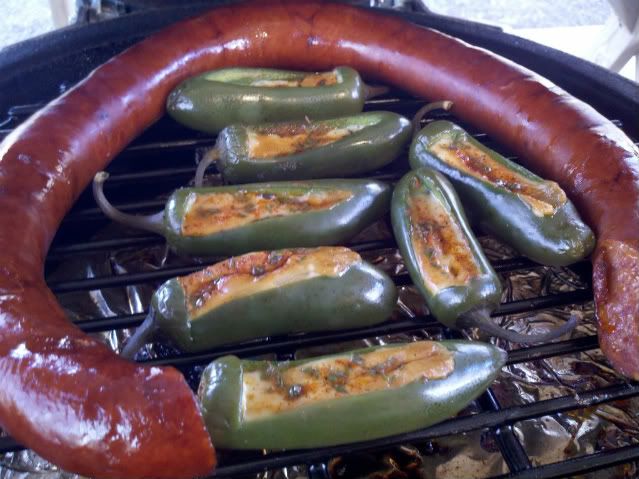 Spring is coming fast to South Ark. thank goodness. Been a long cold winter for these parts.
And no Little Steve you cant eat her.......yet!!! :laugh: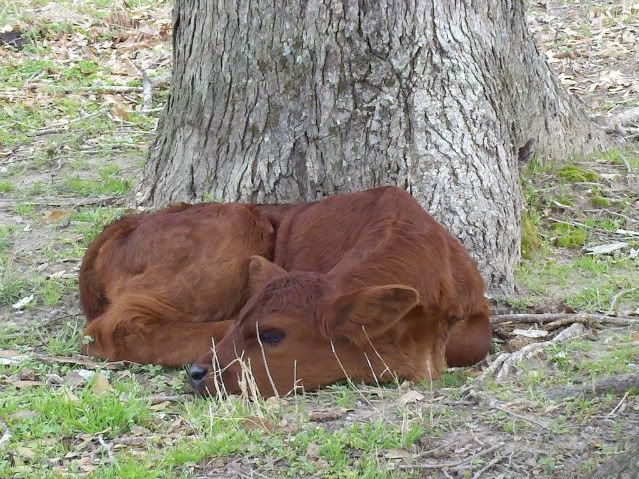 Back to the ribs after about 20 min. on the flip I added a little brew and foiled for about 30 min.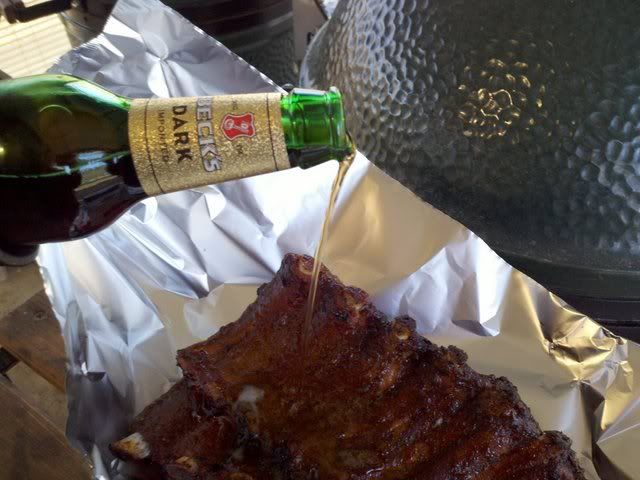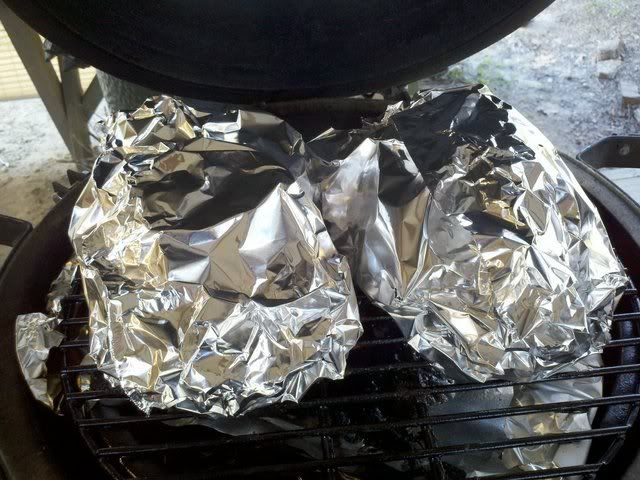 Unfoiled and back on the Egg direct and saused for about 15 more min. all at 325ish.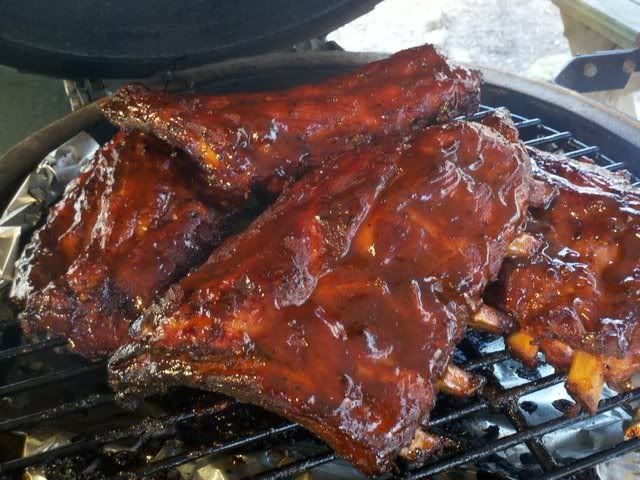 Not bad for a thrown togeather, I got to get to bed meal!!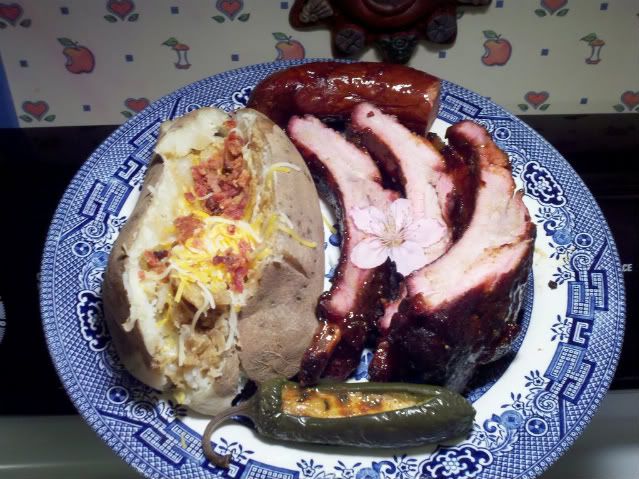 And coming soon to an Oklahoma Egg fest near you........How bad do you really want a rib???! :P