Mellow greetings fellow citizens. Has been awhile since I have posted a cook. About a week which is BAD for me!
Lots of OT coupled with sub freezing temps, duck hunting with Dad and training Auron in schutzhund have not been kind to the Egg. Only had one day off this week but had to Egg for our friends Monday night at DP's so hear goes. The triditional offical JL raws: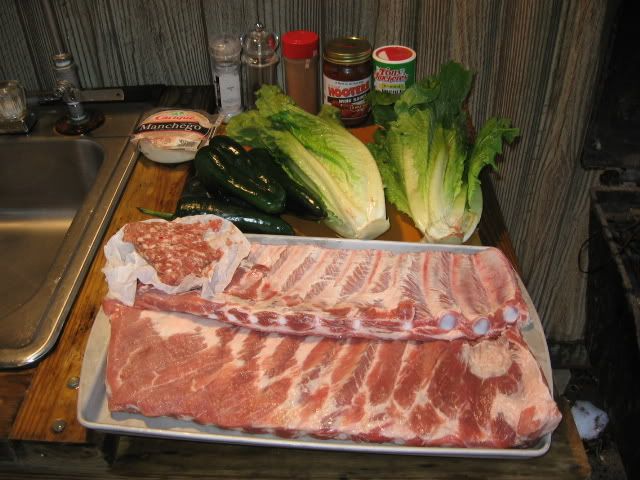 My butcher was out of babybacks so had to get St Lou style. When I went to shucking the membrain I knew I was in trouble. There are masters who could make these things bend but the cut was poor. Flavor was great but you had to work at it. Gave them a good house rub: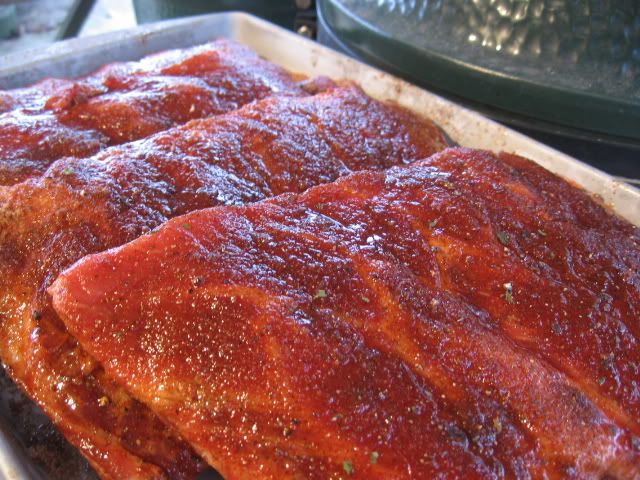 Cooked at 300-325 in V rack for about 50 min. Knew it was going to be a long night as they looked almost like I put them on. Added another 10 min. then foiled with Becks Dark for 40 min. Out of the foil they were not really even starting to pull back but put them on the grill flat and saused for another 40 min.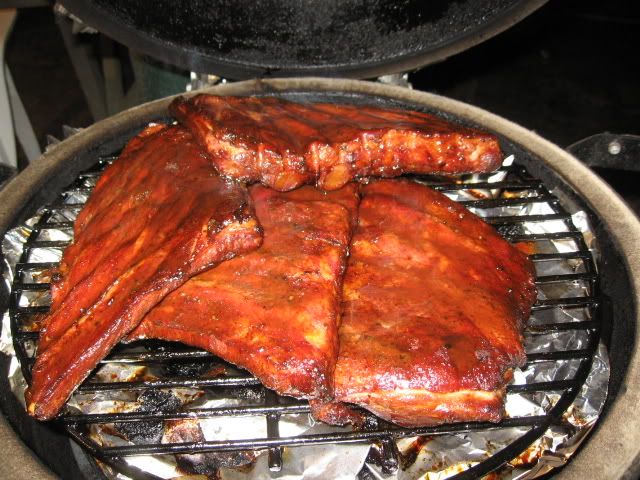 Still no pull back so gave them another 15 min. at 325 and took them off. They were slightly pass done but still simi tough and as you can see no real pull back.
While the ribs were cook'en I fired up the Redneck Biker fish cooker and toasted me some peppers! :woohoo:
I have heard complaints before by folks that have copyed how I do it but followed to the letter I have never had problems. Make sure you have a super hot flame on your fish cooker and blister the peppers till they every part is bubbled. Splash with water for several min. then just wipe off. Sure there may be a few places you have to work on but for the most part the skin comes right off as showen in pic.
I had nuked some sausage flattened around a micro safe bowel all ready and broke the sausage up.(saved the grease as you will see in a bit
) De seeded and stuffed the peppers with the sausage and added a good chunk of "Mexican cheese" I got from the Hispanic section of the grocery. It's white cheese that is really creamy and nice texture. My peppers have all ways lacked "some'en" so toped with just a little Hooters 5 Mile Island wing sause and a little Tony's!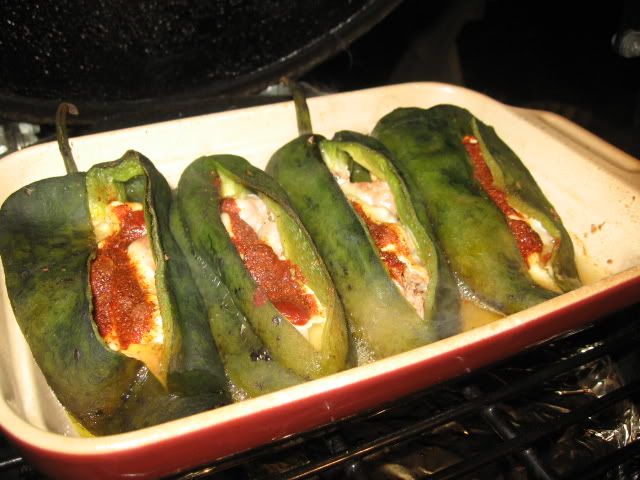 Some romain letice hearts split with EVOO, salt, cracked pepper and (remember this?) a dusting of the sausage dripping direct till wilting. Idea came from polk salid we eat from the old timers down Dixie way who used bacon drippings. Good tasting/bad for ya!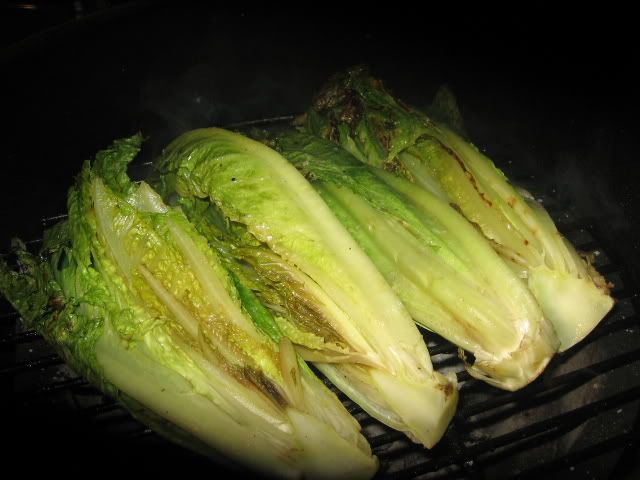 Some cold beer, hot fire in the BGE chemeinia and good friends made for a great evening. Even Jake approved! :laugh: