Been a while since I posted with Christmas and such going on. I do hope every one had a good'un and was blessed as me and my family are. Been so busy I have not even cooked for anyone outside my wife in a couple weeks and since it was my Little "Sis" birthday I invited her and her husbon my ridding partner over. Asked her what she wanted and she said "Something different!" Ok done. The raws: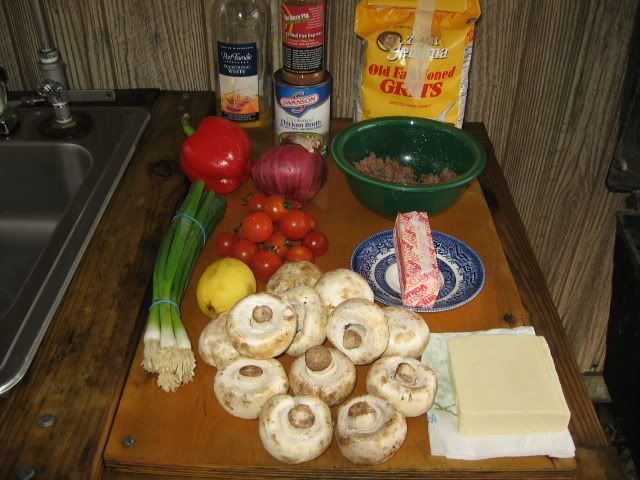 Did up a batch of Shrimp and cheese grits and stuffed shrooms. Hear is the recipe for the Shrimps:
FRANK STITT'S SHRIMP AND STONE GROUND FONTINA GRITS
2 tablespoons butter
1 shallot, minced
1/4 cup minced green onion
1/4 cup minced red bell pepper
3/4 cup halved grape tomatoes
2 teaspoons minced fresh thyme
1 teaspoon minced fresh chives
1 pound peeled and deveined medium fresh
shrimp
1/4 cup dry white wine
2 tablespoons fresh lemon juice
1/2 cup butter, softened
stone-ground fontina grits (recipe follows)
Garnish: fresh dill, fresh thyme, chopped
fresh chives, sliced green onion
In a large skillet, melt 2 tablespoons butter over medium-high heat. Add shallot, green onion, and red bell pepper; cook, stirring frequently, for 4 to 5 minutes or until vegetables are tender. Add tomatoes, thyme and chives; cook, stirring constantly, for 2 minutes.
Add shrimp, and cook for 1 to 2 minutes or until shrimp begin to turn pink. Remove pan from heat, and spoon mixture into a large bowl. Cover and keep warm.
Add wine and lemon juice to skillet. Cook over medium-high heat until mixture is reduced by half. Remove skillet from heat.
Whisk in butter, 1 tablespoon at a time, whisking until butter is melted after each addition. Return shrimp mixture to skillet, and cook over medium heat, stirring constantly, until shrimp are pink and firm.
Divide shrimp mixture evenly among serving bowls. Using a small knife, unmold grits on top of each serving. Garnish with dill, thyme, chives, and green onion, if desired.
makes 4 to 6 servings
Stone-Ground Fontina Grits
5 cups chicken broth
1/4 teaspoon salt
1 cup stone-ground yellow grits*
1/2 cup heavy whipping cream
1 1/2 cups shredded fontina cheese
In a medium Dutch oven, bring broth and salt to a boil. Slowly add grits, stirring constantly. Reduce heat, and simmer, stirring frequently, for 30 minutes. Add cream, and cook, stirring frequently, for 10 to 20 minutes or until grits are very thick. Stir in cheese. Spoon grits mixture evenly into buttered ramekins; let stand 30 minutes or until set.
Prechopped my vegs and saltaed them in butter.
While that was going I poped the stem out of some nice size shrooms like this:
Then stuffed them with some sausage I precooked, some grated White American cheese, a little Redeye Express and fresh Thyme.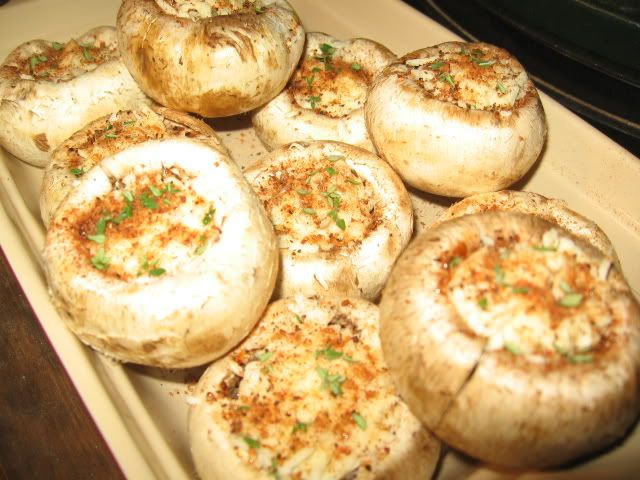 Poped them on Small for about 45 min. at 275.
Added my wine and reduced then added shrimp/vegs back to the cast iron to reduce a little more.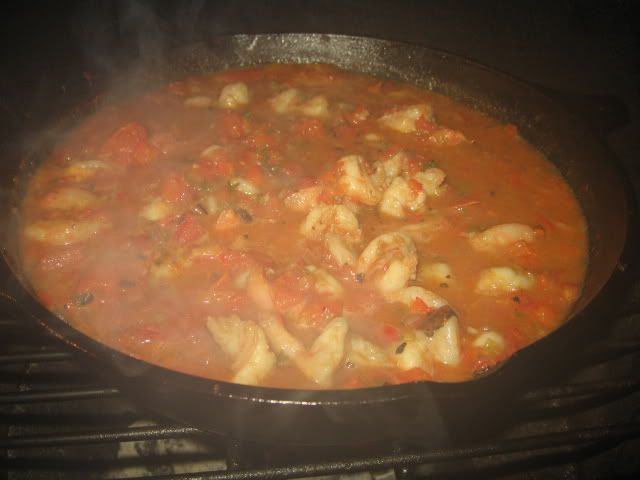 Wife had made the grits while I worked on the Egg. Topped with some green onion and all enjoyed.
Birthday gal and Jake!LOL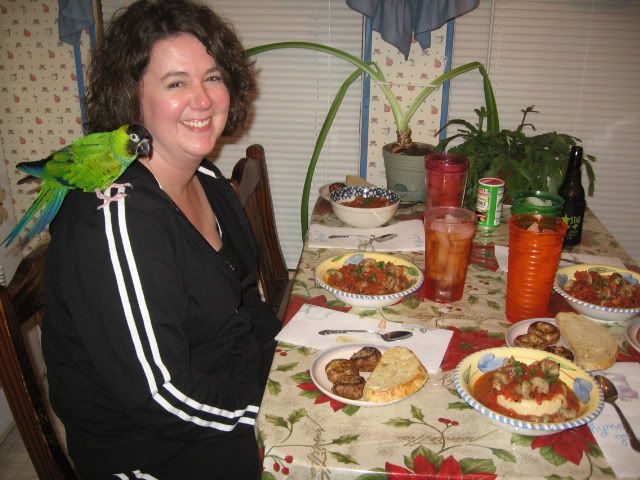 Don't forget desert to boot.
Auron is growing up and really coming along in his training. Santa even left him something under the tree!
Got to work graveyards tonight but Auron wanted me to tell everyone HAPPY NEW YEARS folks!!