First, my respects and accolades to HOSS for the idea of the Hoss'A'Loney Salad, and his encouragement to me to go forth, and "Jack it Up!!!"
Below is a first try experiment that, frankly, was amazing!!!!!!!!!!
So, here is my first try (obviously you can proportion up for larger groups, or change as you like). :
Into the Egg…
1 lb Boars Head Loney (no, not beef, but the REAL loney).
2 slices sweet onion (you can go ½ inch thick)
1 jalapeno, deseeded, sliced in half
DP Raging River coating Loney
Slice the Loney into ¾ to 1 inch cubes, and hit it hard with the Raging River.
All goes on indirect, 350, 45 minutes, and I used some pecan chips for flavor…..Looking for a nice crust on Loney.
Sauce…
OK, so a few Bud Lights had kicked in, so we have to go proportions…..
About….(and remember, this is per pound of loney)
3 big TBS mayo
2 big TBS coarse ground mustard (coarser the better)
2 (light) TBS Franks Red Hot sauce (HAS to be the FRANKS!!!!). Start with less if not hot sauce fan, you can always add more.
1 (small, uncooked) jalapeno, chopped (same as Franks, start light if not fan, you can always add more). This is in addition to the jalapeno cooking on the egg right now.
Making the Magic…..
I coarse chopped everything (loney first and into mixing pan, and then cooked onions/jalapeno and raw jalapeno chopped and blended into the sauce) using the slapper chopper, and combined. Then placed in Fridge for 2 hours (min) to get happy.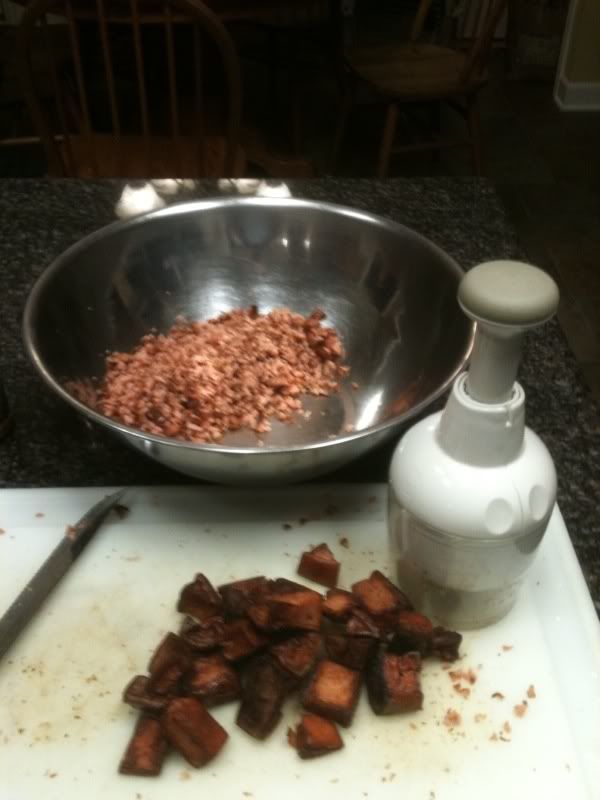 Results? Slap yo' Momma GOOD!!!!! Note that final product, in proportions above, is not "over-saucy".
Would I change anything – next time I would cook enough loney, onions and peppers to make a body rub out of for attracting the wifey!!!! Also, celery might be nice…
This would be a HUGE hit for any holiday party....Guaranteed!!!!!
Happy Holidays.