This was Sundays cook after a very hot day.
I went to thirdeye's site and found a flavor brine to use and I also used my jaccard to further tenderize my thick pork chops.
In one quart of water I simmered for five minutes
3T kosher salt
3T DP raising the steaks
2T white sugar
Then I added the second quart of water to that. And mixed it all together. This was a low sodium brine and I feel it was just right.
After it cooled I put two thick cut pork chops in a gallon zip lock bag and let them sit in the fridge. After two hours I drained the brine and replaced with fresh water. After 15 minutes I drained the water and let them rest in the fridge until we were ready to sear them.
I used DP's Raging River run and really sprinkled it on them heavy.
I had potatoes baking for an hour at 400° so I pulled them out. So I could sear the chops down low in my new customized medium ci grid in my spider.
This is the first time I have seared this way. So to be a little cautious I kept the dome temp at 400°.
I timed this part of the cook. one minute then twist another minute flip...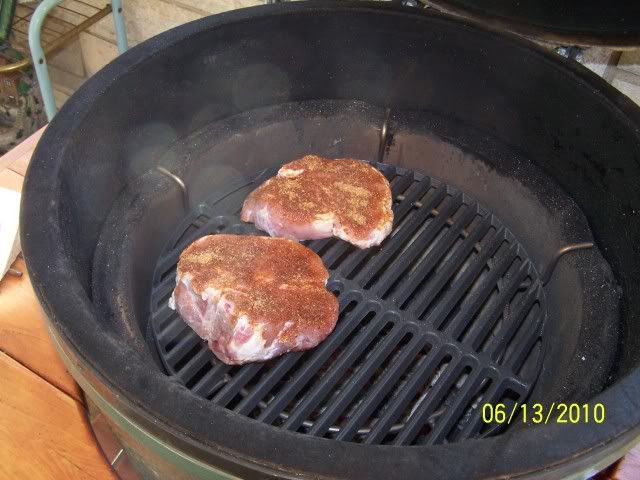 Then I put the AR back in and used my ET-73 to get them to 135°. First the small chop and a double check with my thermapen. Then the big chop. Then a 10 minute rest in foil.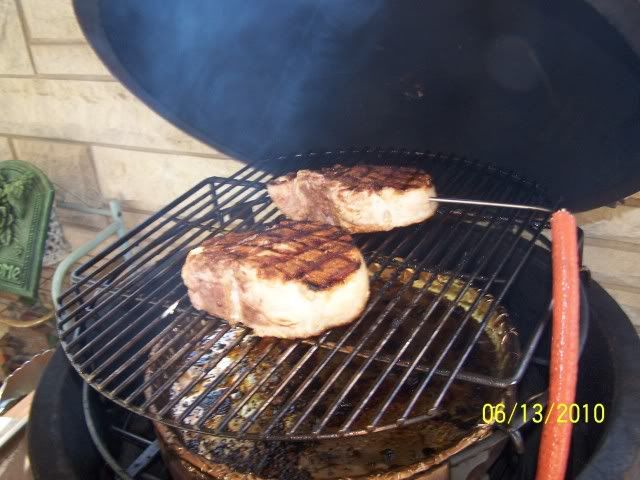 This turned out to be my best thick cut pork chop cook. Thank you thirdeye the chops were not salty at all. Simply tender and juicy. Yum yum. This will be my go to thick chop cook. Tim
You can't beat that with a stick. :P