Have tried everyway that someone posts for crispy fried chicken, corn flakes, flour, cornstarch and a few others. Think I finally hit a grand slam.
Recently Derby City Egghead posted his version. I stole it with a few modifications. Thanks for the idea Derby City. Had our lurker "Avocado Joe' over for dinner and we played with the recipe.
Darby's original post.
http://www.eggheadforum.com/index.php?option=com_simpleboard&func=view&id=991900&catid=1
Set large up indirect 375F and had chix pieces on bottom rack and wings on top, used pecan for smoke. Cooked for about 60-70 minutes no turning of poultry.
I also used the Kentucky Kernal seasoned flour, but made the mix 50/50 seasoned flour and seasoned Italian bread crumbs. As Derby mentioned he would increase the seasoning which I did with some Pixie Dust. Used a creature called "The Better Breader" which I use when placing rubs on poultry. Around $10-$12.
http://www.agrisupply.com/product.asp?pn=55713&cn=5400008&bhcd2=1288791480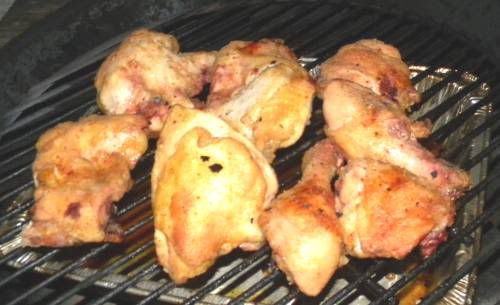 I cut the chicken into pieces and added 10 wings. Placed in the frig with paper towels between the layers for 5 hours. Changed the papertowels twice. Got very dry. Perfect for Shaking and Baking.
Did the whole chix pieces in the flour.bread/seasoning mix. Then added some John Henry Honey Raspberry Rub to the flour and did the wings. Great flavor if you like a little sweet.