After eating "road food" all week end I decided to Egg some'en different tonight for a change. Lets start with the raws shall we?: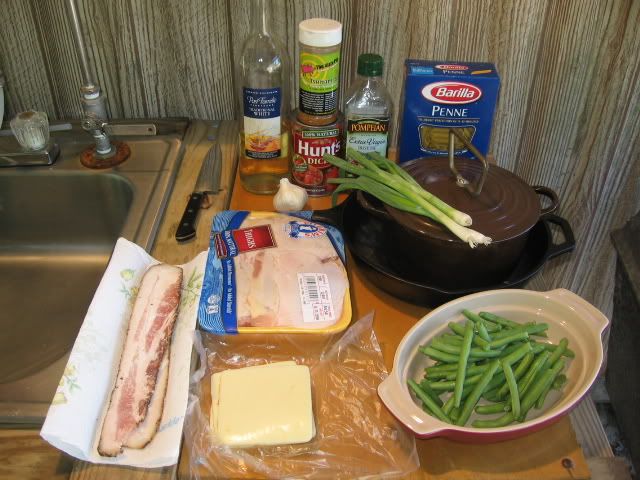 I started out with some fresh green beans and bacon. We all know bacon makes everything better right?!!
Since we do not want the beans to burn I set up the cook with the La Cruset like the pic using the infamus smoke rocks on the Small.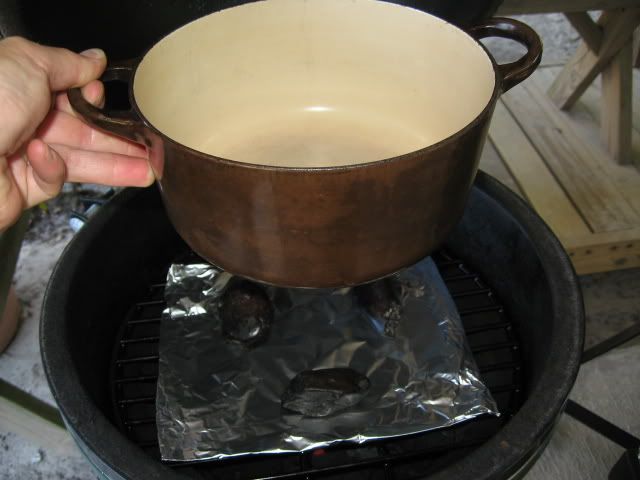 Saltaed the bacon 1st then added beans and white wine with a little DP's Tusunimia Spin. Covered at 375 pit for about an hour till tinder.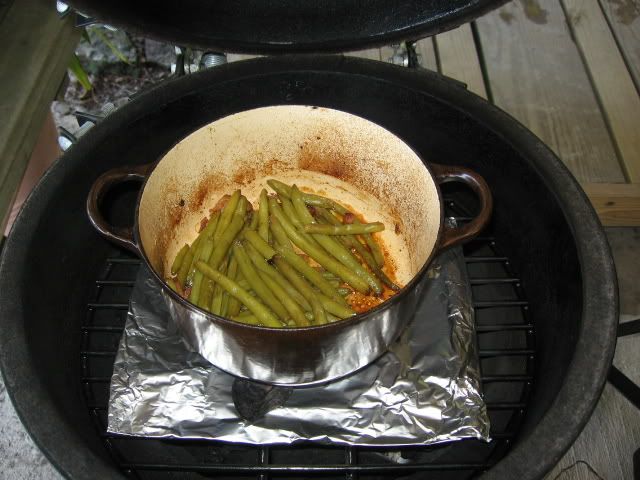 While that was going I deboned 4 thighs then parcooked bacon slices and split shrimps on foil.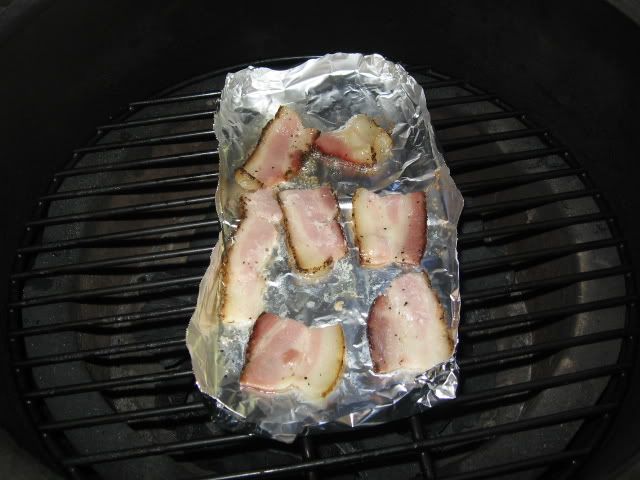 Took the bacon and shrimps along with white American cheese and wrapped the thigh around it all then pinned with tooth picks.
Into the cast iron with a little EVOO at about 275 direct till almost done.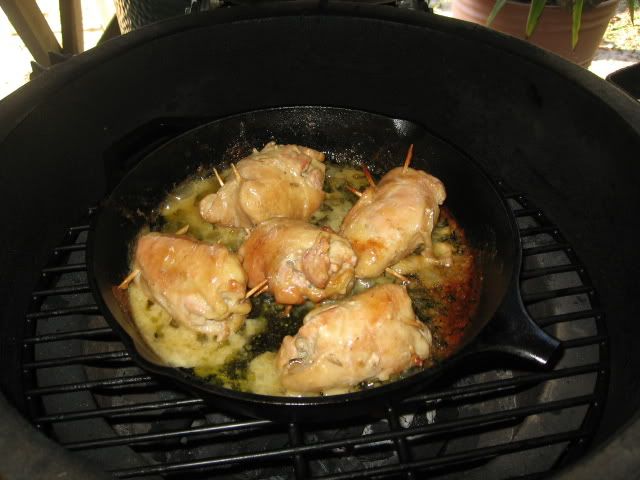 Removed the thighs and poured off the grease then added some white wine along with chopped green onions and fresh chopped garlic to skillet and scrapped the cheese/dripping off. Reduced to a rue.
Someone wants another bone from the "bonless" chicken thighs! :laugh: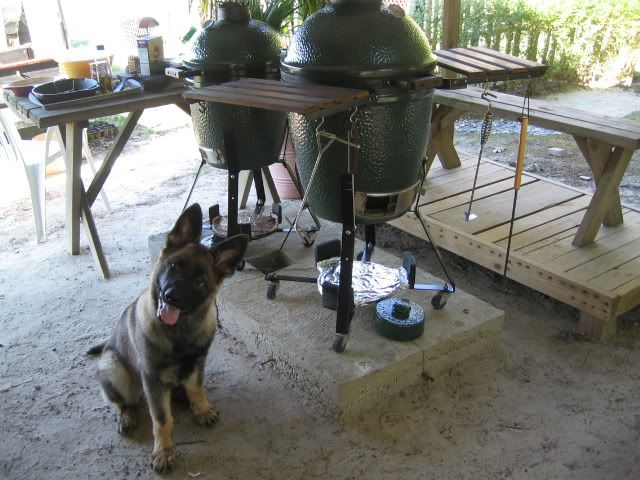 Added a can of Fire roasted chopped tomatoes to the rue then the thighs on top. Cooked at 275 direct for 15 min. with presimmon.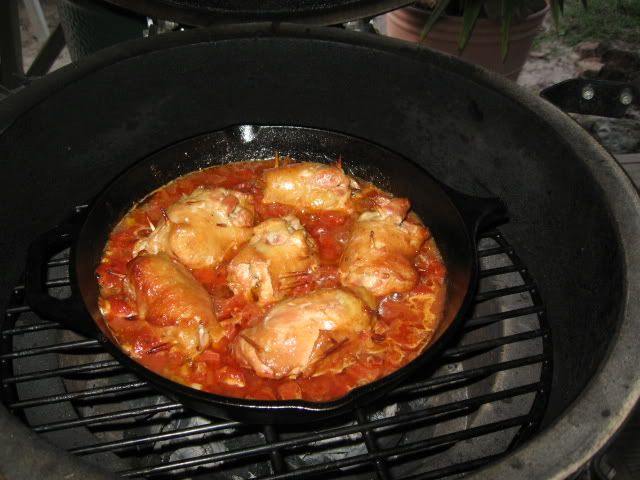 Serve over pasta with green onion chive garnish.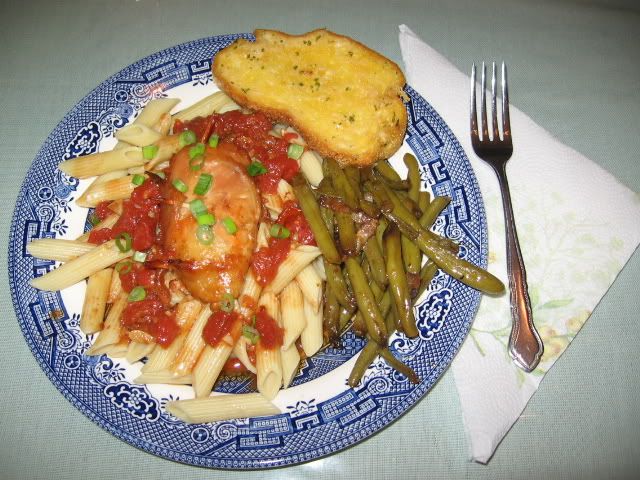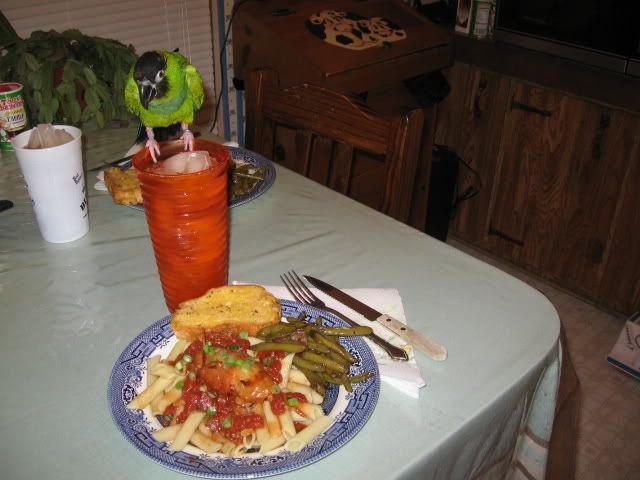 Been a busy but fun week end for us. Took a nice ride out of town Fri. for the 1st time since we got Auron. Almost like parents getting away for a "date" cept didn't worry about child will fair calling for putting the "kid" in a crate!! :laugh: Sat. we took Auron to Little Rock to the Shutzhund club to train. Was really proud of my boy. They asked to see him for the 1st time. Did work that some of the dogs a year old were not doing yet in bite work. Not to my credit but genetics. His Dad just came in second, missing 1st by one point out of 300, this weekend in the German SV Nationals!! :woohoo: