We're feeling pretty super, how about you? The big game is fast approaching, and while we love football, we love an excuse to invite people over and cook even more! You too can cook like a champion with recipes from
Dr. BBQ's NFL Gameday Cookbook
: Grilled Tuna Sandwiches from Seattle and Baked Brie from New England. Who's going to win? You'll have to cook both to find out.
The 17th Annual EGGtoberfest was amazing - here are the highlights 
Click Here
Rack of Lamb
I've been really wanting to try a Rack of Lamb, one problem.. My wife doesn't like it. So I took advantage when she was out of town babysitting the grandchildren. I used the recipe in the Big Green Egg Cookbook. They were awesome. Herb Crusted Rack of Lamb page 75.
Seasoned & on the Grill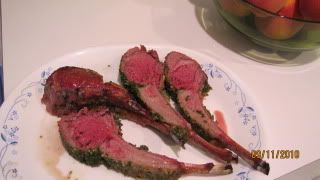 Cut & ready to serve!!!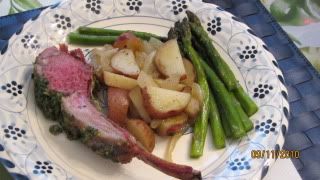 Served with some asparagus, potatoes & onions. Also a very nice bottle of red. They were delish!!