I worked off graveyards yesterday and had that "don't know what to do with myself" feeling. Was going to cook for my ridding partner and his wife then take Auron up town to the square to meet new folks. My buddy was stressed out over trying to monkey with his fuel injection map on his bike after we did that cam change a few weeks ago and couldn't come over..the fact of which was not well recieved by HIS wife!! :laugh: Fine I'll cook ribs for just us! The raws: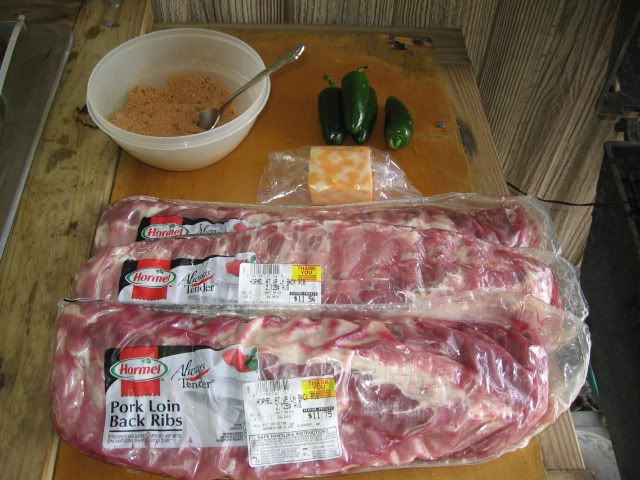 Sometimes people will ask about homemade rubs. Below is how I make my "house rub" Real easy. Just brown sugar sifted, peprika, chili powder, ginger, cracked black pepper and a little crushed mint leaf.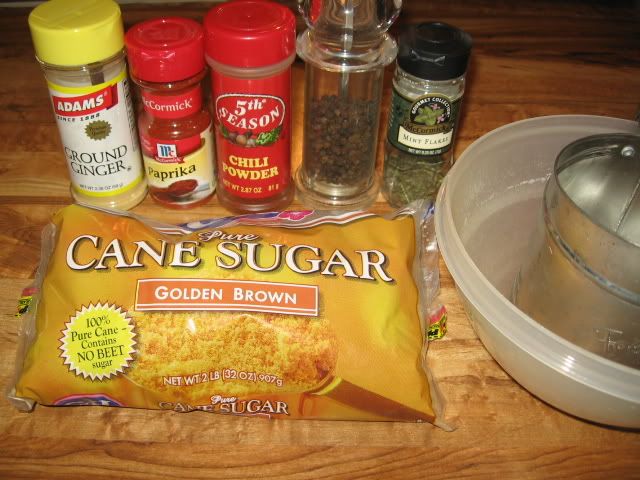 Don't whimp out on the pepper. Note my ring in the bowel.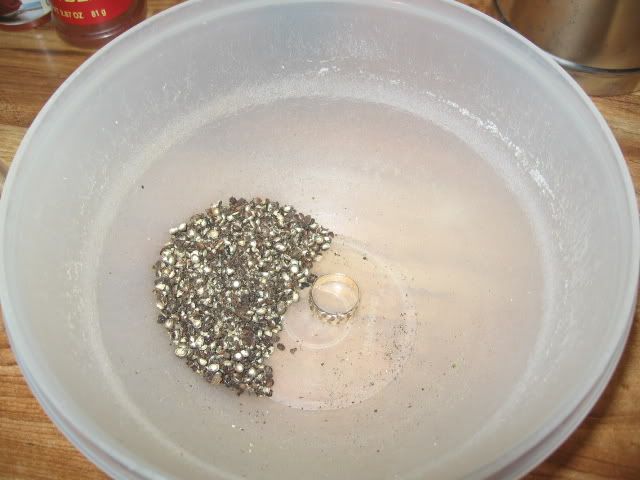 I don't measure my spice but you can get an idea of amounts by comparison.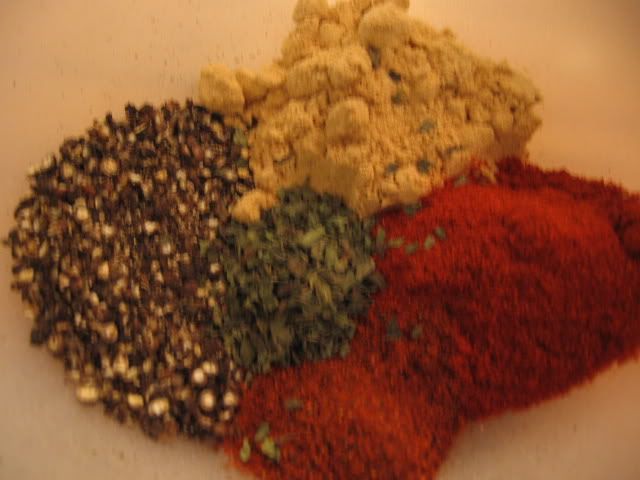 Add about 2 cups of sifted brown sugar. Reason I shift it is I'll bottle some and it will plug up the shaker holes if you don't sift 1st.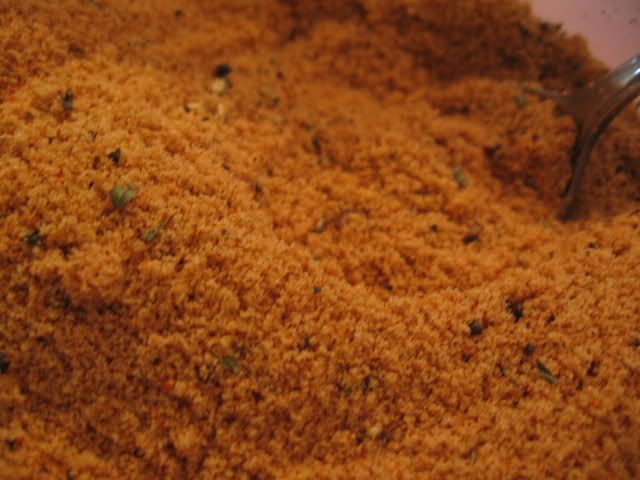 The reason for the thread title is I started out to do them the turbo method. Problem was my bag of lump was real dusty and small pieces. This coupled with 3 full racks and foil under them to keep from burning on my Medium and could not get the temp above 275 untill I foiled them. Just rubbed them down good with the rub and plenty of presimmon wood and on at 250-275 till the bone started showing well which was about 2 1/2 hours. Stuffed a couple peppers to eat while I was cooking as well
.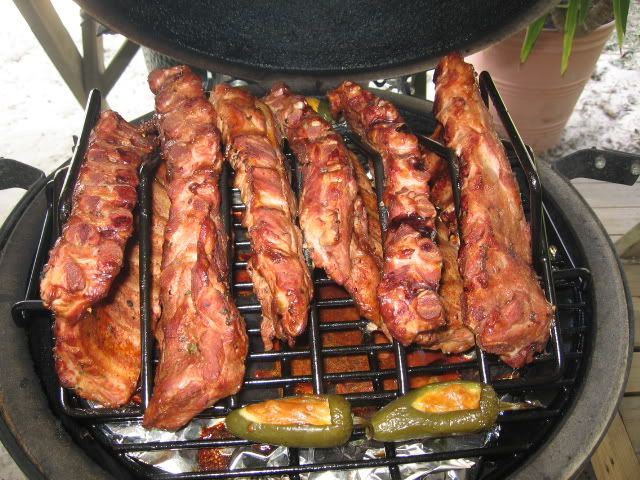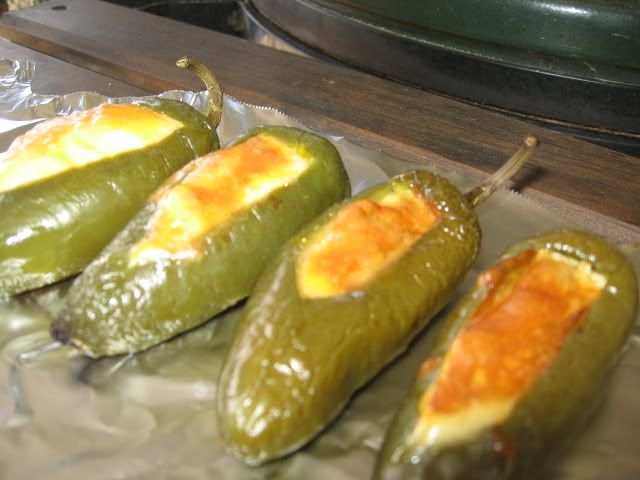 After the bone was pronounced foiled and beered'em for about 30 min. at 300.
Then back flat on the rack and recoated with rub and fresh prosimmon wood.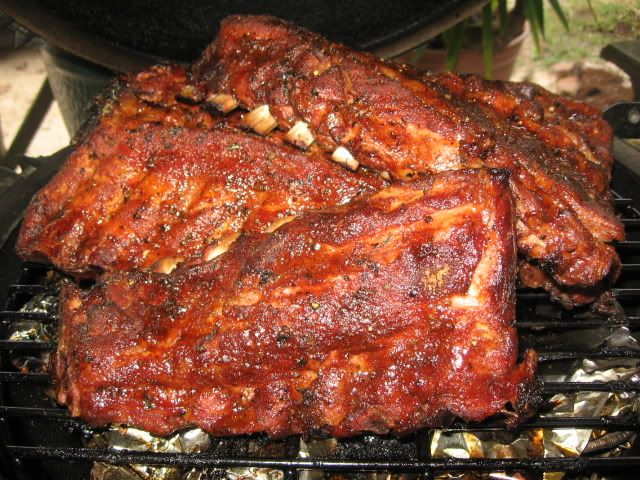 Who ever said it's hard to get and maintain eye contact with a 14 week old pup has not had a rack of ribs on him!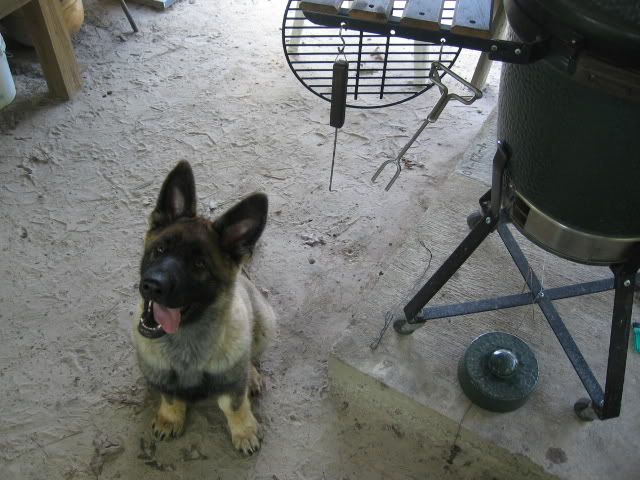 Ended up taking stopping by and dropping off a rack and my partners anyway before going to the square. Plenty left for tonight at work.
And of course Jake's got to make it in for all you good people to worrie about "secreat flavorings"!!LOL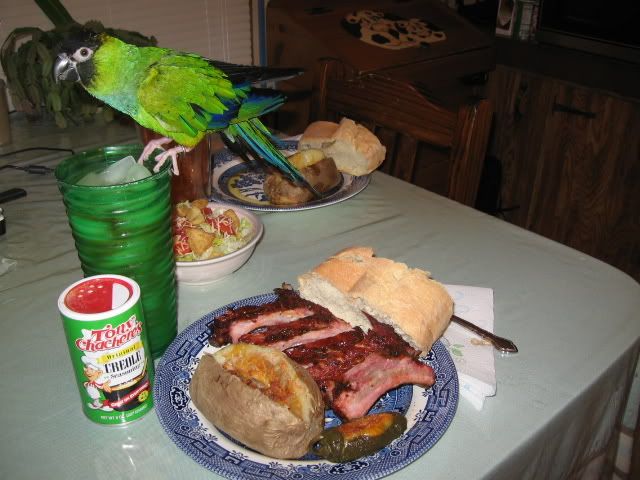 We took Auron to the High school today that has a Arburedium by it. You know tree's and flowers with trails around it. Lots of differant surfaces to walk and smells.
Got a watering trough by the house. Auron and me like to enjoy a cold one in it late in the evenings. bill calls it a redneck hot tub! :laugh: Ya think he's figured it out yet?!