The case of the cooling brisket – Hypothesis 1
I've had time to think about the brisket 'debate' we had the other day. I have good news and bad news. The good news is (from others perspective): I admit I was wrong. The bad news is (again, from theirs): their explanation of the mechanisms to explain a temperature drop in a brisket during a long cook was also wrong.
So the way I understood the problem was DC egger has a brisket that had hit a plateau and then dropped in temperature. I pointed out that something in an environment hotter than itself cannot cool down. For this to happen, you actually need energy to flow from a colder body to a hotter body this is impossible and against the laws of thermodynamics. Anyway, others said it could happen, accusations of trolling, personal insults overtook the thread, my wife gave birth, the brisket was ruined and apparently WessB threatened to murder someone (although I missed that). Anyway, here is my explanation for why this 'drop' in brisket temperature, that is consistent with the laws of thermodynamics and explains the observed drops in temperature that are occasionally observed (but not always) when cooking large fatty pieces of meat such as pork butts and briskets. Judge it as you will, but please lets keep this civil and an interesting debate.
We all agree that a temperature plateau occurs when cooking large pieces of fatty meat. Much like the rising sun, this happens during every low and slow. Most of these cooks (mine at least so far) show a rapid increase in temperature, a plateau and then a slight higher rate of increase at the end – with no drop in temperature in the meat being observed. Here is an example I found:
That is not always the case, however, apparently here, a small drop in temperature was observed in the plateau phase (although maybe it was due to the opening of the dome but I doubt it would have that much effect).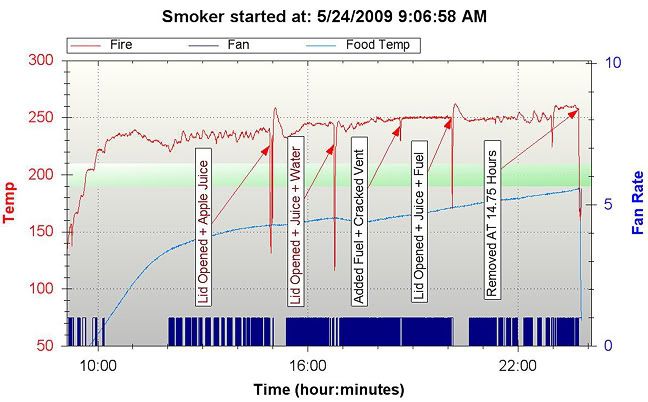 So now we are left with this: a plateau always occurs, but sometimes the temperature probe shows what seems to be a drop in temperature of the meat, when we know that something cannot get cooler when it is present in a hotter environment.
The reasons, I believe are this:
First, a temperature probe is not measuring the temperature of the meat as a whole but actually a very small location in the meat and we generally take it to be representative of the whole (not always, for example when cooking steaks, we pull when our probe is reading below our desired finish temperature because we know the outside of the meat is much hotter than the internal). The point here is that the probe is not measuring the temperature of the whole piece of meat.
Second, large pieces of fatty meats such as briskets and butts are very heterogeneous and as such some parts will have a higher fat content than others. Portions of the meat which are low in fat will show a relative linear increases in temp (hence no real plateau in lean meats), while other section of the meat that are fattier will hit a plateau at the rendering temperature of ~155oF. The point here is that different section of the meat heat at different rates.
Lastly, heated liquids like to move. Tangent: My hydraulic furnace broke so the one way valve in it was constantly open and heated would slowly migrate throughout the system even with no pump. Annoying. Anyway, the point is that fluids move around when they are heated.
Thinking this through I think the only a logical explanation for occasionally observing a drop in temperature in the brisket is you have your probe in a relatively lean portion of the brisket, it heats at a faster rate compared to the fattier portions, and then pork fat which requires additional energy to change state ~155 migrates to this area showing a small drop in temperature at the site of the probe (nature abhors a vacuum eh?)
This post has dragged on longer than I had planned so I will wrap it up.
To summarize:
1) Heat cannot move from colder object to hotter objects.
2) Briskets and pork shoulders are heterogeneous and fatty parts require additional energy to change from a solid to a liquid around 155F, hence the existence of the plateau effect.
3) Lean portion of the meat require less energy to reach higher temperature because the water plateau doesn't occur until 212F
4) Hot liquids can move around cuts of meat
I find this explanation satisfying because it also explains the 'turbo butts' we occasionally hear about (although that may be due to a poorly calibrated thermometer as well). Lower fat content –> less energy required to heat to 195F
All in all it turns out I was right in the case of obeying the laws of thermodynamics (it's easy to stand on the shoulder's of giants after all) – although I was wrong to attribute it to temperature variance of thermometer readings. Then again, other were also wrong with their explanations of the mechanism to explain what they observed and why thermodynamics didn't apply to briskets.
Anyway, this was just a logic experiment but I think it holds water (or rendered fat at least). ☺
Makes sense to me at least. What do you folk think? Please keep it civuuul!