Have been using this method on the last several steaks I've done. I've had great results with T-Rex and hot tub methods as well, but the reverse sear seems to give me the best combination of doneness, tenderness/ texture and "grill flavor". I suppose it would really take doing all 3 and blind tasting to really determine my preference, but, for now at least, this is it.
This was a modest, 16 oz. strip (not like the 27 oz ribeye I did last week). Egg stable at 250* raised direct, cooked for about 15 mins total (7-8 per side) until internal reached ~100*. Pulled, fired Egg up to 650 and seared 90 secs./ side until 115 internal. Rested about 10 mins under foil. Very tasty. I'm going to try this technique on some thick pork chops tonite.
16 oz. strip, generous dose of kosher salt
Forgot to snap a shot on the AR @ 250. This was after I pulled, 97 internal.
Seared at 650, 90 sec/ side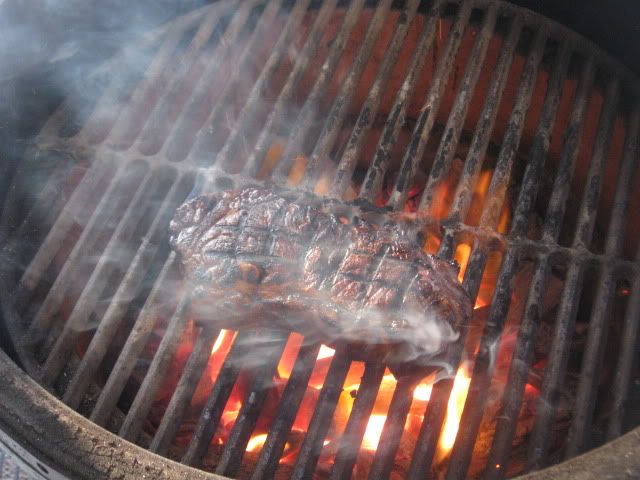 115* internal in thickest part, rested about 10 mins.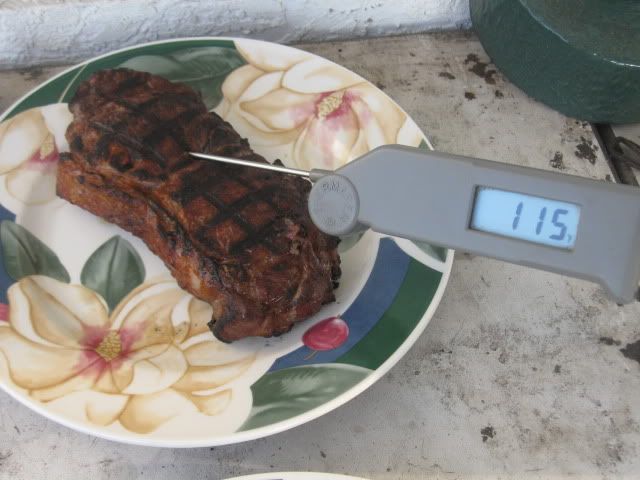 'Twas mighty good